Echo 1 47" Gun Bag (Black)
[SI05][09762 / ECHO GC 47]
( 11 Reviews )
❤ Add to Wishlist
Free Shipping for orders over $89 No Coupon needed
The ECHO 1 47" Gun Bag is an absolute must-have for transporting your airsoft gun. It is the perfect size for holding your full-length airsoft guns and even some sniper rifles. The interior of the bag is padded and features Velcro straps to help keep your gun in place. The exterior of the bag features two carry handles, a built-in shoulder strap, and four extra pouches for carrying extra bb's, grenades, magazines, or almost any other accessory that you may need on the field.
Specifications:
Manufacturer: Echo 1
Model: Gun bag
Color: Black
Size: 47 inches
Package Includes: Gun bag only

Features:
Padded interior
Velcro security straps
Built-in shoulder strap
Additional exterior pouches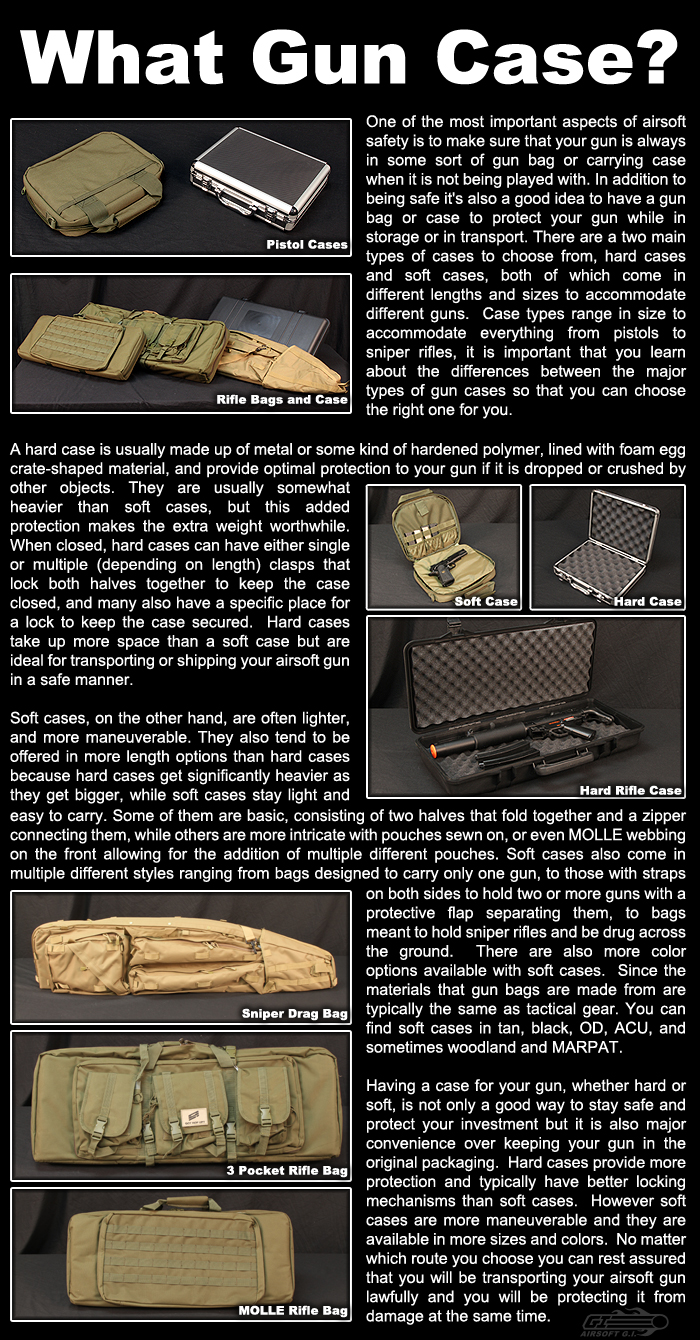 Specifications

Manufacturer: ECHO 1
Color: Black
Size: 47" Long
Material: Nylon
Package Includes: One (1) Gun Bag
see 11 reviews
|
Write a Review
J. XU | 2014-02-03
Product Information:
Cheap... The first thing I noticed... Not the cheap in a bad way, but that price... The gun bag turned out to be awesome! It's the best gunbag for the price! Get this and you won't regret it!

Pros:
Cheap, Durable, Can hold two guns(Ak and M4) using towel in between them, Has pouches for mags, batteries, etc... Awesome!

Cons:
Nothing, besides the fact that it's kind of thin, not padded at all, but it's only 16 bucks!
verified buyer
D. SCHAIBLE | 2014-03-18
Product Information:
i gut this for my KAC PDW and my pistol. The price is amazing and the straps are awesome. Not to mention the shoulder strap. Though there is a lack of padding. The pouches are perfect for my mags and accessories. Though i keep all my attachment on my gun in this. It fits in just perfectly with my red dot on top of my PEQ box

Pros:
Price
straps
pouches
shoulder strap
size

Cons:
lack of padding
you not owning it
verified buyer
N. STEPHENSEN | 2014-11-03
Product Information:
This is a very nice gun bag for the money. I got it to complement my JG M16-A4 Enhanced (Very decent gun, by the way). I am able to keep all of my accessories on the gun and not have a problem packing it. There is a lack of padding but for 16 buck a piece buy a smaller one to put your stuff in and then the next size up to put your other gun bag in. Gun bag in a gun bag. The shoulder strap on the back is also a nice touch for when your hands are full, yet you still need to carry your gun in a bag. It has pouches for your mags and miscellaneous accessories. Clean zipper pull, too, that's a plus. Great deal for a really good product.

Pros:
Cheap
Doesn't act cheap
Plenty of storage for whatever you need to carry with your gun
This one allows for very large weapons, so keep that in mind. Don't get it for a 30" CQB gun.
Shoulder strap for carrying.

Cons:
I guess the lack of some real padding but it is no biggie, just don't drop your gun while it's in here and your good!
will it fit

Will this fit a M4,scar -h mk17, and Airsoft GI FMG4-A1 Daniel Defense Omega 9" AEG Airsoft Gun.Thanks and but for only one gun

2026 days ago

Santos G

0

0

(I have this same question)

Staff Answer:

It should, but only one at a time

2025 days ago

1 answers
1 asked

M14 SOCOM

Will it fit a Double Eagle M14 SOCOM RIS?

2180 days ago

Sergiu L

0

0

(I have this same question)

Staff Answer:

yes

2180 days ago

1 answers
1 asked

Would it be able to fit something slightly longer?

I have an SVD, which is about 48 inches. An extra inch could be forced in right? Like if I stretch it or something. If not, I'm cool with the tip of the barrel sticking out the top, I guess.

2345 days ago

Anthony B

0

0

(I have this same question)

It has two zippers, so I guess you could have the barrel sticking out in between the zippers.

2338 days ago

I have an SVD, which is about 48 inches. An extra inch could be forced in right? Like if I stretch it or something. If not, I'm cool with the tip of the barrel sticking out the top, I guess.

2345 days ago

Anthony B

0

0

(I have this same question)

Staff Answer:

Generally no. This bag wasn't designed to stretch.

2342 days ago

2 answers
2 asked
Search Tags: Rifle Accessories Equipment Carry Transportation Storage Multiple Pockets 47 Inch Echo1
People who bought this item also purchased: