Echo 1 34" Gun Bag (Black)
[SI05][09760 / ECHO GC 34]
( 13 Reviews )
❤ Add to Wishlist
Free Shipping for orders over $89 No Coupon needed
The ECHO 1 34" Gun Bag is an absolute must-have for transporting your airsoft gun. It is the perfect size for holding your CQB weapons, or smaller field guns like the MK5, M4 CQB, P90/E90, Masada CQB, etc. The interior of the bag is padded and features Velcro straps to help keep your gun in place. The exterior of the bag features two carry handles, a built-in shoulder strap, and four extra pouches for carrying extra bb's, grenades, magazines, or almost any other accessory that you may need on the field.
Specifications:
Manufacturer: Echo 1
Model: Gun bag
Color: Black
Size: 34 inches
Package Includes: Gun bag only

Features:
Padded interior
Velcro security straps
Built-in shoulder strap
Additional exterior pouches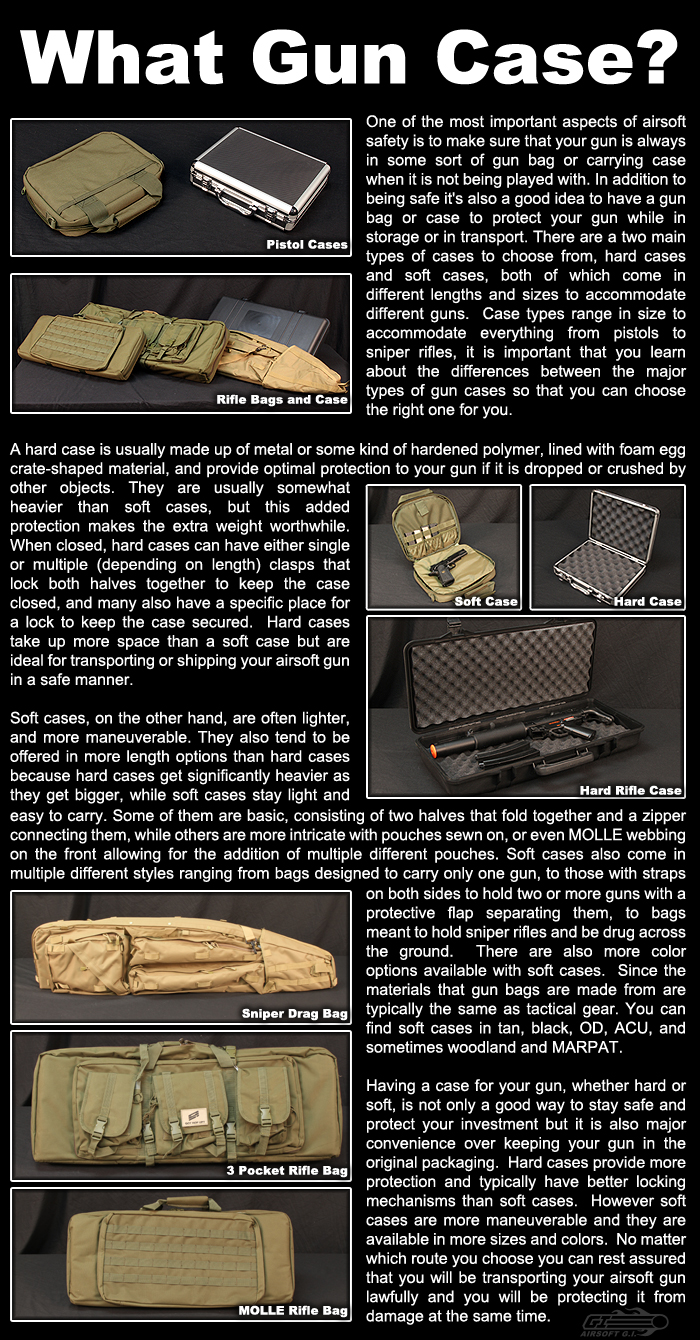 Specifications

Manufacturer: ECHO 1
Color: Black
Size: 34" Long
Material: Nylon
Package Includes: One (1) Gun Bag
see 13 reviews
|
Write a Review
verified buyer
M. SUN | 2014-03-26
Product Information:
This is a great budget gun bag. It's held closed by zipper, and has velcro fastening strips inside.

Pros:
Pockets on the front for miscellaneous items
Holds a CQB length rifle perfectly


Cons:
A bit flimsy, it will eventually break. Totally still worth the investment, though.
verified buyer
A. RANDALL | 2014-08-23
Product Information:
The Echo 1 34 inch Gun Bag seems to be a very well made bag. It easily holds my rifle in it and has 4 Velcro straps inside to help keep my gun in place while transporting it. It has a Velcro secured dual handled caring handle on the top side with a sling strap on the back to carry on your shoulder. There are 2 mag pouches on the front that easily hold my large capacity mag (450 BB count) with 2 additional decent sized accessory pouches.

Pros:
Excellent gun bag for the price ($16), was well worth the money spent and from what I can tell it should last a long time, if it is taken care of. Because of the quality and affordability of this bag I will definitely look at other Echo products of this type in the future.

Cons:
There are no cons to this product from what I have seen.
verified buyer
C. BENITO | 2015-04-06
Product Information:
Does what it needs to do, its a bag to hold the gun, to help transport it to the field. Its front facing pockets holds two magazines comfortably, and the other pockets i use for small accessories. It can even fit a small pistol if you want it too. However the straps inside that hold the gun in place as less then great, but for such a low price, thats the tradeoff.

Pros:
- super cheap
- feels study enough to hold the gun with no problems


Cons:
- straps inside that hold the gun are less then impressive
- very thin bag,
how many mags does it fit on the outside pockets?

I have regular m4 mags

1853 days ago

Kevin D

1

0

(I have this same question)

Staff Answer:

About 4

1851 days ago

1 answers
1 asked

magpul pts rm4

Will this gun fit inside this bag?

2068 days ago

Eddymir L

0

0

(I have this same question)

Staff Answer:

It should

2068 days ago

1 answers
1 asked
Search Tags: Rifle Accessories Equipment Carry Transportation Storage Multiple Pockets 34 Inch Inches Echo1
People who bought this item also purchased: