(Discontinued) TSD 0.20g 5000 BBs 3 Bags Special Online Only
[P02442]
( 5 Reviews )
Free Shipping for orders over $89 No Coupon needed
The TSD High Grade 0.2g are recommended for indoor play in AEGs and Pistols. Instead of the standard 4000 BB per bag you get 5000 BB per bag! TSD has made a name for themselves by providing good quality products at affordable prices, and these BBs are no exception.
Specifications:
Manufacturer: TSD
Dimensions: 5.96mm
Quantity: 5000 rounds per bag
Design: All electric guns, high power spring guns, gas guns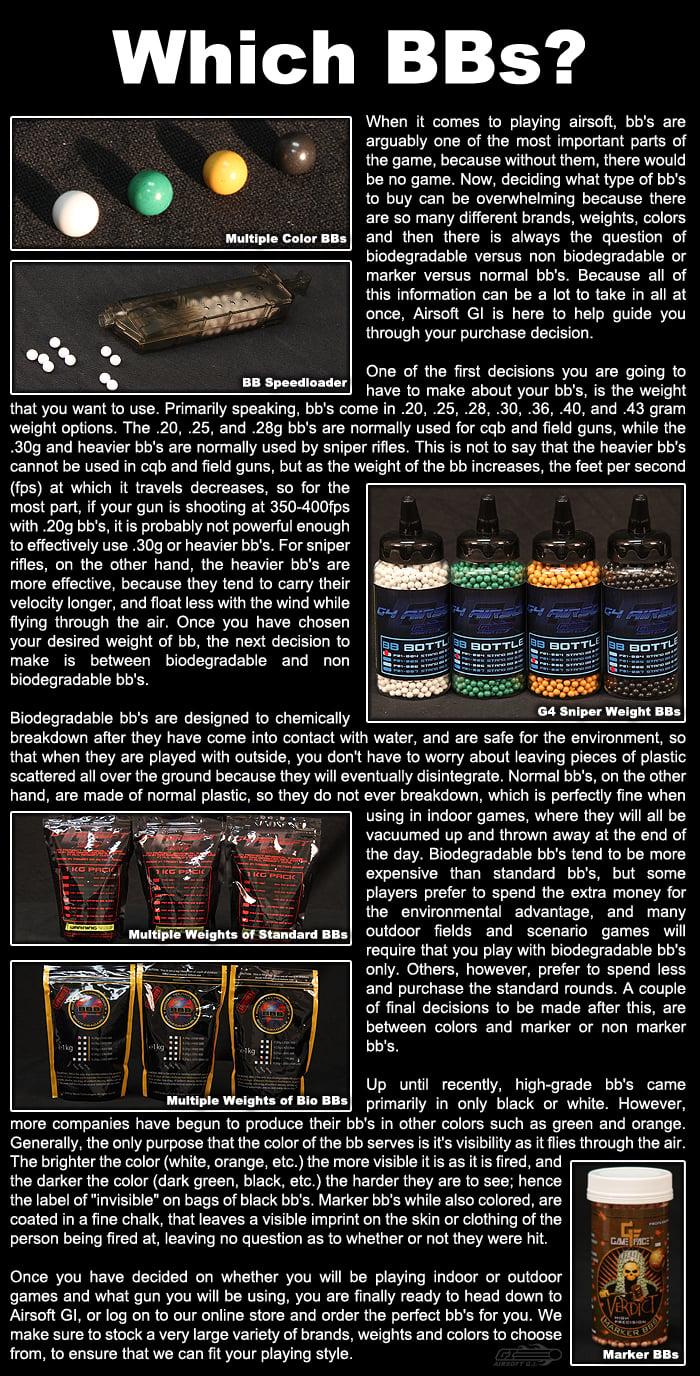 Specifications

Manufacturer: TSD
see 5 reviews
|
Write a Review
verified buyer
C. FONSECA | 2008-05-22
Great BB's. I have yet to find one in the 6 bags that i have ordered 1 comeing out with a mess up on them great, especially for the price.
verified buyer
J. BENTLEY | 2010-07-10
Product Information:
Well I just bought these BB's thinking that they would work for my 3 guns. I have an Echo 1 G3, UTG L96, and a Crosman C11 Airmag Pistol. They work absolutely great in my G3. They increased accuracy a lot for it and fly a little farther. With the Crosman Pistol they work OK, better than the crosman BB's that I normally buy to go with it. It isn't that accurate of a pistol anyway and Im going to buy a different one soon so that doesn't really matter. BUT the biggest mistake anyone can make is getting these BB's with ANY sniper rifle. Im sure that if you are reading this you have probably seen some videos of the L96. You guys know how accurate the L96 is and believe me it doesn't even come close to holding its reputation with these. The most accurate I can get this gun to be at 130 feet is at very best a spread of 3-5 or 6 feet. With the very rare good hit you can hit the 8 1/2 by 11 target. Worst BB's ever for Sniper Rifle, but great for Assault Rifles, Pistols, SMG's, and every other lower powered rifle. Rating at the bottom is based on performance with my G3.

Pros:
SUPER slick
Almost no imperfections
Great deal
Amazing for Smaller Rifles!

Cons:
Horrible for higher powered rifles (on a scale of 1-10 they are a -1/10...)
verified buyer
M. YANG | 2010-04-23
Product Information:
these are the best bbs ever!!!!!!!!!!!!!!!!!!!!!!!!! they feed flawlessly and dont crack. they are super smooth and have a 5.98mm diameter which is the closest to 6mm possible(for bbs). you also get 15000 for only $32. i got a bucket of 10000 .12s from big5 that shattered on impact and had a visible seem on everyone for $30.

Pros:
the best bbs
cheap
SMOOOOOOOOOOOOOOOOOOOOTH
high quality
did i mention its SMOOOOOOOOOOOOOOOOOOOTH


Cons:
NONE!!!!!!!!!!!!!!!
Search Tags: High Quality Precision Grade Seamless Polished Ammo BBs .20g BB Bag .20 20g 20