* Discontinued * D Power 8.4v 1500mAh NiMH Mini Battery
[L313103923]
( 2 Reviews )
Free Shipping for orders over $179
No Coupon needed
New to airsoft? Here are some
safety tips for airsoft guns
that we recommend following.
The 8.4v 1500mAh mini battery pack will fit a wide range of airsoft guns and is specifically designed for those guns without a full stock. Its small size allows it to fit into the hand guard of many compact AEG. For example AEG models such as the M4A1, Sig 552, G36C, and the MP5A5 are all wired to their hand guards. This battery pack also has the high quality intellect battery cells.
Specifications:
Manufacturer: D Power
Connector: Mini
Voltage: 8.4v
Milliampere Hours: 1400mAh
Cell Type: Nickel-metal hydride (NiMH)
Connector Type: Mini
Recommended Fit: M4A1, 733, M4 Commando, Sig 552, G36 series, MP5A5, MP5SD6, and AUG

Airsoft GI Battery Disclaimer:
Airsoft GI is not responsible for batteries that have been damaged as a result of improper operation, storage, misuse or abuse, accident or neglect, such as physical damage resulting from misuse; contact with liquid, water, rain, extreme humidity or heavy perspiration, sand, dirt or the like, extreme heat, or food; use of the battery for commercial purposes or subjecting the battery to abnormal usage conditions, or other acts which are not the fault of Airsoft GI. Make sure you understand how your battery should be used and how long it should be charged. If you have any doubt regarding the operation, charging, or storage of your battery and/or charger, ask. A charging battery should not be left unattended and should be picked up periodically while charging to check for overheating. Do not charge batteries near flammable material. For more information regarding batteries please refer to the Frequently Asked Questions or the Airsoft GI Airsoft 101 Guide.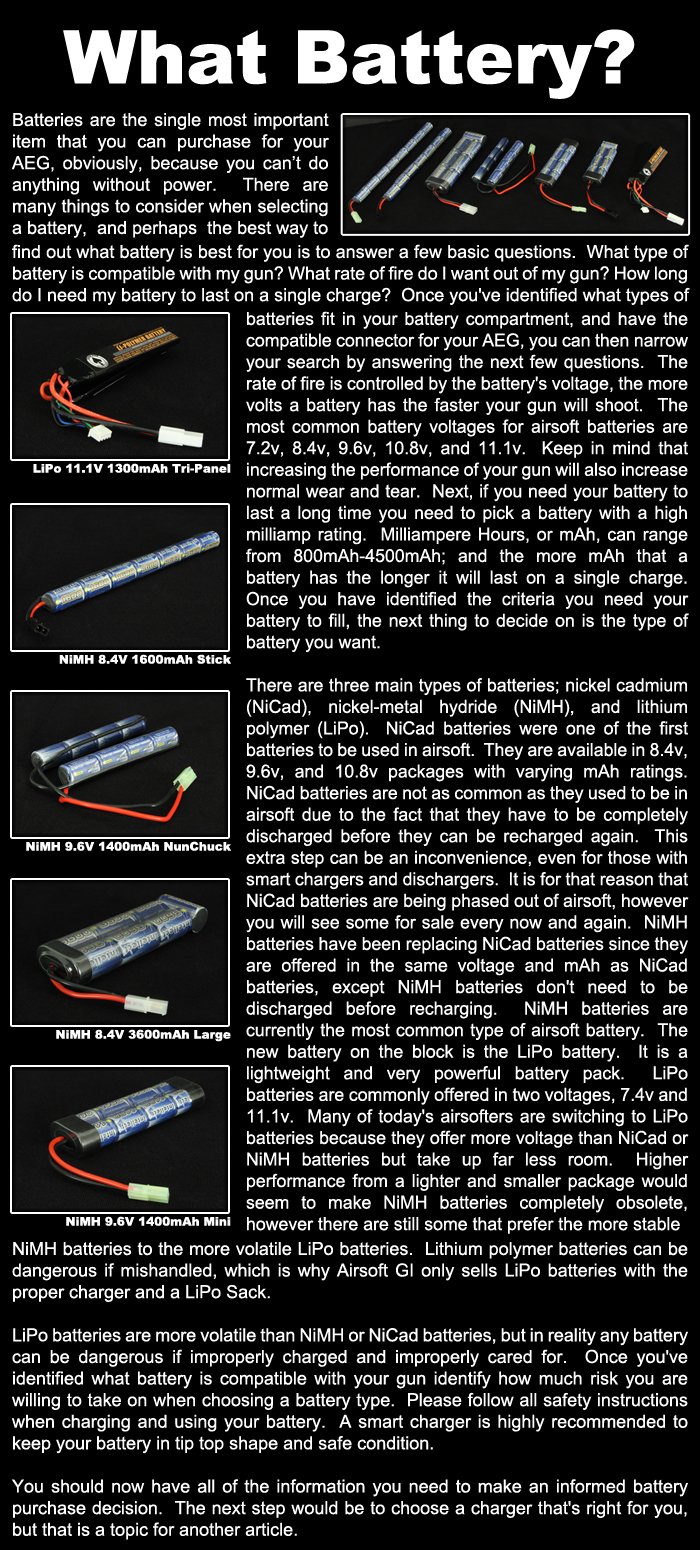 Specifications

Manufacturer: D Power
see 2 reviews
|
Write a Review
N. CANFIELD | 2009-03-26
Product Information:
1500mah 8.4 as it says above. I got this battery Around Christmas of 08 and I have used it 3 times since today actually. (3/25)
It held it fine in the beginning but after charging a few days it wont even hold a charge anymore
I'm using a 90$ smart charger By the way so I don't.


Pros:
- Decent price
-Lasted a while when it worked
-Durable

Cons:
-Lasted about 3 charges before it stopped holding a charge anymore.
J. BRATCHER | 2009-07-30
Product Information:
i don't know why that other guy had a problem with it i bought this as a spare battery for my TSD g36 and this battery lasted me until i sold my gun. shockingly i never had to use the spare unless i did a thing where i stayed overnight. the one battery would always last me in my normal events where i airsofted from 10am-3pm and it would normally run out of charge at the very end of the day i used the battery in over 20battles and it always lasted me that long i'd say that guy using a $90 charger got ripped off i bought a $20 smart charger off of here and it woprks just fine

Pros:
low rof and lower fps probly contributed to its long last, but it lasted me long

Cons:
was kinda hard to fit in my g36, but i got used to it.
Search Tags: Small Type Brick 2/3A Nickel Metal Hydrate M4A1 MK36 G36 MK5A5 MP5A5 AEG 7 Cell 8.4 1500