D Boy MK36/G36 470 rd. AEG High Capacity Magazine (Black)
[SF24][10368 / BIG-01]
Free Shipping for orders over $89 No Coupon needed
This is a lightweight, plastic constructed magazine that is recommended for use with the Echo 1, JG, Tokyo Marui, KWA and Classic Army MK36 series AEGs. It may work with other brands of Mk36 models as well, but this cannot be guaranteed by Airsoft GI.
Specifications:
Manufacturer: D-Boy
Magazine Capacity: 470 rounds

High Capacity Magazine Operation:
Find the trap door, usually located on the top of the magazine near the loading nozzle.
Open trap door and fill reservoir with high quality BBs.
Wind the wheel at the bottom of the magazine (notice the pitch and volume of the click).
Continue to wind wheel until pitch changes. Once the click gets louder, or begins to "double click," the magazine is fully wound.
Insert magazine into gun and fire. You may need to rewind the wheel during play.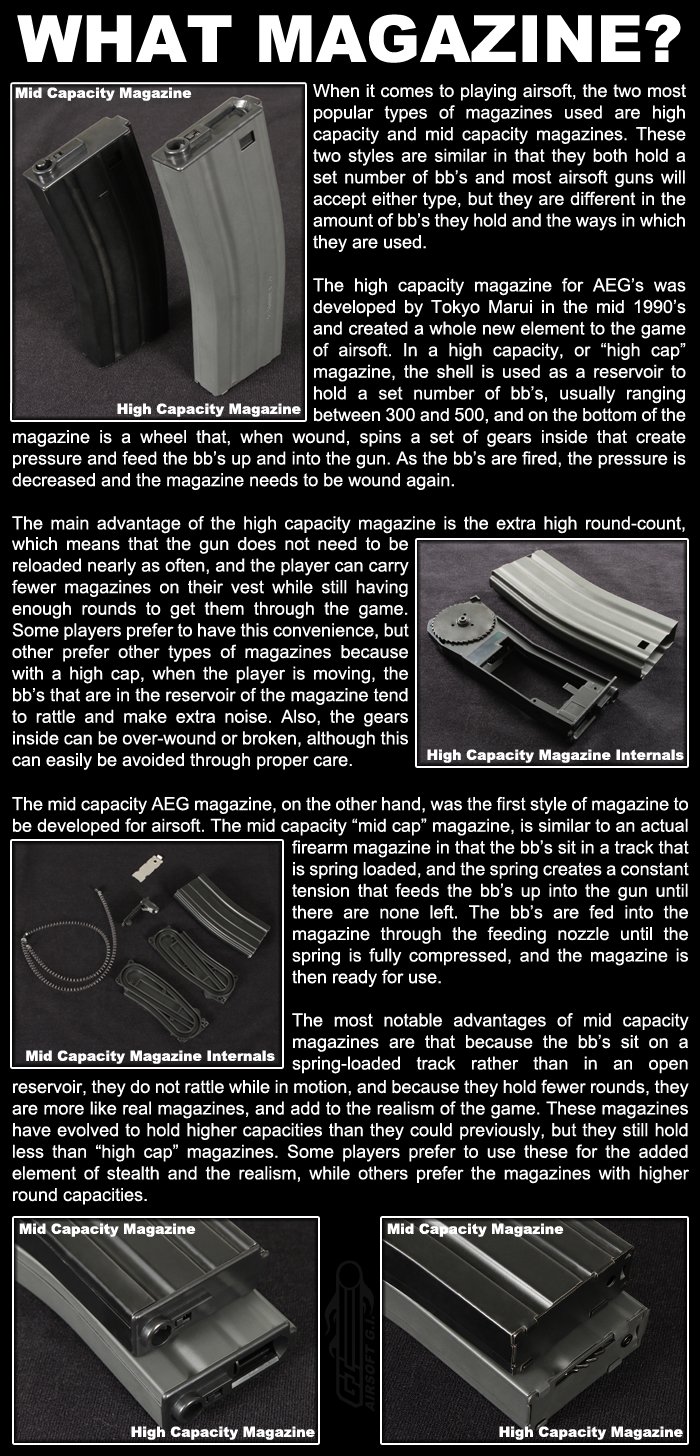 Specifications

Manufacturer: D Boy
Color: Black
Material: Plastic
Package Includes: One (1) Magazine
Will this work for a galil?

?

922 days ago

Michael L

0

0

(I have this same question)

Staff Answer:

This magazine is compatible with an G36 / MK36, and would not be compatible with a Galil.

781 days ago

1 answers
1 asked

will this fit the Elite Force H&K G36 w/ MOSFET AEG

compatibility

1645 days ago

ginger s

0

0

(I have this same question)

Staff Answer:

It should be compatible.

1644 days ago

1 answers
1 asked

Will the BB's rattle inside this mag?

Will the BB's rattle in the mag?

1695 days ago

Raul M

0

0

(I have this same question)

Staff Answer:

Most likely depending on how much is put inside.

1695 days ago

1 answers
1 asked

Compatibility?

will this mag work in a KWA G36C?

2270 days ago

Wiht R

0

0

(I have this same question)

Staff Answer:

This should work.

2268 days ago

1 answers
1 asked
Search Tags: Mil Sim Gun Field SM G36 Mag Clip
People who bought this item also purchased: