D Boy M4/M16 500 rd. AEG High Capacity Magazine (Black)
[X08C02][06998 / BIM-87]
( 4 Reviews )
❤ Add to Wishlist
Free Shipping for orders over $149
No Coupon needed
This magazine is recommended for use with the A&K, Echo 1, JG, Tokyo Marui, Classic Army, VFC, ICS, G&G, and G&P M16 series AEGs, it may work with other brands AEG but cannot be guaranteed by Airsoft GI.
Specifications:
Manufacturer: Dboys
Magazine Capacity: 500 rounds

High Capacity Magazine Operation:
Find the trap door, usually located on the top of the magazine near the loading nozzle.
Open trap door and fill reservoir with high quality BBs.
Wind the wheel at the bottom of the magazine (notice the pitch and volume of the click).
Continue to wind wheel until pitch changes. Once the click gets louder, or begins to "double click," the magazine is fully wound.
Insert magazine into gun and fire. You may need to rewind the wheel during play.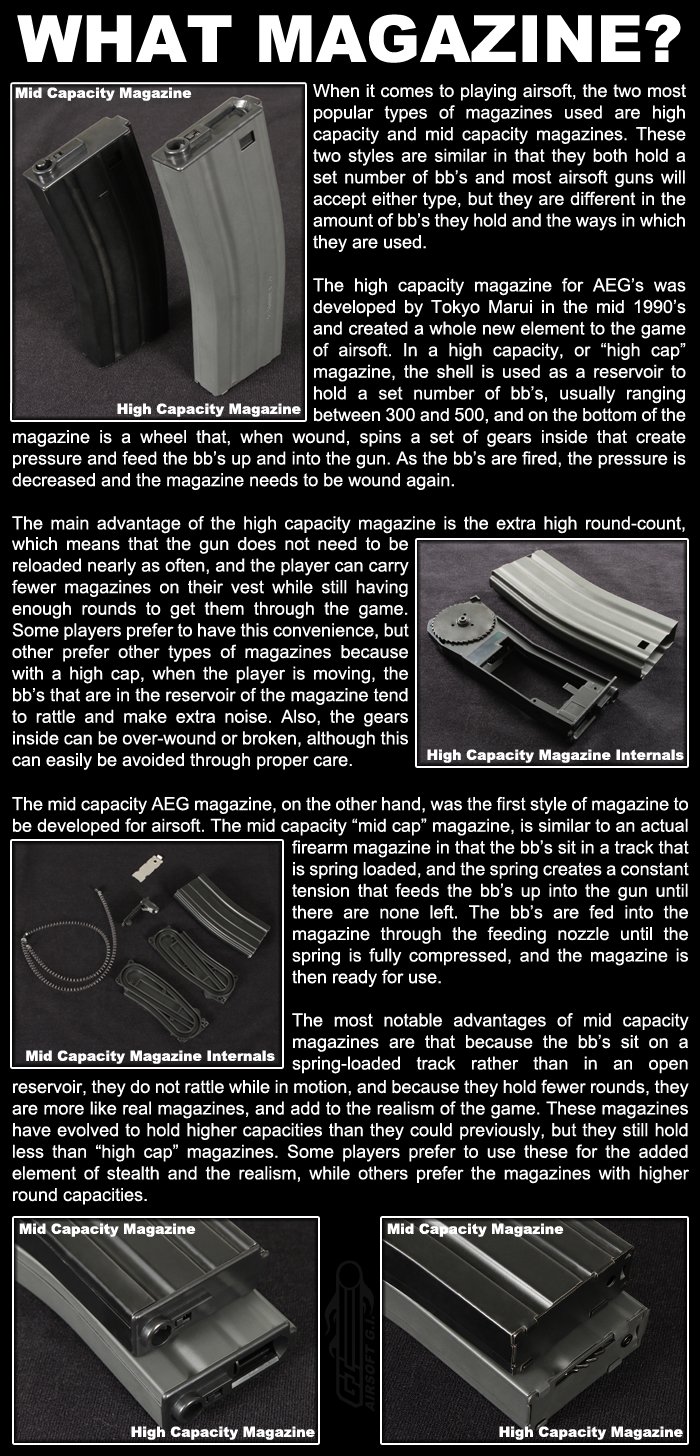 Specifications

Manufacturer: D Boy
see 4 reviews
|
Write a Review
verified buyer
S. BENDZSEL | 2013-04-16
Product Information:
These work great I reccomend them to anyone looking for a mag that is easy to refill and is durable and never has any feeding problems and just looks cool I use these for my Agm m4-a1 ris and I have two of them and a reg 300 rd mid cap just in case but I never run out in the middle of a game and I like to shoot alot

Pros:
Looks cool
does what its supposed to and does it very well
Never misfeeds

Cons:
The door where you fill up the ebbs just slides open and close and sometimes they can spill out if you lay down or if the mag. Is loose in your pocket or loose in somekind of pouch the bbs. Will spill everywhere if these Mag's had somekind of sliding door closing mechanism I would give them a 5 star but since they don't ill give them a 4 since they work fine and spillage can probably be avoided if your careful
verified buyer
W. HE | 2013-11-29
Product Information:
Works well as a high-cap, just with an added bonus of an extra 200 rounds to fire. Winding is annoying as usual, but it means less magazine changes anyhow.
Has fit every gun I've used, which include JG, Lancer Tac, and G&P.
Metal construction is a plus
No problems with feeding thus far

Pros:
Fits a good number of guns
Metal construction
Feed well
Extended capacity

Cons:
Even more winding with the extra capacity
verified buyer
N. YOUNG | 2016-04-11
Product Information:
I ordered this Hi-Cap mag with my first Airsoft gun. It was never dropped. It stopped working before 1000 BB's. The springs must be cheaply fixed into place. The company that makes this mag also makes Airsoft guns so buyer beware.

Pros:
This magazine is 13.84.
It handles 500 bb's, should yours not fail within the first 1000 rds.


Cons:
Light bursts of auto fire destroyed this mag before 1000 shots.
I own a low-end AEG. Any high-end or mid-range AEG is going to mutilate this magazine if it's construction is anything similar to the one I received.
Will it fit?

Will this fit with my Lancer Tactical M4? http://www.airsoftgi.com/product_info.php?products_id=21231

2352 days ago

Davin S

0

0

(I have this same question)

Staff Answer:

It should fit

2351 days ago

1 answers
1 asked

Will this fit a valken battle machine mod-m?

Will this fit a valken battle machine mod-m?

2528 days ago

Chad S

0

0

(I have this same question)

Staff Answer:

It should fit

2524 days ago

1 answers
1 asked

Will it fit

In the Kwa cqr mod 2?

2705 days ago

Deverick P

0

0

(I have this same question)

Staff Answer:

Yes, these items should be compatible.

2705 days ago

1 answers
1 asked
Search Tags: Mil Sim Gun Field M4 M16 SCAR Metal Mag Clip
People who bought this item also purchased: