Condor Outdoor 42" Rifle Case (OD Green)
[S01C02][01190 / 128-001]
( 10 Reviews )
❤ Add to Wishlist
Free Shipping for orders over $179
No Coupon needed
New to airsoft? Here are some
safety tips for airsoft guns
that we recommend following.
Description:
Condor Outdoor Products Inc. has over 20 years of experience in the tactical/outdoor gear industry; specializing in tactical gear including vests, plate carriers, modular pouches, and packs. They are a licensed Multicam and A-TACS dealer. Condor Outdoor gear has become a staple in law enforcement, military, and airsoft industries given its quality and affordable price. More recently they have expanded to making more of their products in the USA and have added a tactical apparel line, offering technical performance jackets, base layers, and pants.

A must for all airsoft rifles. This is the most important accessory for your airsoft weapon, you must treat your airsoft gun as a real weapon. This rifle bag will fit guns like AK47, M16A2, M4A1,G36 and more. It can also fit spare magazines on the side where you can put them into the MOLLE pouches. It also has compartment for 2 extra hand guns. Regular retail value is around $150. Similar carrying devices by other leading brands are probably not as good as this one but they will cost you over $200! This is so far one of the best rifle case you can find at the best value ever. We guarantee you that you will like it! I personally like it the most because it look and feel just like some of the leading brands such as so-tech and Blackhawk, but at a fraction of the price! You won't find another rifle bag this nice at this price anywhere else. Attn Airsoft and paintball players, it is illegal to brandish your replica guns in public. Please always transport them in a carrying storage device. If you do not have a rifle bag yet, you need to get one now! It is the perfect rifle bag for your Tokyo Marui, ICS and Classic Army AEG. Please make sure to purchase a rifle bag for your airsoft weapon.
Specifications:
Manufacturer: Condor Outdoor
Country of Origin: Made in China
Material: 600 Denier
Size: 42" H x 12" W x 4" D
Weight: 5.33lbs
Color: OD

Features:
Two Internal Pocket for Pistols
Two Modular Mag Pouches
One Modular Utility Pouch
3/4" Padding
Hide Away Backpack Straps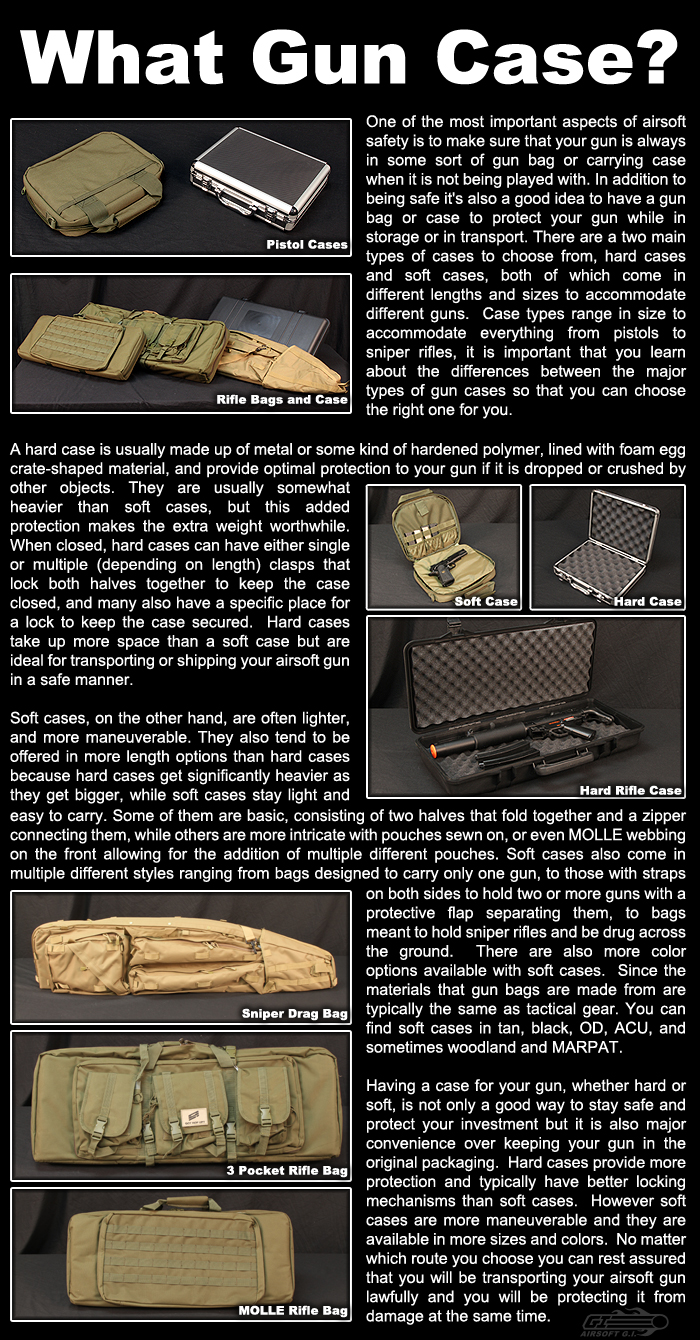 Specifications

Manufacturer: Condor Outdoor
Color: Olive Drab
Size: 42�H x 12�W x 4�D
Material: 600D Denier
Package Includes: One (1) Double Gun Bag
see 10 reviews
|
Write a Review
J. EMENY-SMITH | 2009-12-13
Product Information:
This gun bag is incredibly durable. The pouches on the front have a waterproof lining on the inside and can hold more than enough. The main gun storage is enough for one gun with scope/bipod/barrel extension. Or 2 if you can take all that off.

Pros:
Everything

Cons:
None
verified buyer
I. STEVENS | 2010-08-25
Product Information:
Tough, reliable, and helps you obey the law. It fits a standard carbine-length rifle with plenty of room to spare, too much room to spare actually. My G4 SOCOM fits well inside this gunbag and there would be room for a second gun if i wanted. The three front pouches fit most of your basic needs.The center pouch is wide enough for a bag of 3000 bbs and can fit two p-mags along with it. I havnt experimented with more but im sure it could. The side pouches can hold whatever misc. stuff you'd need in there, slings, back-up sights, mags, red dots, whatever you already dont have on you. All-in-all a usefull, organizing gun bag.

Pros:
-lots of space, both in the gun pouches and the misc pouches.
-extremely durable material
-longer than needed for most mid-length guns (pro and con)
-will protect protect your gun from scratches, bumps and whatever else may come your way.

Cons:
-can get heavy when fully loaded
-longer than needed for most mid-length guns (pro and con)
verified buyer
D. JENSEN | 2013-10-27
Product Information:
Good bag, misleading name. I bought thinking it would fit two rifles. It holds one rifle and has a secondary pouch that can hold a couple of pistols or an SMG.
The extra pouches are very useful and since they're MOLLE can be used on other gear as well.

Pros:
-Good quality material
-Plenty of space for a main gun
- Lots of secondary space
-Plenty of carrying straps
-Molle pouches

Cons:
- Misleading name
- Price is a little high, but still a good buy
Search Tags: Rifle Accessories Equipment Carry Transportation Storage Multiple Pockets Condor 42 Inch Olive Drab Forest Green
People who bought this item also purchased: