Classic Army M4 VMS 330 rds High Capacity AEG Magazine (Black)
[32915 / P521P-B]
( 1 Reviews )
❤ Add to Wishlist

New to airsoft? Here are some safety tips for airsoft guns that we recommend following.
Few things in airsoft are more necessary than extra magazines! Stock up on one of the best hi cap magazines around with the Classic Army VMS 330 round magazine. This polymer magazine features a unique texture and design on its exterior and a bright high visibility yellow interior so that you can find your magazines easily if you drop them. Classic Army also offers this item in a box set if you desire a larger quantity HERE.
Specifications:
Manufacturer: Classic Army
Magazine Capacity: 330 round Hi-Cap Magazine
Color: Black/Yellow

Features:

Unique Exterior Texture
High Visibility Yellow Components
High Capacity to reduce reloading
High Capacity Magazine Operation:
Find the trap door, usually located on the top of the magazine near the loading nozzle.
Open trap door and fill reservoir with high quality BBs.
Wind the wheel at the bottom of the magazine (notice the pitch and volume of the click).
Continue to wind wheel until pitch changes. Once the click gets louder, or begins to "double click," the magazine is fully wound.
Insert magazine into gun and fire. You may need to rewind the wheel during play.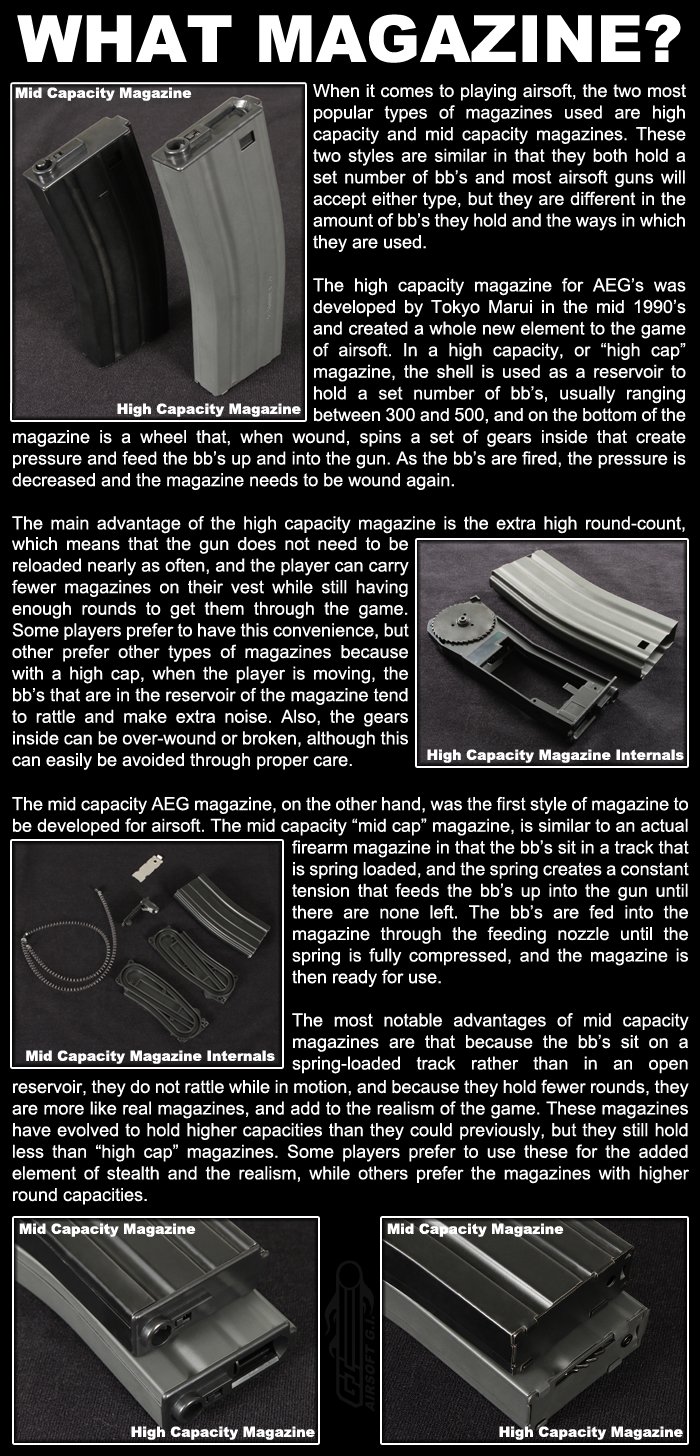 Specifications

Manufacturer: Classic Army
Color: Black / Yellow
see 1 reviews
|
Write a Review
S. RICHARDSON | 2018-03-11
Product Information:
I love the honey cone design, it is very stylish. It is a decent perform high cap. I do notice, you have to wind it up a bit for it to feed the whole mag. Not a big issue.

Pros:
Honey cone design, it is very nice.
Plastic feels nice,


Cons:
You do have to wind a lot for it to feed everything. Just dont forget to wind
Will they fit my Lancer Tactical Gen 2 LT-15 M4?

Will they fit my Lancer Tactical Gen 2 LT-15 M4?

1916 days ago

Nathan S

0

0

(I have this same question)

Staff Answer:

Yes, they will.

1916 days ago

1 answers
1 asked

Will they fit my Lancer Tactical Gen 2 LT-15 M4?

Will they fit my Lancer Tactical Gen 2 LT-15 M4?

1916 days ago

Nathan S

0

0

(I have this same question)

Staff Answer:

Yes, they will.

1916 days ago

1 answers
1 asked

Lancer tactical

Will these feed well in the lancer tactical mmc

1957 days ago

Matt M

0

0

(I have this same question)

Staff Answer:

Yes, the MMC will feed pretty well with most mag brands.

1957 days ago

1 answers
1 asked

fit/feed

Will they fit and feed well in my apex fast attack 702 keymod m4?

1960 days ago

Matt M

0

0

(I have this same question)

Staff Answer:

Yes, they will fit and feed in the Apex Fast Attack.

1960 days ago

1 answers
1 asked
Search Tags: Hicap Highcap Winding Wheel M4 M16 AR
People who bought this item also purchased: