Bravo Airsoft Scout V Tactical Flashlight (Dark Earth)
[16614 / BRAVO FL SCOUT V DE]
( 1 Reviews )
❤ Add to Wishlist
Free Shipping for orders over $159 No Coupon needed
For the serious airsoft competitor, visibility is essential. In low-light environments, optimal visibility is best achieved getting a high-performing, tactical flashlight for your airsoft rifle. In terms of brightness, durability and overall performance, there are few better choices than the Bravo Airsoft Scout V Tactical Flashlight.
Designed and manufactured by the industry-leading engineers at Bravo, the Airsoft Scout V Tactical Flashlight is an LED flashlight that generates over 180 lumens of blinding white light and continues producing light for more than two hours. For airsoft applications, LED is the far superior bulb choice due to its overall lifespan, brightness and unique color temperature that makes targets more visible. The bulb on this Bravo flashlight allows you to spot opponents at a great distance and disorient them with the intensity of your light. The Bravo Airsoft Scout V Tactical Flashlight is made of rugged anodized aluminum and O-ring sealed preventing water or dirt to make its way into the light. This is makes it a great choice for even the most demanding outdoor environments. To make installation and removal a breeze, this flashlight features a quick detach mount that will securely attach to many 1913 Picatinny rails. The Bravo Airsoft Scout V Tactical Flashlight is powered by two CR 123A or a single 16430 battery. Order yours in a tactically-optimized dark earth color here at Airsoft GI today!
Specifications:
Manufacturer: Bravo
Light Type: CREE LED
Length: 14cm
Weight: 5.4oz
Output: 200 Lumens
Beam Distance: 110m
Beam Diameter: 1.2m
Powered By: 2x CR123A or 1x 16430
Switch: On/Off Click Tailcap or Remote Pressure Activation

Features:
CNC Aluminum Construction
Integrated QD Tactical Rail Mount
Remote Pressure Switch Included
Please Note:

This flashlight does not come with Batteries.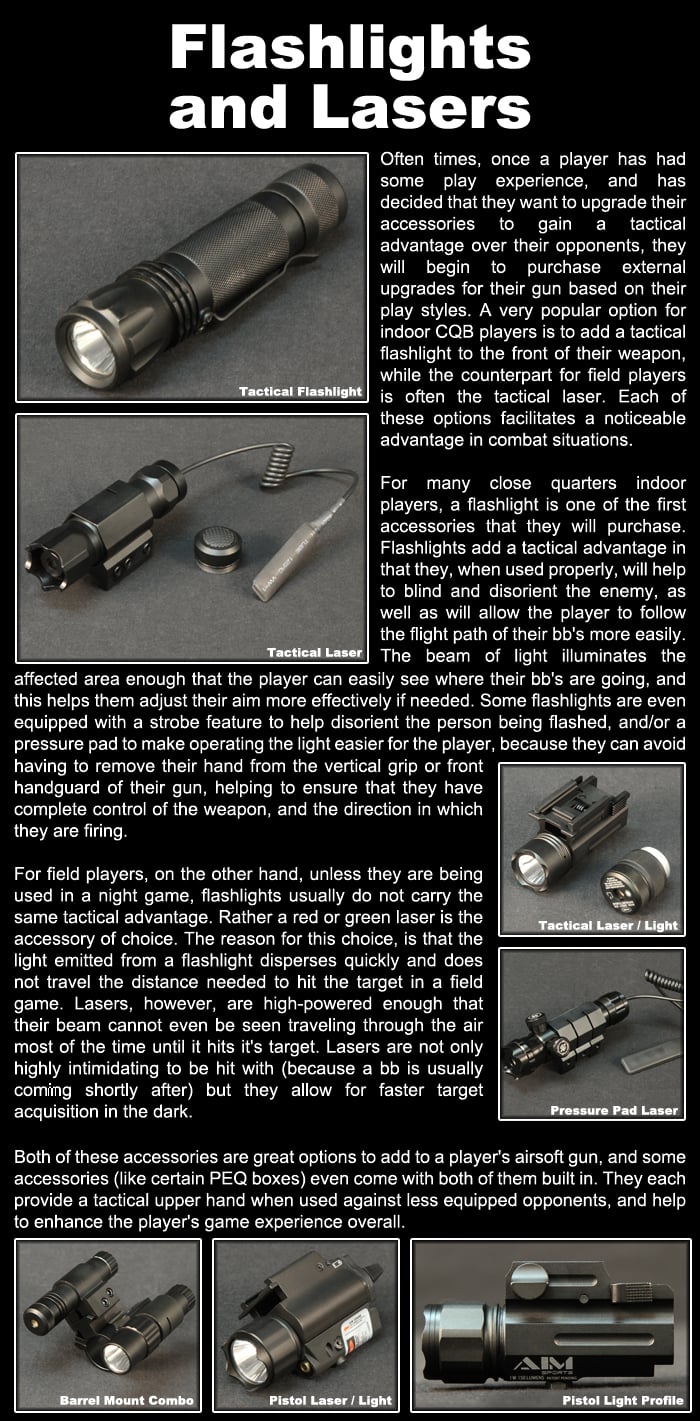 Specifications

Manufacturer: Bravo
Color: Dark Earth
Size: 5.5"L
Material: Metal
Package Includes: One (1) Flashlight, One (1) Remote Pressure Switch, One (1) On/Off Tailcap
see 1 reviews
|
Write a Review
verified buyer
C. DAVIS | 2019-12-20
Product Information:
Is a great flashlight. Nice weight and darker than appears in the picture. A true flat dark earth color! Is sturdy and definitely a must buy.

Pros:
•Bright
•Easy to put on rifle.
•Has a strobe mode.
Comes with adhesive Velcro strips for pressure switch.


Cons:
None
Replacement parts?
0 answers
1 asked

how many lumens?

how bright is it?

3250 days ago

matthew n

0

0

(I have this same question)

Staff Answer:

Description has been updated with the brightness strength.

3248 days ago

1 answers
1 asked

Lumens?

How many lumens does this flashlight have?

3251 days ago

Marek W

0

0

(I have this same question)

Staff Answer:

The description has been added.

3249 days ago

1 answers
1 asked
Search Tags: Light Illumination Mount Pressure Switch CQB Field AEG GBB QD Flash Light Desert Tan
People who bought this item also purchased: