Airsoft GI I4-A2 Flaming Hog AEG Airsoft Rifle (Custom)
[08202]
The Airsoft GI I4-A2 Flaming Hog Airsoft Gun is a terrific addition to Airsoft GI's custom series of AEGs. This gun features ICS' famous split version 2 gearbox which allows the user to split the upper and lower receiver just like the real thing. Also, the forward assist functions to reduce gearbox pressure by releasing the anti-reversal latch so the spring can decompress, a feature not commonly found on airsoft guns. Most of the gun is made from high quality polymer with a metal barrel and gearbox. The adjustable crane stock can be set to the user's comfort and to house the battery for the gun, hiding the wires. This crane stock is very unique, it can only house the ICS Crane Stock Battery that is made for this gun; the contact for the battery is not made with the traditional tamiya connector but with a contact plate built into the stock. This stock set up ensures that no wires impede the movement of the stock, you will always be able to adjust the stock all the way across it's movement spectrum. The 7 inch free float rail system provides an excellent platform for performance enhancing accessories like the included vertical grip or flashlight. Also, the RIS sits flush with the upper receiver to give you a continuous upper rail that will allow you to mount optics right where you need them most. You'll never run dry with this AEG because it comes with a high capacity magazines that holds 300 round! This is an excellent airsoft gun for the avid player or tactical trainer.
Attention Airsoft GI Customers:
All G4 airsoft guns will be completed with either the standard rear sight or the one pictured here: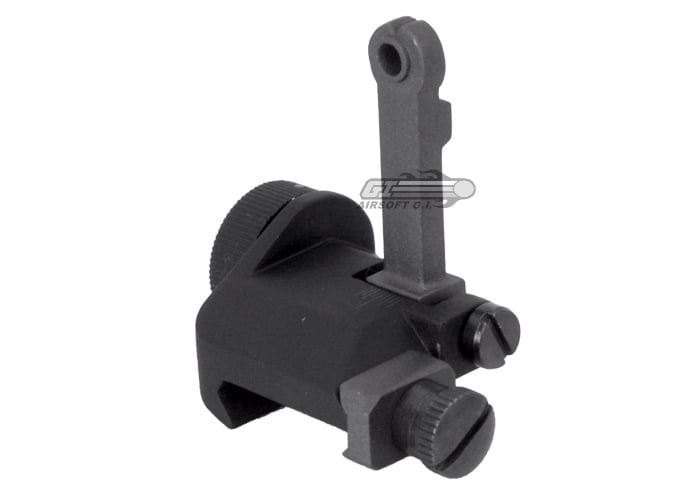 Specifications:
Manufacturer: Airsoft GI
Muzzle Velocity: 290-300FPS
Magazine Capacity: 300 rounds
Package Includes: gun, high cap magazine

Please Note:

Product Does Not Include Red Dot Sight or fore grip.
When closing the upper receiver to the lower receiver please be gentle and line up the receiver pin holes, excessive force is not required to close the upper and lower receiver and may result in damage to the gun.
This gun can only accept this ICS Crane Stock Battery!




Specifications

Manufacturer: Airsoft GI
Other Great Deals and Accessories:
Select the item from the Drop Down Menu and click add.
Search Tags: M4 RIS Field Carbine Retractable Stock High Capacity ICS M4A1 G4