Airsoft GI G4 Airsoft .20g 5000 ct. BBs (White)
[S13B01][07211 / P01-004]
( 8 Reviews )
❤ Add to Wishlist
Free Shipping for orders over $89 No Coupon needed
The Airsoft GI G4 Airsoft 0.20g is a high quality, high polished spherical ball bullet. Made in Taiwan, these G4 BBs have less then 0.01mm deviation in each BB therefore a consistent shot is easily attained. These are easily the best BBs for the price.
Specifications:
Manufacturer: Airsoft GI
Color: White
Dimensions: 5.95mm
Quantity: 5000 rounds per bag
Design: All electric guns, spring guns, gas guns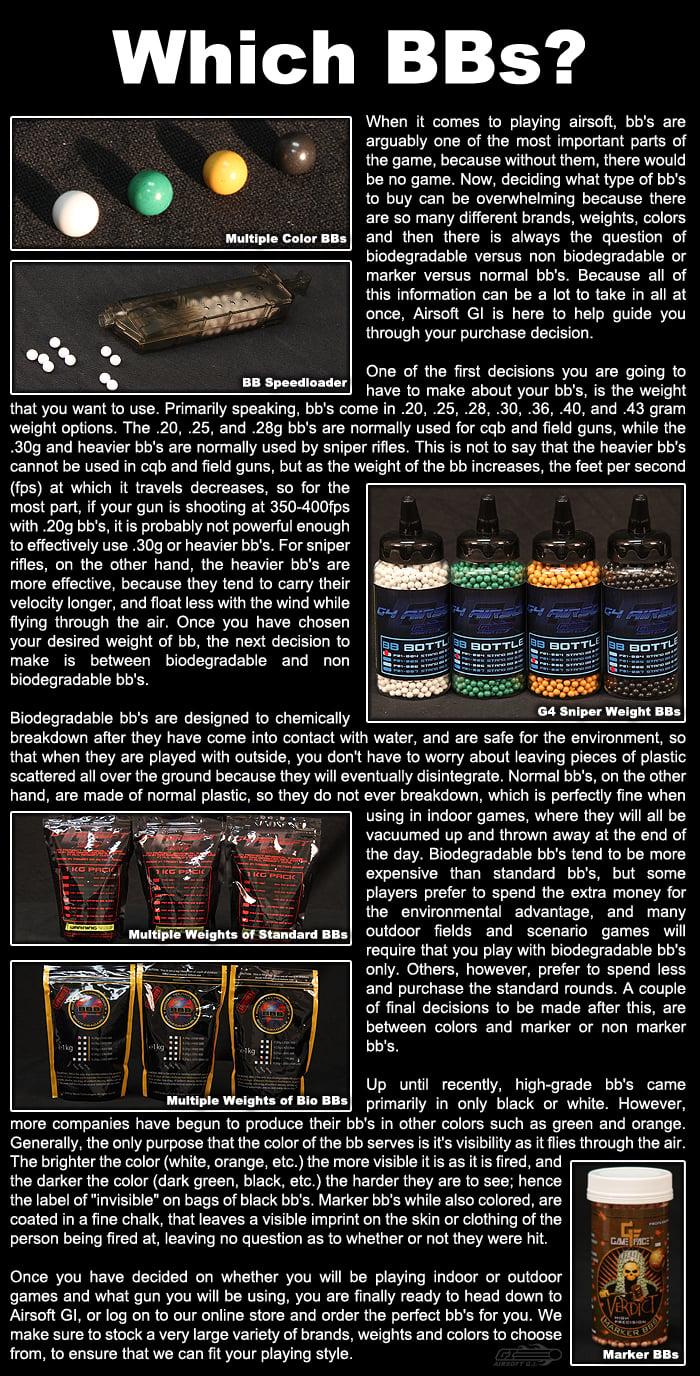 Specifications

Manufacturer: Airsoft GI
see 8 reviews
|
Write a Review
verified buyer
B. PHAN | 2014-01-20
Product Information:
Comes with 5000 bb's in a bag. The bb color is white. For 10 bucks this bag of bb's are very affordable. Not only are they inexpensive but they also very high quality. They haven't jammed on me yet and I don't expect it to jam ever.

Pros:
-inexpensive
-5000 bb's
-High quality
-Won't jam your aeg

Cons:
There is no con I can think of besides that it has a strong plastic smell inside the bag.
J. XU | 2014-02-03
Product Information:
These are great! Best for the price! Airsoftgi bb's are truly the best! Comes in an awesome bag too!

Pros:
Cheap, cool bag, durable, well-polished...

Cons:
nothing, nothing at all, It's Airsoftgi, nothing can go wrong with them!
H. DONG | 2015-11-04
Product Information:
Airsoft GI G4 Airsoft .20g BBs 1kg Bag (White)
(You can't go wrong with Airsoft GI because the owner is Asian and Asians never get something wrong)


Pros:
Very Accurate
Nicely Polished
Small and Compact(Pro/Con although mostly Pro)


Cons:
No cons that I can think of except for the really bad Plastic smell whenever you open the bag and the plastic smell is especially strong when you first open the bag.
Kind of hard to dunk your Hi-Cap Mags in these bags because they're so small
Search Tags: High Quality Precision Grade Seamless Polished Ammo BBs 0.20g .20g BB Bag .20 20g 20
People who bought this item also purchased: