Airsoft GI FMG4 M-LOK Strike AEG Airsoft Rifle
[P11B00][20201]
( 3 Reviews )
❤ Add to Wishlist
The Airsoft GI Full Metal FMG4 is a new direction in the journey of the G4 AEGs. The current G4 is well known in the airsoft industry for being an amazing value and being built to a high standard. Now we have embarked on journey to create a full metal G4 line up with higher standards in mind. This new Full Metal FMG4 has an exquisite exterior, the metal parts are made of high quality aluminum for extreme durability. The body contains a cool matte finish with a custom laser etching of the Airsoft GI Crest on the left of the lower receiver and the GI Flaming BB on the right of the lower receiver. Internally, Lonex is the original equipment manufacturer for the new FMG4 Lineup. Lonex is well known for creating high quality performance parts for airsoft. The reliability of their parts is beyond what is expected. This is the FMG4 with an aftermarket 13" M-LOK Rail System. This rail system adds even more versatility to the FMG4 with the modular rail system. A modular rail allows you to carry only the rails segments that you need, and leaving the RIS unit as light as possible. Included with this gun is a Lonex Flash Magazine, which is one of the most reliable flash magazines on the market. By using a flash magazine, all you will need to wind the magazine is to pull on the cord about 4-5 times for a full wind. Only Airsoft GI can offer you such an amazing full metal gun and save you so much money in the process.
This incredible offer is only available at Airsoft GI. If you were to buy all these parts individually it would cost over $370!

$220 for the base gun
$85 for the Rail
$40 for the crane stock (assuming the gun is already wired for a crane stock)
Only Airsoft GI can save you that much money on such high quality items.
Specifications:
Manufacturer: Airsoft GI
Model: Strike
Muzzle Velocity: 410-420 FPS
Magazine Capacity: 360rds
Package Includes: Gun, Flash Magazine

Features:
Full Metal Body
Laser Etching Logos
Functional Bolt Catch
Functional Charging Handle
Adjustable Crane Stock
Realistic Pistol Grip
Aluminum Construction
Full Metal Modular M-LOK RIS System
Fully Licensed Trademarks

Please Note:

Optic is NOT included.

Battery and Charger not included.
This product is covered under a 45 days warranty against workmanship and defect, for more details contact Airsoft GI.
This product is built to order, please allow 1-5 days additional processing time.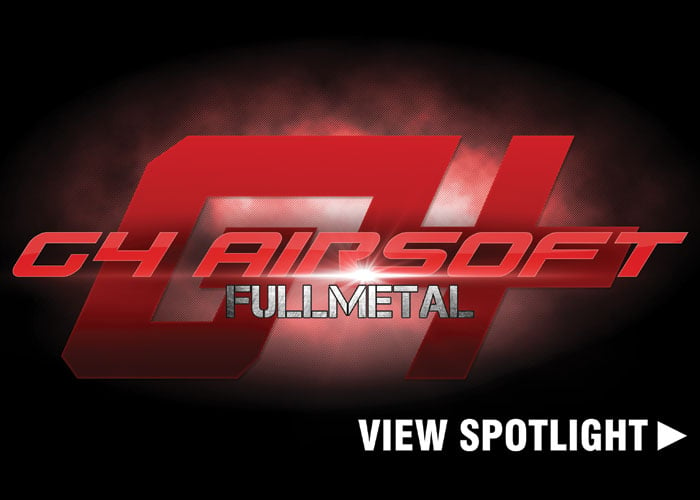 Specifications

Manufacturer: Airsoft GI
Muzzle Velocity: 410-420 FPS
Magazine Capacity: 360rds
Fire Mode: Safe - Semi - Auto
Color: Black
Material: High Quality Aluminum
Package Includes: Gun, Magazine
Outer Barrel Length: 14in
Stock Type: Crane Stock
Handguard: Airsoft GI M-LOK RIS
Cylinder Head Type: Version 2
Cylinder Type: M4 Cylinder Type 1
Piston Head Type: Polycarbonate
Piston Type: Polycarbonate
Air Nozzle Type: M4/M16
Tappet Plate Type: Version 2
Spring Type: Lonex M110
Spring Guide Type: Lonex Standard Version 2
Bushing Size: 8mm
Bushing Type: Steel Bushings
Gear Set Type: Lonex Standard Version 2
Switch/Wire Type: M4 Rear Wired
Selector Plate Type: M4
Cut Off Lever Type: Version 2
Anti Reverse Latch Type: Version 2
Motor Type: Lonex A5 Standard Motor Long
Hop Up Type: Plastic
Inner Barrel Length: 363mm
Sector Gear Clip: Yes
Fuse: No
MOSFET: No
Connector: Small Tamiya
Quick Spring Change: No
External

Primary Build Material: Aluminum
Internal

Gear Box: Lonex Version 2
Options

Spring Release: No
see 3 reviews
|
Write a Review
verified buyer
J. BARNES | 2016-02-03
Product Information:
I bought this gun 6 months ago, and it quickly moved to my favorite. The gun overall is stunning, and definitely an amazing purchase for its price. Coming out of the box at 410 fps this gun had great range and is perfect for outdoors. Only problem was the motor overheated after very little use on semi and full auto using both a 9.6 and 11.1, but a new motor fixed that easily. The fps consistency was extremely impressive of about 3-5. I would recommend this gun to anyone within a budget or just looking for a great gun.

Pros:
Full metal
Very sturdy body
Lonex's amazing Internals
Range is great
Comes with lonex flash mag
Functioning bolt catch, and release
Tons of room on rail for attachments
Lots of room in Stock for bigger batteriescreen

Cons:
Motor overheats (could of just been defective)
Trigger contacts wearing down fast (but I am running a 11.1v lipo)
Only comes with 3 rail segments
Does not work very well with other mags, can be hard to find ones that work, but the lonex flash mag works great
B. CARTER | 2016-07-15
Product Information:
DO NOT SLEEP ON THIS GUN !!!! This gun is simply amazing $215 you can't beat that for 420fps great rate of fire it has a nice rail system and it is a very strong gun

Pros:
Mine hit 419.9fps during chrono

Great ROF/Great FPS

Hits up to 23-260feet !

Can't get a better gun for this price !!

Cons:
That it's mostly sold out because it's a popular gun lol this gun is such a beast
T. TREMPER | 2016-10-08
Product Information:
This is by far my favorite AEG in my collection. I love the M-LOK rail system in it. It's super easy to use. It comes with a 360 round flash-mag. No iron sights or anything though. That's okay though because I perfer a red-dot anyway. Amazing overall gun. I am trying to make it my DMR because of the accuracy and range.

Pros:
~Full metal
~Rock solid internals
~Excellent trigger response
~Great rail system
~Amazing accuracy and range
~Threaded barrel
~Personally my favorite stock

Cons:
~No sights
~The spring in the dust cover is a bit to strong and won't go closed but that's not that big of a problem.
Inner barrel

What is the diameter of the stock inner barrel?

1282 days ago

Dominick G

0

0

(I have this same question)

Staff Answer:

The inner barrel should be a 6.05mm.

1274 days ago

1 answers
1 asked

Length?

How long is this gun overall? Will it fit inside a 36" carrying bag?

1504 days ago

Dominick G

0

0

(I have this same question)

Staff Answer:

This gun has a long rail system, I think it will be a little bit too big for that bag.

1232 days ago

1 answers
1 asked

Motor?

What kind of motors could be used in this gun after market?

1975 days ago

Dominick G

0

0

(I have this same question)

Staff Answer:

Most aftermarket long type motors should be cross compatible on the airsoft gun.

1974 days ago

1 answers
1 asked

Range
0 answers
1 asked

Silencer

Which barrel extensen or silencer do you rekomend for this gun?

2236 days ago

Sindre K

0

0

(I have this same question)

Staff Answer:

Most airsoft guns should have 14mm counter clockwise threading. Choosing a mock silencer is a matter of personal preference.

2235 days ago

1 answers
1 asked

M-Lok Rails

Are M-Lok rails included? If so are they polymer or metal (the ones included)?

2326 days ago

Tristan C

0

0

(I have this same question)

Staff Answer:

Yes, they are metal

2326 days ago

1 answers
1 asked

Inner Barrel
0 answers
2 asked

Iron sights?

Does this gun come with iron sights? And if they do which model?

2326 days ago

Tristan C

0

0

(I have this same question)

Staff Answer:

No Iron Sights.

2269 days ago

1 answers
1 asked

Package & Recommendation

Still have to buy the battery and charger? If so, any recommendations for the right battery and charger? Thanks as always!

2327 days ago

Dustin W

0

0

(I have this same question)

Staff Answer:

7.4v lipo and lipo charger

2323 days ago

1 answers
1 asked

Barrel Manufacture

What is the specific outer barrel used for this gun?

2329 days ago

Tristan C

0

0

(I have this same question)

Staff Answer:

Lonex

2327 days ago

1 answers
1 asked
Search Tags: G4 M4 RIS Field Carbine Crane Stock High Capacity RAS M4A1 FMG4 FMG-4 FMG Rail Rails System Full Metal Custom Shorty Stubby CQB Compact Rifle M-LOK MLOK M LOK AR15 AR 15 AR-15
People who bought this item also purchased: