Airsoft GI FMG4-A1 Daniel Defense Lite 9" AEG Airsoft Rifle
[O14C00][20083]
The Airsoft GI Full Metal FMG4 is a new direction in the journey of the G4 AEGs. The current G4 is well known in the airsoft industry for being an amazing value and being built to a high standard. Now we have embarked on journey to create a full metal G4 line up with higher standards in mind. This new Full Metal FMG4 has an exquisite exterior, the metal parts are made of high quality aluminum for extreme durability. The body contains a cool matte finish with a custom laser etching of the Airsoft GI Crest on the left of the lower receiver and the GI Flaming BB on the right of the lower receiver. Internally, Lonex is the original equipment manufacturer for the new FMG4 Lineup. Lonex is well known for creating high quality performance parts for airsoft. The reliability of their parts is beyond what is expected. The Airsoft GI FMG4-A1 Daniel Defense Lite Airsoft Gun is equipped with an aftermarket 9" Daniel Defense Lite RIS for airsoft. This Daniel Defense Licensed RIS is CNC Aluminum, with a compact quad rail design. The 9 inch rail space allows the user to mount multiple accessories at the most convenient locations. Only Airsoft GI can offer you such an amazing full metal gun and save you so much money in the process.
This incredible offer is only available at Airsoft GI. If you were to buy all these parts individually it would cost about $430!

$220 for the base gun
$100.00 for the rail
$40 for the crane stock (assuming the gun is already wired for a crane stock)
Only Airsoft GI can save you that much money on such high quality items.
Specifications:
Manufacturer: Airsoft GI
Model: FMG4-A1 Daniel Defense Lite 9" AEG Airsoft Rifle
Muzzle Velocity: 410-420 FPS
Magazine Capacity: 360 rds
Package Includes: Gun, Flash Magazine
Warranty Length: 45 Days
Warranty Handler: Airsoft GI (Warranty Policy)
Features:

Full Metal Body

Laser Etching Logos

Functional Bolt Catch

Functional Charging Handle

Adjustable Crane Stock

Realistic Pistol Grip

Aluminum Construction

Full Metal Quad Rail System

Daniel Defense Licensed Trademarks

Matte Black Oxide Finish

Includes Lonex Flash Magazine

Please Note:

Optic is NOT included.

Battery and Charger are NOT included.
This product is built to order, please allow 1-5 days additional processing time.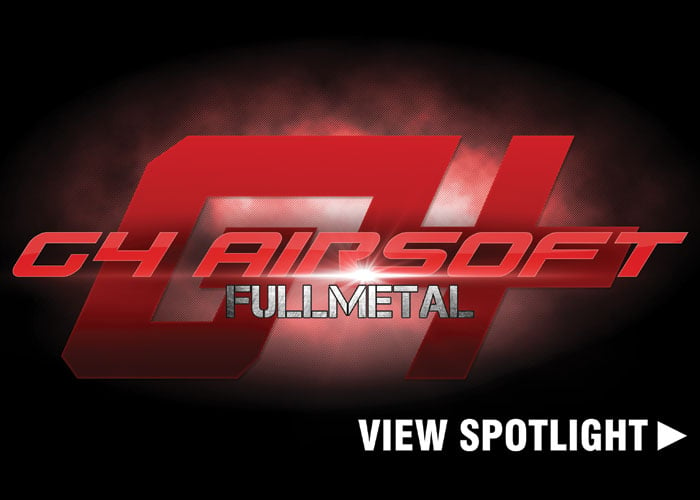 Specifications

Manufacturer: Airsoft GI
Muzzle Velocity: 410-420 FPS
Magazine Capacity: 360rds
Fire Mode: Safe - Semi - Auto
Color: Black / Tan
Material: High Quality Aluminum
Battery Pack: Not Included
Package Includes: One (1) Gun, One (1) Magazine
Outer Barrel Length: 14.5 Inches
Stock Type: Crane Stock
Handguard: Daniel Defensive Lite 9"
Overall Length Extended: 35.5in
Overall Length Retracted: 32.5in
Cylinder Head Type: Ver. 2
Cylinder Type: M4 Cylinder ( Type 1 )
Piston Head Type: Polycarbonate
Piston Type: Polycarbonate
Air Nozzle Type: M4/M16
Tappet Plate Type: Ver. 2
Spring Type: Lonex M110
Spring Guide Type: Lonex Standard Ver. 2
Bushing Size: 8mm
Bushing Type: Steel Bushings
Gear Set Type: Lonex Standard Ver. 2
Switch/Wire Type: M4 Rear Wired
Selector Plate Type: M4
Cut Off Lever Type: M4
Anti Reverse Latch Type: Ver. 2
Motor Type: Lonex A5 Standard Motor (Long)
Hop Up Type: Plastic
Inner Barrel Length: 363mm
Sector Gear Clip: Yes
Fuse: No
MOSFET: No
Connector: Small Tamiya
Quick Spring Change: No
External

Primary Build Material: Aluminum
Internal

Gear Box: Lonex Ver. 2
Options

Spring Release: No
for flash hiders, is the barrel threaded and if so, is it ccw or cw

?

2379 days ago

Bryce G

0

0

(I have this same question)

Staff Answer:

14mm ccw

2378 days ago

1 answers
1 asked

does it have a threaded barrel? And if so is it ccw or cw?

dfc

2379 days ago

Bryce G

0

0

(I have this same question)

Staff Answer:

14mm CCW

2376 days ago

1 answers
1 asked

what lipo fits inside the stock

a lipo that still has a lot of mha

2379 days ago

Edward F

0

0

(I have this same question)

Staff Answer:

1000 mAh stick type LiPo

2378 days ago

1 answers
1 asked

mags

can I just use standard m4/m16 mags or do I have to use special ones

2382 days ago

michael g

0

0

(I have this same question)

Staff Answer:

You can use standard M4 / M16 Magazines.

2361 days ago

1 answers
1 asked

What type

Is it mainly for field cqb or maybe sniper missions

2384 days ago

Matt L

0

0

(I have this same question)

Staff Answer:

This gun is intended for field type play.

2383 days ago

1 answers
1 asked

Blow Back?

Is this Particular FMG4 Blow Back? I only ask because I remember that not all FMG4's are Blow Back.

2384 days ago

Michael E

0

0

(I have this same question)

Staff Answer:

No

2384 days ago

1 answers
1 asked
Search Tags: G4 M4 RIS Field Carbine Crane Stock High Capacity RAS FMG4 A1 Full Metal FMG-4 FMG Rail RIS RAS Rails System Custom Lonex Flash Magazine Daniel Defense RIS DD Madbull Madbull 9" A1 Desert Flat Dark Earth Tan Two Tone Toned Twotone Two-Tone AR15 AR 15 AR-1
People who bought this item also purchased: