Airsoft GI FMG4-A1 13" Spec V Next Gen. Carbine AEG Airsoft Rifle
[12302]
( 7 Reviews )

New to airsoft? Here are some safety tips for airsoft guns that we recommend following.
The Airsoft GI Full Metal FMG4 is a new direction in the journey of the G4 AEGs. The current G4 is well known in the airsoft industry for being an amazing value and being built to a high standard. Now we have embarked on journey to create a full metal G4 line up with higher standards in mind. This new Full Metal FMG4 has an exquisite exterior, the metal parts are made of high quality aluminum for extreme durability. The body contains a cool matte finish with a custom laser etching of the Airsoft GI Crest on the left of the lower receiver and the GI Flaming BB on the right of the lower receiver. Internally, Lonex is the original equipment manufacturer for the new FMG4 Lineup. Lonex is well known for creating high quality performance parts for airsoft. The reliability of their parts is beyond what is expected. This is the FMG4-A1 13" Spec V Gen. Carbine which means it comes with a VTAC 13" rail for airsoft. This rail system adds even more versatility to the FMG4. The streamline rail allows the user to properly manipulate their weapon system. The rail panels are interchangeable to help the user when accessorizing their airsoft gun. Only Airsoft GI can offer you such an amazing full metal gun and save you so much money in the process.
This incredible offer is only available at Airsoft GI. If you were to buy all these parts individually it would cost over $380!

$220 for the base gun
$120 for the rail
$40 for the crane stock (assuming the gun is already wired for a crane stock)
Only Airsoft GI can save you that much money on such high quality items.
Specifications:
Manufacturer: Airsoft GI
Muzzle Velocity: 390-410 FPS
Magazine Capacity: 360rds
Package Includes: Gun, Flash Magazine

Features:
Full Metal Body
Laser Etching Logos
Functional Bolt Catch
Functional Charging Handle
Adjustable Crane Stock
Realistic Pistol Grip
Aluminum Construction
Officially Licensed VTAC Trademarks
State of the Art Rotary Locking System by Troy Industries
Free Floating Design
Proprietary Patent Pending One-Piece Design by Troy Industries
Blocked Gas Pipe Tunnel to Prevent Mis-Use on Real Guns
Includes Lonex Flash Magazine

Please Note:

Battery and Charger not included.
This product is covered under a 45 days warranty against workmanship and defect, for more details contact Airsoft GI.
This product is built to order, please allow 1-5 days additional processing time.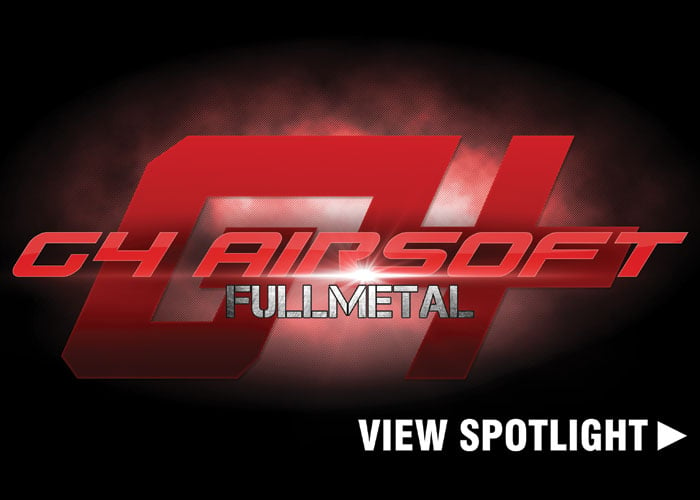 Specifications

Manufacturer: Airsoft GI
Muzzle Velocity: 390-410 FPS
Magazine Capacity: 360rds
Fire Mode: Safe - Semi - Auto
Color: Black
Material: High Quality Aluminum
Battery Pack: Not Included
Package Includes: Gun, Magazine
Outer Barrel Length: 14.5 inches
Stock Type: Crane Stock
Handguard: N/A
Sight: No
Overall Length Extended: 35.5 inches
Overall Length Retracted: 32.5 inches
Cylinder Head Type: Ver. 2
Cylinder Type: M4 Cylinder ( Type 1 )
Piston Head Type: Polycarbonate
Piston Type: Polycarbonate
Air Nozzle Type: M4/M16
Tappet Plate Type: Ver. 2
Spring Type: Lonex M110
Spring Guide Type: Lonex Standard Ver. 2
Bushing Size: 8mm
Bushing Type: Steel Bushings
Gear Set Type: Lonex Standard Ver. 2
Switch/Wire Type: M4 Rear Wired
Selector Plate Type: M4
Cut Off Lever Type: Ver. 2
Anti Reverse Latch Type: Ver. 2
Motor Type: Lonex A5 Standard Motor (Long)
Hop Up Type: Plastic
Inner Barrel Length: 363mm
Sector Gear Clip: Yes
Fuse: No
MOSFET: No
Connector: Small Tamiya
Quick Spring Change: No
External

Primary Build Material: Aluminum
Internal

Gear Box: Lonex Ver. 2
Options

Spring Release: No
see 7 reviews
|
Write a Review
verified buyer
J. RIFFEL | 2014-08-08
Product Information:
I have had this gun for roughly six months now, and I would say that this gun is perfect for anyone who is intermediately experienced in airsoft. I got this gun primarily for CQB, which it excelled in. I got it with the CQB package here from Gi, and the FPS and accuracy were perfect for indoors. I highly recommend this gun as a primary for CQB. Then, the CQB season came to an end, and that's when I started to have just a couple fixable gripes. I took it to some field games, and the hop up in this thing is not very good at long ranges. The bbs do not fly very far or stay very consistent, and the hop up progressively kept slipping and my bbs wouldn't get hopped until I readjusted it. This is fixable, all you need to do is just buy a barrel and hop up better suited for field play. The next problem is that when I tried to do that, the orange tip was extremely difficult to take off. I tried putting the tip in very hot water and using a hairdryer to melt the glue several times, but every time, I was unsuccessful. It is possible to get it off though. I had to use a hack saw, and a flat head screwdriver and hammer like a chisel, and that eventually worked, but it was pretty frustrating. Don't let all this scare you though. I would still highly recommend this gun for CQB gameplay- that's where it excels. I wouldn't recommend this gun for field play though, and if you need a gun for field play, you may want to consider something else.

Pros:
-FPS with CQB package at Gi is perfect (325 FPS)
-Decent ROF
-Feeds most if not all mags successfully
-Rail system is FANTASTIC, not only pretty, but very functional
-Well balanced, most of the weight is in the back and body
-Easily maneuvered, pretty comfortable
-Overal great gun for close engagements

Cons:
-Orange tip very difficult to take off
-Accuracy is lacking
-With bolt catch, it can be somewhat confusing to disassemble the gun the first time, but really not a big problem
M. STEELE | 2014-09-02
Product Information:
Oh my god! What a rifle! I've been around the block, seen some legit stuff but this is definitely a game changer. If you're looking for a rifle that is accurate, powerful, and looks cool to bring to a beginner field...this isn't for you. If you're looking for a dead shot bullseye, welt leaving, range-conquering, and slick sexy looking MILSIM rifle. This is for you.

Pros:
Slick, free float, modular, great range, dead accurate, powerful, takes mags galore, full rail, great realistic weight, great for those whole like the thumb over bore technic.

Cons:
Only outdoor MILSIM, feeds mags too well haha, and some attachments may be a wee bit loose on the modular rails.
verified buyer
T. PHILLIPS | 2014-10-30
Product Information:
THIS GUN IS AWESOME
I got this gun and i was surprised at how awesome it looks in the picture does not even come close to the awesomeness of the real deal

Pros:
Great FPS
Shoots about 250 feet with .25 when hop up is just right
Rails are nice
Good weight
Sexy
NOT SHINY PAINT


Cons:
Did not come with an allen wrench to adjust the rail segments
The tip of the barrel is plastic not metal
Could not get 2
You dont have it
BUTTPLATE

what buttplate do i need to get to replace mine it fell out in the woods

3182 days ago

Tyler P

0

0

(I have this same question)

Staff Answer:

Please contact our customer service department for assistance?

3182 days ago

1 answers
1 asked

LENGTH OF BARREL

How long is the inner barrel

3208 days ago

Tyler P

0

0

(I have this same question)

Staff Answer:

363mm

3206 days ago

1 answers
1 asked

Fps increase

I want to make the fps higher so the gun can be more of a dmr if I buy a higher powered spring to increase the fps and get it installed will it mess up the gun

3296 days ago

Beau M

0

0

(I have this same question)

you would probably need to upgrade the gears also

3208 days ago

1 answers
1 asked

Single point sling mount

Does the buffer tube have a single point sling mount installed? Or would I have to purchase that separately.

3308 days ago

Turner R

0

0

(I have this same question)

I just purchased this last week and It had a single point sling mount installed.

3305 days ago

1 answers
1 asked

what type of battery

i was just wondering what type of charger and battery it needed to work

3315 days ago

Kyler G

0

0

(I have this same question)

This is the one I got (http://www.airsoftgi.com/product_info.php?products_id=7638) but you would need to get one that would fit a crane stock

3305 days ago

i was just wondering what type of charger and battery it needed to work

3315 days ago

Kyler G

0

0

(I have this same question)

Staff Answer:

I recommend using a 7.4v lipo stick battery.

3315 days ago

2 answers
1 asked

Rails

Where can you buy more rails for the forend

3352 days ago

Thomas M

0

0

(I have this same question)

On the Gi website they have plenty of rails of all different sizes.

3295 days ago

1 answers
1 asked

Buffer Tube

Is it mil-spec?

3368 days ago

Logan F

0

0

(I have this same question)

Staff Answer:

Yes.

3368 days ago

1 answers
1 asked

lipo

If I buy the burst wizard will I be able to use lipos

3389 days ago

adrian p

0

0

(I have this same question)

Staff Answer:

yes

3388 days ago

1 answers
1 asked

Does the back in stock label mean it will be shipped in Sept. or does it mean you don't have to wait for it to be built?

Will it get shipped in Sept. or in like 10 days?

3396 days ago

melanie c

0

0

(I have this same question)

Staff Answer:

ETA means when it should be back which would be September

3395 days ago

1 answers
1 asked

Would this gun be too long for cqb? Will magpul emags fit and feed flawlessly in this gun?
0 answers
1 asked

Stock length
0 answers
1 asked

What kind of suppresor can I use on this?

What kind of suppressor can be put on this gun?

3415 days ago

Nathan G

0

0

(I have this same question)

Basically any with 14mmccw threads

3173 days ago

1 answers
2 asked

What battery should i buy?

I'm just wondering what battery pack should i get for this Gun.

3419 days ago

Joshua A

0

0

(I have this same question)

Staff Answer:

We recommend a 9.6v 1600 mAh crane stock battery or a 7.4 LiPo battery

3416 days ago

1 answers
1 asked

can you use a 11.1 lipo on this

im thinking of getting a lipo.

3423 days ago

Luka A

0

0

(I have this same question)

Staff Answer:

Using an 11.1 is not recommended and will void the warranty on the gun

3423 days ago

1 answers
1 asked

BARREL

is this barrel 6.08 or 6.06mm?

3428 days ago

Noah s

0

0

(I have this same question)

Staff Answer:

It should be a 6.08

3427 days ago

1 answers
1 asked

Range

what would be the effective range on this gun?

3428 days ago

Noah s

0

0

(I have this same question)

Staff Answer:

should be 120-130 feet, but there are many factors that go into maximum range.

3427 days ago

1 answers
1 asked

Stock?

When will this be back in stock?

3433 days ago

Matt P

0

0

(I have this same question)

Staff Answer:

We are currently working to get these back in stock.

3431 days ago

1 answers
1 asked

change of barrel

If i ordered this gun and i also ordered a miracle barrel, would it come installed on the the gun?

3459 days ago

Eric T

0

0

(I have this same question)

Staff Answer:

We charge a $45 labor fee for the installation of parts, and that includes a tune up and reshim. If you are interested, just purchase this labor package along with the gun, any other parts you would like installed, and put in the order notes that you want us to install the parts. <p> http://www.airsoftgi.com/product_info.php?products_id=1057</p>

3457 days ago

1 answers
1 asked

tight bore barrel?

is there a tight bore barrel and is this a good field gun?

3460 days ago

Eric T

0

0

(I have this same question)

Staff Answer:

This gun is adequate for field use. It does not include a tight bore barrel.

3458 days ago

1 answers
1 asked

ROF

What is the rate of fire for this gun with a 9.6 batter?

3498 days ago

David K

0

0

(I have this same question)

Staff Answer:

You should be able to expect about 18-20 rps.

3498 days ago

1 answers
1 asked

Threads

What are the threads for this weapon?

3510 days ago

Logan F

0

0

(I have this same question)

Staff Answer:

14mm CCW.

3508 days ago

1 answers
1 asked

What magazines would be best for this?

Besides the Lonex Flash-mag what brand of magazines work best?

3524 days ago

Nick D

0

0

(I have this same question)

Staff Answer:

Most M4 Magazine should work okay.

3522 days ago

1 answers
2 asked
Search Tags: G4 M4 RIS Field Carbine Crane Stock High Capacity Noveske M4A1 FMG4 A1 Full Metal FMG-4 FMG Rail RIS RAS Rails System Lonex Flash Magazine Custom AR15 AR 15 AR-15
People who bought this item also purchased: