Action Army POM Piston (White)
[Y01F07B][05841 / AAC-A05-001]
( 1 Reviews )
❤ Add to Wishlist
Free Shipping for orders over $179
No Coupon needed
New to airsoft? Here are some
safety tips for airsoft guns
that we recommend following.
Description:
The Airsoft GI PE POM Polycarbonate Piston is an extra strong poly piston with 8 metal teeth. The second to last tooth on the piston was not molded because it helps reduce stress on the gears. A strong poly-carb piston, like the Airsoft GI PE POM, is beneficial over an aluminum piston because it is light weight, which transfers less energy to the gearbox shell, thus reducing the probability of cracking it.
Please Note:
The use of aftermarket airsoft parts is not an exact science. Some parts may require fitting even thought they were designed to fit without modification. Professional installation of upgrade parts is highly recommended.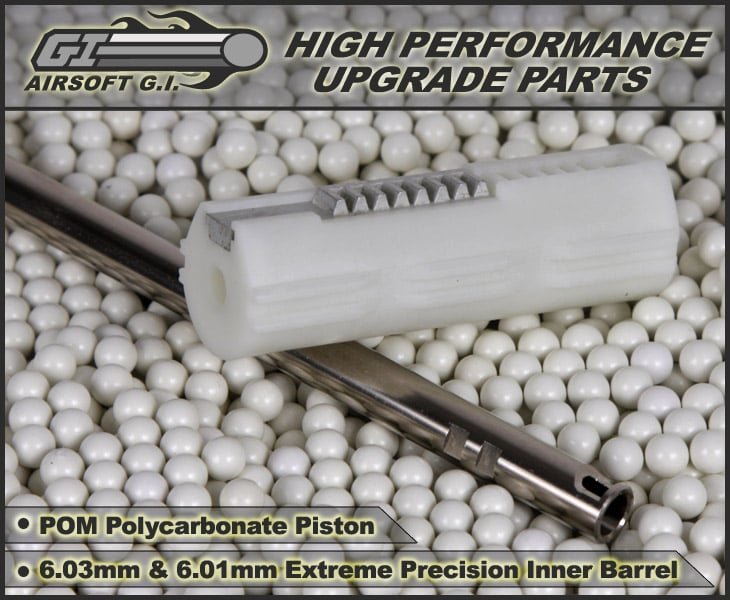 Specifications

Manufacturer: Action Army
Color: White
Material: POM
Package Includes: One (1) Piston
see 1 reviews
|
Write a Review
J. MATSUMOTO | 2014-01-26
Product Information:
I'm surprised there was no review for this so after havign one in use for a year I thought it was worth providing some feedback. This went into a mid-FPS build 425FPS and it has held up well after a solid year of use. I combined it with a Magic Box ultra seal double o-ring piston head. This piston is well made and very durable. 2nd tooth was already excluded in the mold.

Pros:
Durable
Roughly comparable to the Magic Box high durability piston bit just a small bit less.
(The Magic Box piston was out of stock at the time but this was a good substitute.)
2nd tooth already removed.
So far so good after a full year of use.

Cons:
Had to shave down a little bit along the outer edges of the piston just outside of the teeth. The ASGI techs already gave me a heads up about that so it was no biggie. Just a small bit of filing on each side to ensure it didn't rub on the cylinder.

A bit beefy so probably not for any low FPS high speed builds. Not sure if you'd start with something a bit lighter even though you could swiss cheese this.
is this a "half toothed" piston?

Looking to purchase new gears, and I need a half toothed piston

3147 days ago

Aspen S

0

0

(I have this same question)

Staff Answer:

Unfortunately, this is not a half tooth piston. However, unless you are purchasing a specific torque-up gear set, you do not need a half-tooth piston.

3146 days ago

1 answers
1 asked

will a silent piston head fit on this?

Will a lonex silent piston head fit on this piston? Also, if the parts fit, will the piston and silent piston head fit in a g&g version two gear box?

3295 days ago

jeff c

0

0

(I have this same question)

Staff Answer:

Yes it should fit

3295 days ago

1 answers
1 asked
Search Tags: Tokyo Marui ICS JG SRC Cyma Echo1 VFC G&P AGM King arms G&G Upgrade Tooth
People who bought this item also purchased: