Action Army 6.03mm Extreme Precision Inner Barrel for M4 (370mm)
[SF27][05843 / AAC-D01-004]
( 11 Reviews )
❤ Add to Wishlist
Free Shipping for orders over $179
No Coupon needed
New to airsoft? Here are some
safety tips for airsoft guns
that we recommend following.
Precision barrels are best described as an inner barrel with a diameter of 6.03mm or less. Precision inner barrels allow for better compression, improved accuracy, and in a few cases increase muzzle velocity. Although precision barrels often require more maintenance and cleaning, they can give an AEG a greater range and improve the overall performance of an airsoft AEG.
Specifications: Manufacturer: Airsoft GI Bore Diameter: 6.03 mm Gun Type: M4 Barrel Length: 370mm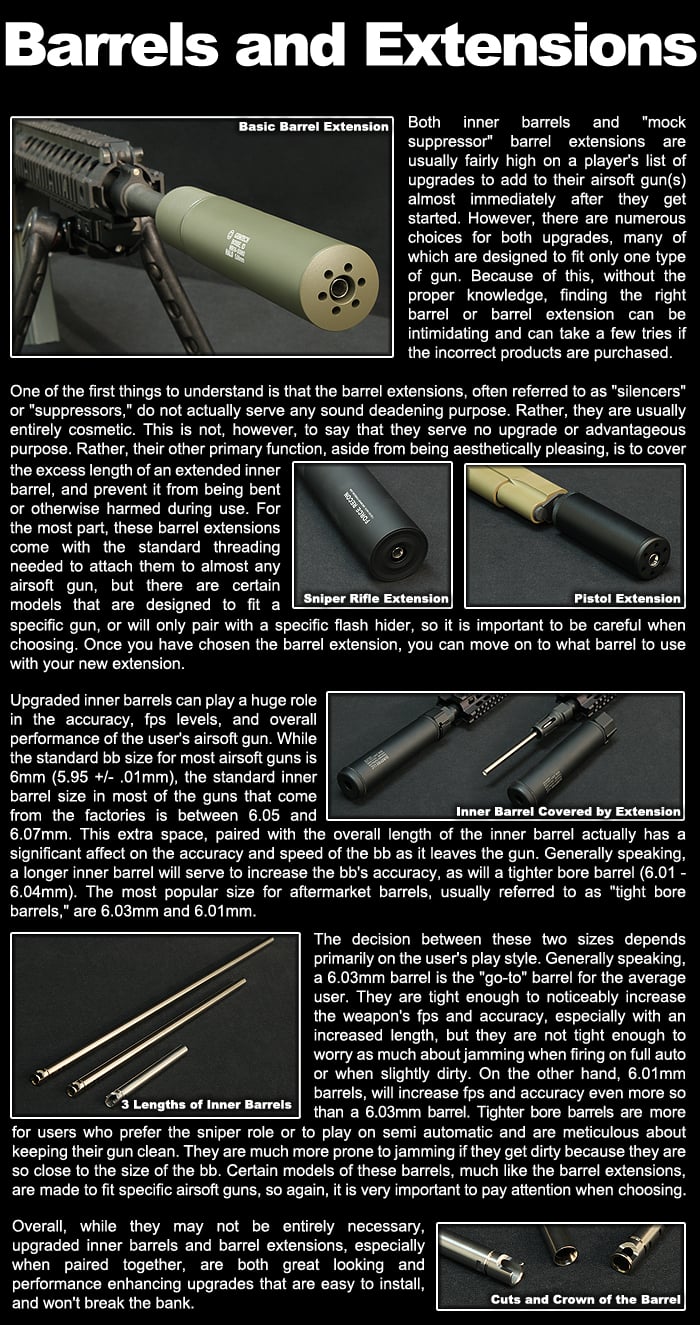 Specifications

Manufacturer: Action Army
Color: Silver
Size: 370mm
Material: Brass, Chrome Coated
Package Includes: One (1) Precision Inner Barrel
see 11 reviews
|
Write a Review
verified buyer
J. WRIGHT | 2014-08-19
Product Information:
I bought this barrel for my G&G Combat Machine M4 Raider because I assumed a longer barrel meant more accuracy but this is not so at all.

Boy howdy was it a mistake. You know how in video games, shotguns are terribly inaccurate guns? This basically turned my Raider into a shotgun. Every shot was a guess as to where it was going to go. I put the Stock barrel back in and everything was laser beams and happiness.

Pros:
Made of good material
Has a good weight
Has a good feel to it
Easy to put in
Easy to attach to

Cons:
Made my accuracy drop completely. Every shot was a guess and a hope. I don't know why it didn't work at all with my gun, maybe it was just a defective barrel, but it was nothing but a disaster using it.
verified buyer
C. SAUICKIE | 2014-10-28
Product Information:
This inner barrel seems to be working very well. it is a great replacement and is very accurate for the price. Glad I purchased this item.

Pros:
This product is very accuate and a good purchase

Cons:
I cannot see anything wrong with this. it installed very easy and I am enjoying it in my m4.
verified buyer
R. SMITH | 2017-06-26
Product Information:
Bought this to replace my stock barrel which was in a CQB gun. It definitely added some significant accuracy to my gun and put me above most stock AEGs in terms of accuracy. It was a little difficult to install, but that was probably more me than the barrel. It was a pretty inexpensive upgrade in terms of benefits, and coupled with a mock suppressor looks awesome.

Pros:
Lightweight
Looks very good
Increased consistency

Cons:
Tight fit in hop up chamber
Requires more cleaning
Would this fit in an A&K Sr25k?

If it is too long could I just cut it?

2527 days ago

James K

0

0

(I have this same question)

Staff Answer:

It is too short, you would need a 510mm barrel.

2033 days ago

1 answers
1 asked

would it fit

would this fit in an A&K full metal ACR SPR aeg rifle link: http://www.airsoftgi.com/product_info.php?products_id=19585

2708 days ago

John E

0

0

(I have this same question)

Staff Answer:

It will fit, but is much shorter than the outer barrel

2708 days ago

1 answers
1 asked

Fn Herstal p90?

Will this barrel be compatible with a King arms FN Herstal p90 hop up unit?

3175 days ago

Thomas M

0

0

(I have this same question)

Staff Answer:

Yes, however because of the length of this barrel, a barrel extension will be required to cover the excess length.

3175 days ago

1 answers
1 asked

Would you recommend G&G GR15?
0 answers
2 asked

What material is the barrel made of?
0 answers
1 asked

Lancer tactical m4
0 answers
1 asked

VFC scar h
0 answers
1 asked

tar 21

will his fit in a tar 21 with a 300mm barrel and does the end of the barrel have threading

3457 days ago

ryan p

0

0

(I have this same question)

Staff Answer:

There are no threading on inner barrels, and this barrel will hang out

3457 days ago

1 answers
1 asked

HK 417?

will this barrel be compatible with the HK 417?

3482 days ago

lukas l

0

0

(I have this same question)

Staff Answer:

It should be able to fit

3479 days ago

1 answers
1 asked

Will this work on a gbb?

I'm wondering if this will work on a G&G M4 raider gbb version 2?

3506 days ago

Suzanne D

0

0

(I have this same question)

Staff Answer:

This barrel should work.

3506 days ago

1 answers
1 asked
Search Tags: Tokyo Marui ICS JG SRC Cyma Echo1 VFC G&P AGM King arms G&G upgrade AEG Cut FPS Accuracy Tight Bore Tightbore
People who bought this item also purchased: