AIM Sports 90 Lumens Flashlight w/ Mount & Pressure Switch
[W09C11][08096 / FM90S]
( 5 Reviews )
❤ Add to Wishlist
Free Shipping for orders over $179
No Coupon needed
New to airsoft? Here are some
safety tips for airsoft guns
that we recommend following.
The AIM Sports 90 Lumens Flashlight w/Mount & Pressure Switch is designed to mount to a standard picatinny rail system via a clamp system. This Flashlight emits 90 lumens of light which comes in real handy in dark situations or a CQB scenario. Included with this light is a pressure switch to allow the user quick and easy operation of the light under a dynamic situation.

Specifications:
Manufacturer: AIM Sports
Lumens: 90
Color: Black
Package Includes: Flashlight and mount, Pressure Switch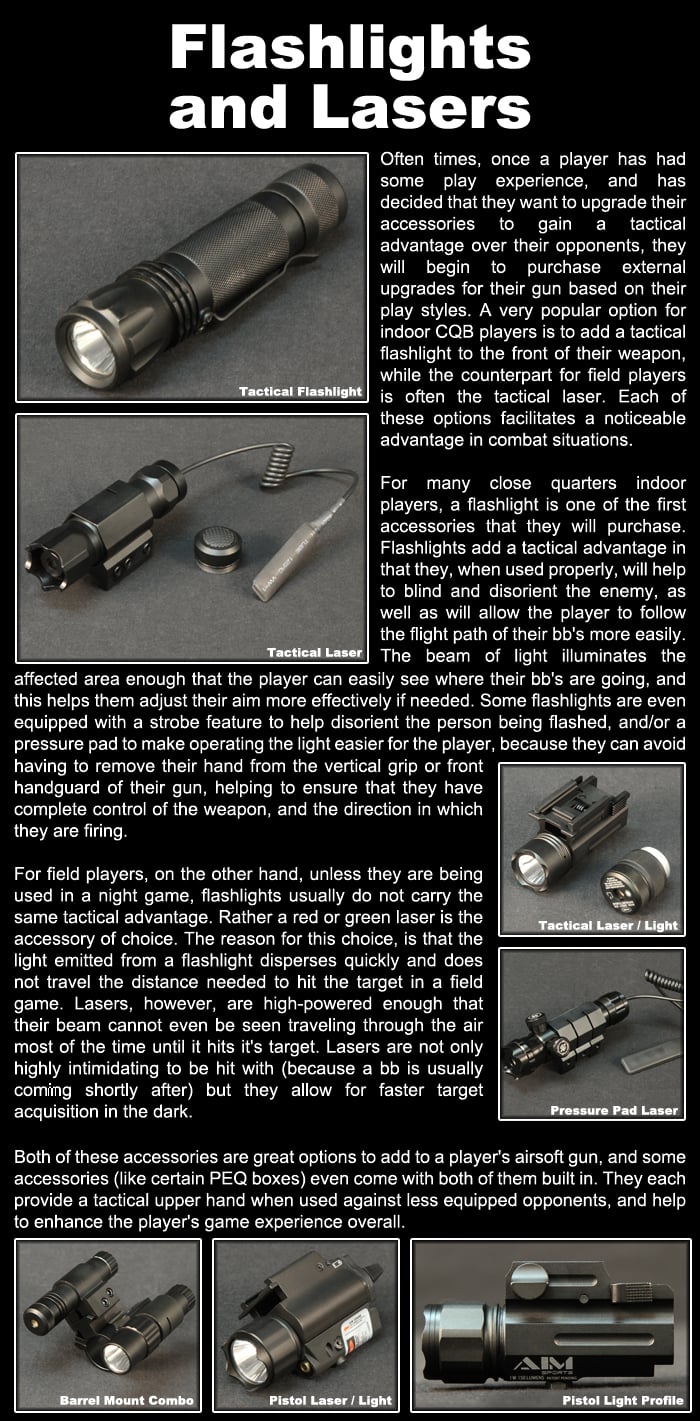 Specifications

Manufacturer: AIM Sports Inc.
see 5 reviews
|
Write a Review
verified buyer
V. MAZZAFERRO | 2013-12-01
Product Information:
The product has a bright light and has a metal construction. This flashlight is kind of cheap and broke the day I got it, but with Airsfot GI's amazing service, I am sending it back for a new one.

Pros:
Bright Light, (about 90 lumens)
Full Metal Construction gives it a really great realistic feel.

Cons:
Low quality
Pressure switch is too big and is hard to attach to gun.
Mine broke the very first day!
verified buyer
W. HE | 2013-11-29
Product Information:
I might have gotten the short end of the stick for quality control, but the flashlight I got was utter crap. Sure, the bulb works fine, but the mount... Well, suffice to say, I destroyed that after trying to make it work. If you put it on a standard sized 1" rail, the mount looks like it's dangerously bent. If you decide to take out the flashlight from the mount, it'll never completely tighten again and you'll have to wrap the light in a lot of electrical tape to prevent it from sliding around. If you put a battery into the light, it'll get stuck and you'll have to unscrew the bulb end, take a electrical screwdriver, and poke the battery back out. If you wreck the mount because it's a pile of turd, then you probably won't ever find a replacement mount that will fit it and will have to electrical tape the thing to the side of your gun. All in all, this thing is pretty much too much trouble to be worth it.

Pros:
Brightest flashlight you can get for around $20
Comes with a pressure switch

Cons:
90 lumens still isn't really good either
You can get flashlights up to 200 lumens for about $10 more
Doesn't come with a battery
Mount is unspeakably terrible
S. BURNS | 2014-01-23
Product Information:
Flashlight mounts on ris and comes with pressure switch and normal button switch.

Pros:
-great for night games/dark indoor
-helps reflect light off your bbs to track them better
comes with the two switches

Cons:
-not too bright. Good enough for night and seeing bbs in darker situations though.
Function
0 answers
1 asked
Other Great Deals and Accessories:
Select the item from the Drop Down Menu and click add.
Search Tags: Light Illumination Mount Pressure Switch CQB Field AEG GBB Pistol
People who bought this item also purchased: