The Top Ten Rifle Scopes Of 2023
Imagine this:
You're waist deep in the bush, perfectly hidden from the opposing team. You bring your expertly tuned bolt action rifle to bear on the OPFOR and then slowly and deliberately pull the trigger.
Your bb flies at 500 FPS down range, and it completely whiffs, missing the target by a country mile because you had an F-tier scope mounted to the top of your rifle.
Don't let that happen to you. We've compiled a list of our favorite magnified scopes of all shapes and sizes below for you to choose from. Everything from fixed magnification to variable options are included in this list. We've even considered many sizes for when you are sticking it on top of a bolt action or using an automatic rifle.
VISM Compact Prismatic Optic 3.5X32 W/ Blue/Green Urban Tac Reticle – $98.99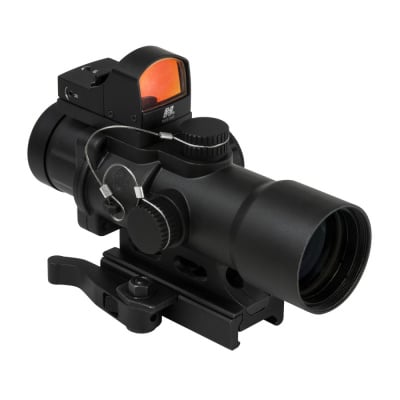 This prismatic style optic is perfect for those of you who want a mid range optic for handling closer and not quite extreme range engagements. This optic is fixed at a 3.5x magnification, and includes a red dot on top for those close quarters encounters. This is an ideal set up for any type of scout rifle, or AEG that you want to be able to see a little clearer.
NcSTAR 4-16X44MM Shooter Series Scope w/ P4 Reticle - $142.99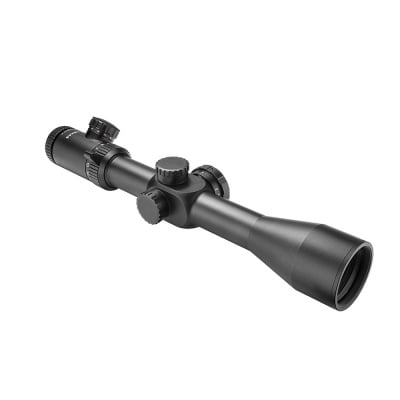 Moving from mid range optics, we're hitting out to longer ranges with this adjustable scope from NCStar. It is adjustable from 4x to 16x magnification, meaning you can really dial in on your targets before you fire. While 16x can be a little extreme for most engagements, it can be very useful for doing reconnaissance work before you move in to engage!
NcSTAR 1-6x24mm Shooter Series Scope & SPR Mount Combo/LPV Reticle - $153.99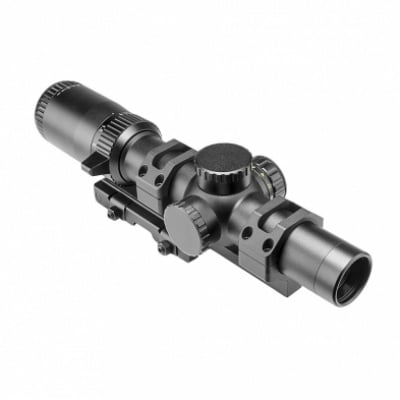 Fixed magnification isn't very versatile, but sometimes 16x is too much power. What if you wanted the option to vary up your magnification, but wanted it dialed in to closer ranges? Enter the Low Power Variable optic. This entry from NCStar gives you all of the basics of a quality LPVO in a rugged housing with an awesome mount perfect for most bolt actions and AEG options.
Lancer Tactical 6-24X50 Red & Green & Blue Illuminated Long Range Scope With Sun Shade - $86.99
Sometimes, you just want a comically large scope to finish off the look of your rifle. It's just a nice bonus when the glass attached to that giant sunshade happens to be pretty darn good too. This 6x-24x powered optic definitely leans more extreme than most players will ever need, but if you're a sniper, you'll find a way to make use of all of this magnifying power.
Lancer Tactical 2-6X32 Red & Green Illuminated Scope - $39.99
All of the scopes we've looked at so far have been on the higher end of the price range, but that doesn't mean you have to spend a lot of money to get a great scope. This Lancer tactical 2-6x scope is lower powered, but right in the sweet spot for most rifles, and has that traditional sniper scope look, despite functioning more like an LPVO. The glass is clear and easy to see through, and you can easily update the scope mount later when you're ready to spend a few more dollars.
VISM Ultimate Sighting System Gen 3 w/ Red Micro Dot - $181.99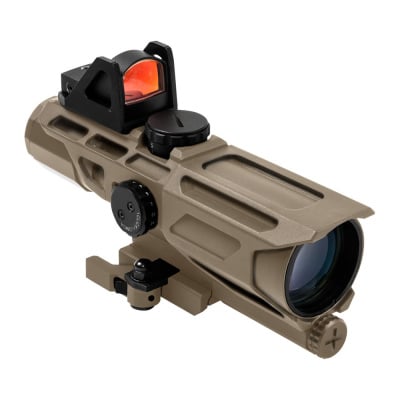 This optic may seem like something out of scifi ( you can even see a version of it featured in season two of the Mandalorian, on Fennec Shand's rifle ) but it provides an insane amount of real world functionality. This optic is smaller in profile than a normal sniper scope, doesn't have the traditional scope outline (perfect for hiding your shape in the brush) and packs a ton of options for magnification from 3x to 9x. Couple that with a red dot and you're ready for any situation.
NcSTAR Cpo Scope Series 3.5X32 Compact Pristmatic Optic - $82.99
This prismatic optic offers illuminated reticles for your 3.5x magnified scope. This type of option can be ideal for scout carbines and LMGs, and even features a micro dot mounting plate on top to attach a red dot from NCStar as well! A quick release mount makes it a snap to install, and you can even stick it on a carry handle and still use your iron sights.
Lancer Tactical Red & Green Dual Illuminated AO Scope - $65.00
Getting back to the less expensive options, Lancer Tactical has knocked it out of the park again! This 3-9x scope is a brilliant addition to any rifle that requires a scope, but has that definitive sniper style for any bolt action or DMR shooter.
Lancer Tactical 1.5-4 x 30 Tri-Illuminated Mil-Dot Rifle Scope - $120.00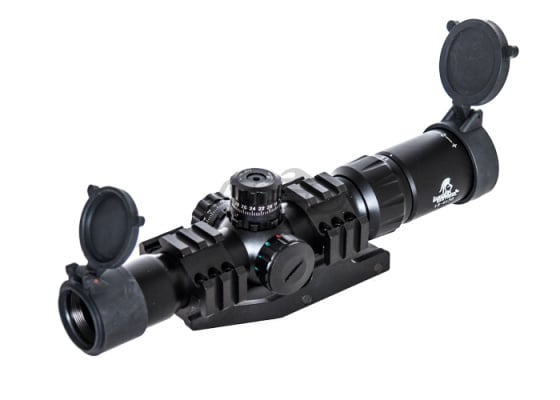 Short dot style optics have a killer aesthetic, and as we mentioned earlier provide variable zoom at lower levels. This optic provides a long eye relief, and the option to mount a red dot on top of the included cantilever mount as well, making it a wonderful addition to any rifle.
NcSTAR Shooter I Series 3-9x40 Scope W/ scope rings - $43.99 / 17595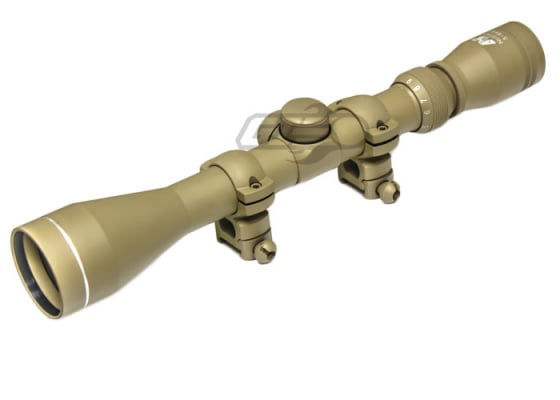 We had to have an option for the tactical peanut butter crowd out there! This NCStar scope is inexpensive, works like a charm, and happens to come in that sweet sweet tactical tan color some of your rifles are just begging to be covered in! 3-9x magnification makes it perfect for sniping
These are the scopes we think you should consider kitting your guns with, but we have an incredible selection of optics available at Airsoft GI for your browsing pleasure! Reach out to us on social media and let us know which scopes you are rocking on your blaster!