Mechanix Wear Original Vent Gloves (Black/Option)
[17305]
( 1 Reviews )
Back in 1991, Mechanix knew right away they had a good thing going with Mechanix Wear Gloves. They had no idea what kind of revolution they would start. From the first use of Mechanix Wear "Original" Gloves by pit crew teams at the Daytona 500, Mechanix Wear gloves have been the leader in the high performance work glove market. Before they knew it, they had 41 NASCAR teams asking for Mechanix gloves along with just about every other high profile motorsports team in every type of racing! As a result of the exposure, everyday mechanics, technicians, construction workers, Do-It-Yourselfers, industrial safety, emergency services, and military professionals all benefit from Mechanix products.

Every Mechanix Wear product represents a total commitment to its intended use. They consider everything: fit, feel, function, durability, quality, style and value. There is a lot of dedication and pride in everything Mechanix does, and it all adds up to superior performing products for you, their valued customer. Whether you're jumping the pit wall at Daytona or just doing a little tune up in the garage, you can have complete confidence that Mechanix Wear products offer you the best protection in the industry. Mechanix Wear gloves are for more than just racing, they are for toolboxes everywhere.

Mechanix Wear gloves are some of the best designed and most trusted hand wear used by the world's top racing teams. The experience and exposure gained in the racing world has lead Mechanix Wear to branch out its R&D and develop some of the best hard use tactical gloves in the world. Continual innovation is an aspect Mechanix Wear is well known for, and with the heat index rising, it is easily apparent in their new Mechanix Wear Vented Gloves. The Mechanix Wear Vented Glove features perforated synthetic leather palms, fingers, and side panels that mesh with a breathable mesh top. These ensure that you not only have a superior grip on your weapon, increasing your control and accuracy, but they make sure your hands stay cool at all times. Each Vented Glove features micro fleece sweat panels on each thumb for wiping sweat off your brow, and a hook and loop wrist closure for a secure fit, and overall provides an incredible advantage over other, less advantageous gloves.
Specifications:
Manufacturer: Mechanix Wear
Model: Original Vented Gloves
Color: Grey Letter on Black
Size: XX-L
Package Includes: One pair of gloves

Features:
Breathable Perforated Synthetic Leather Palm
Breathable Perforated Mesh Top
Thumb Micro Fleece Sweat Panels
Hook and loop wrist closure
Machine Washable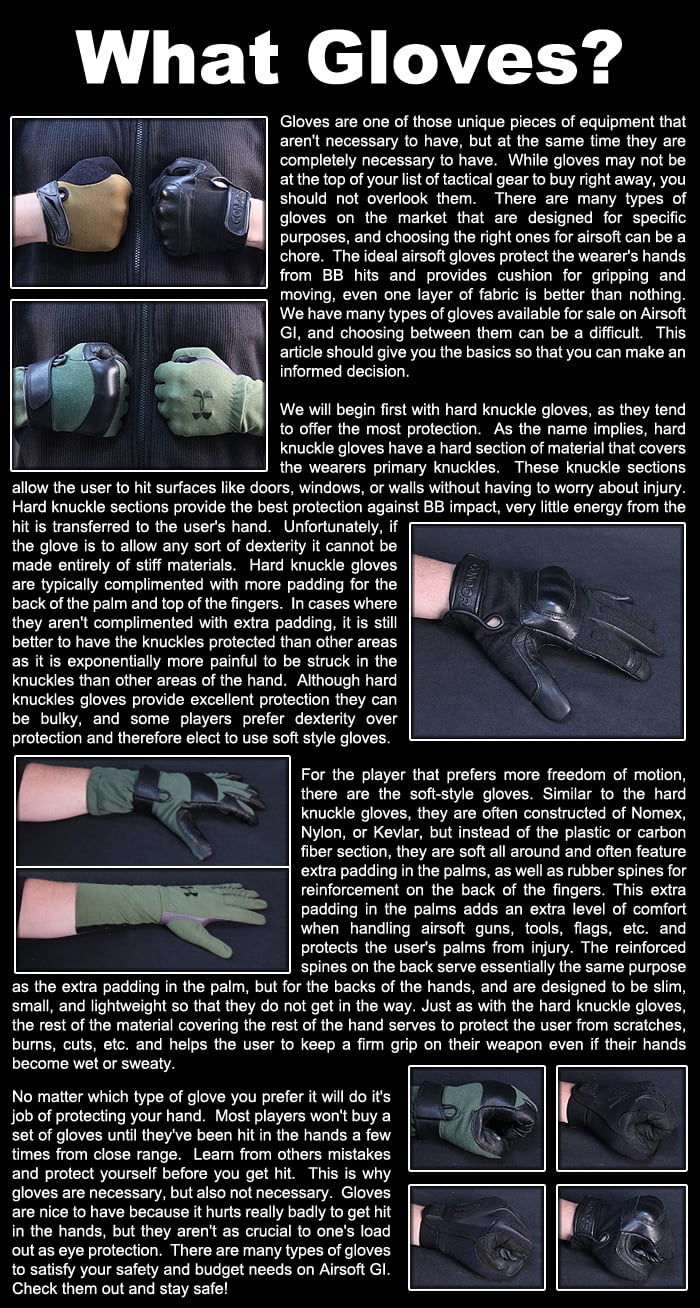 Specifications

Manufacturer: Mechanix Wear
Material: Synthetic Leather & Spandex
Package Includes: One (1) Left Glove, One (1) Right Glove
see 1 reviews
|
Write a Review
verified buyer For: Mechanix Wear Original Vent Gloves ( Black / M )
L. TEETS | 2013-11-16
Product Information:
These gloves are great. They are light weight, fit well, and allow you to keep most of your finger dexterity while providing full finger coverage. They also stay pretty cool, and are super easy to get on and off.

Pros:
Light weight
Look cool
Don't get hot
Padded around the fingers, but still allow for a lot of movement.

Cons:
The only bad thing about them is that it is hard to use my phone when I'm wearing them. You wouldn't try that though because you're not stupid like me. Buy these.
Search Tags: Protection Grip Hand Glove Traction Mechanics Mechanic Standard Basic Ventilation Vents Vented