Mechanix Wear Original Gloves (Covert/XL)
[M1L03][05134 / MG-55-011]
( 8 Reviews )
❤ Add to Wishlist
Free Shipping for orders over $149 No Coupon needed
Back in 1991, Mechanix knew right away they had a good thing going with Mechanix Wear Gloves. They had no idea what kind of revolution they would start. From the first use of Mechanix Wear "Original" Gloves by pit crew teams at the Daytona 500, Mechanix Wear gloves have been the leader in the high performance work glove market. Before they knew it, they had 41 NASCAR teams asking for Mechanix gloves along with just about every other high profile motorsports team in every type of racing! As a result of the exposure, everyday mechanics, technicians, construction workers, Do-It-Yourselfers, industrial safety, emergency services, and military professionals all benefit from Mechanix products.

Every Mechanix Wear product represents a total commitment to its intended use. They consider everything: fit, feel, function, durability, quality, style and value. There is a lot of dedication and pride in everything Mechanix does, and it all adds up to superior performing products for you, their valued customer. Whether you're jumping the pit wall at Daytona or just doing a little tune up in the garage, you can have complete confidence that Mechanix Wear products offer you the best protection in the industry. Mechanix Wear gloves are for more than just racing, they are for toolboxes everywhere.

Mechanix Wear gloves are the best designed and most trusted brand of protective hand wear by the worlds top racing teams. The experience and exposure gained in the racing world has lead Mechanix Wear to branch out its R&D and develop some of the best hard use tactical gloves in the world. This is the Original Glove, the one that started it all; it's a lightweight glove with just enough padding to allow for maximum flexibility and control. The palm is made of simulated leather for the best feel and control. The thumb has extra padding for additional protection and comfort. The back features a thick spandex layer for a comfortable fit and breathability. Mechanix Wear is dedicated to their craft and their hard work is evident in the excellent products they produce.
Specifications:
Manufacturer: Mechanix Wear
Color: Black
Size: X-Large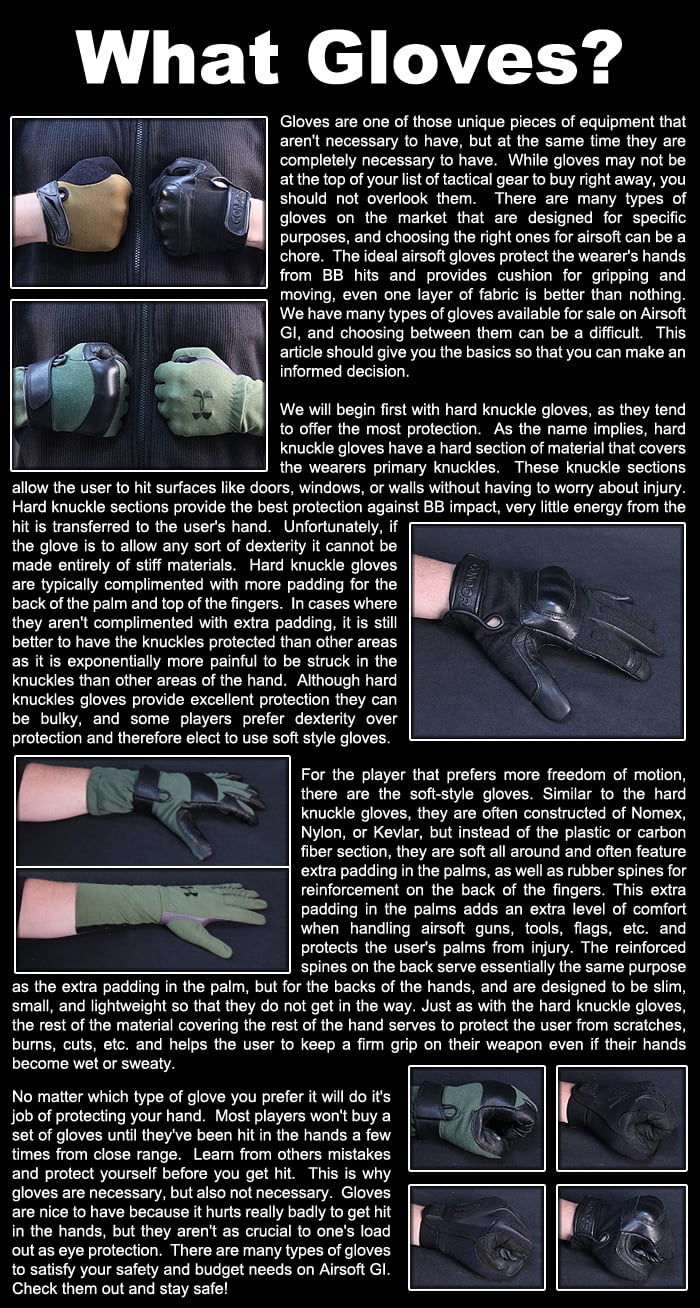 Specifications

Manufacturer: Mechanix Wear
Color: Covert / Black
Size: XL
Material: Synthetic Leather & Spandex
Package Includes: One (1) Set of Gloves
see 8 reviews
|
Write a Review
verified buyer For: Mechanix Wear Original Gloves ( Covert / L )
C. ZENOBIA | 2013-11-05
Product Information:
These gloves truly are amazing. They are comfortable, durable, and provide great hand protection while out in the field. Not only that, but these gloves also do a pretty good job of keeping your hands warm. The velcro strap helps to keep them secure on your hands, and they aren't bulky or cumbersome at all. For the price, this pair of Mechanix Wear gloves cannot be beat.

Pros:
-Comfortable
-Durable
-Velcro strap for better security
-Great price
-Not bulky of cumbersome

Cons:
-Not very waterproof at all
-Aren't the best for keeping your hands warm
-That's pretty much it. If you need gloves these are a great option for you
J. GRIFFITHS | 2014-01-20
Product Information:
These Mechanix gloves are some of the best gloves I've ever worn. They are super lightweight and very comfortable to wear, especially for long periods of time. They're really easy to take off and put on, and they're unbelievably durable. The thing that I love most about these gloves, though, is how much dexterity you have when you're wearing them. A lot of hard knuckle gloves or ones that are heavily padded are restricting; these are the complete opposite. It feels like you're gripping a bare gun, but your grip is solid, not like when you're hands are sweaty. Overall, I highly recommend these gloves.

Pros:
- Lightweight & Breathable
- Lack of padding gives you a lot of dexterity.
- Bombproof construction
- Look great with any SOF/SOCOM loadout.
- Great price

Cons:
- The palm area bunches up when you make a fist.
E. LACHNEY | 2014-05-11
Product Information:
I got these and they are great! They aren't like any other gloves that can barely fit in your gun's trigger guard. I highly recommend these to any Mil-Sim players or any airsofter.

Pros:
-Durable
-Great for any game
-Mil-Sim Design
-Extremely Comfortable
-You can find any pair to go with your tactical setup.

Cons:
- I had none really. But the only thing is that I bought mine from my local Wal-Mart for ten bucks cheaper.
Search Tags: Protection Grip Hand Glove Traction Mechanics Mechanic Standard Basic Black Extra Large XL
People who bought this item also purchased: