Bioval Biodegradable .30g 3300 ct. BBs (White)
[S13C01][07801 / BBBBIO30]
( 11 Reviews )
❤ Add to Wishlist
Free Shipping for orders over $149
No Coupon needed
Bioval Biodegradable BBs are the only Bio BB approved for use by the USA Department of Natural Resources. Bioval BBs are some of the most consistent and high quality Biodegradable BBs on the market and are quickly becoming very popular with in the airsoft community. Each BB is perfectly spherical, contains no air bubbles and is constructed of 100% natural ingredients.
Please Note: Since BIO bb's use moisture to degrade into the environment, improper storage of bb's may lead to deformities, imperfections, etc, that can lead to damaging the internal working of an airsoft gun. Make sure they are stored in a cool, dry environment, within a sealed bag with all the air forced out. Damage caused from improper storage of bb's will not be covered by warranty
Specifications:
Manufacturer: Bioval Technologies
Size: 6mm
Weight: 0.30g
Quantity:3300 bbs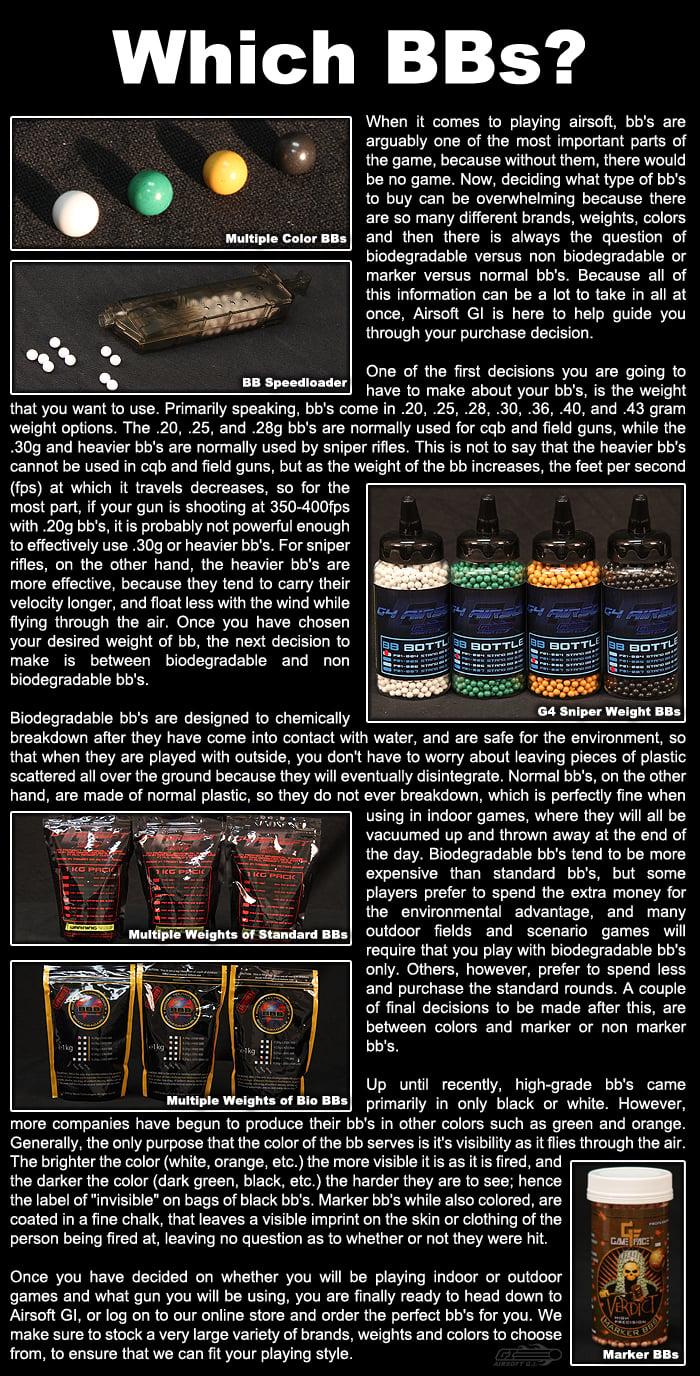 Specifications

Manufacturer: Bioval Technologies
see 11 reviews
|
Write a Review
verified buyer
M. PADILLA | 2014-11-09
Product Information:
I built up a premium VSR10 sniper rifle and needed the most accurate heavy weight BB I could find. I tested a number of high end brand bbs in bench rest shooting such as Maruzen Super Grand Master 0.29g, Bioval 0.27g, KWA/KSC 0.25g, Airsoft Elite 0.25g, Tokyo Marui Perfect Hit 0.25g, and Tokyo Marui Tactical Grade 0.25g. Out of all the BBs, the Bioval 0.30g made the best groupings in two guns: A $1k upgraded TM VSR10 and a tuned KWA SR12. Additionally, these BBs had the most consistent cross-sectional diameter and no air bubbles inside. I could go on with a few other details, but simply put, these are the best BBs I have tested so far. At this price, I stocked up on 6 bags already! I used to pay about $25 per bag and already have gone through 10+ bags.

Pros:
- Most consistent and accurate BB I have tested so far
- Increased range in my 400 FPS guns
- Water safe! Per Bioval's website, more than just water is needed to start the degradation process
- Biodegradability is simply icing on the cake

Cons:
- No cons really. Don't worry about these bbs being affected by humidity or water. I actually wash my BBs with soapy water and then air dry for even better consistency! These BBs need more than just water to begin the biodegrading process.
verified buyer
R. HUTCHINSON | 2014-12-24
Product Information:
I purchased Bioval .30g bb's to run through my DMR. (G&P base gun, Madbull 6.03 Black Python 509mm Inner coupled with a standard Metal G&P hopup and stock bucking+Spacer) For some reason they did not like my gun at all. I have an assortment of mags (G&P, Mag, Star, Magpul PTS, Beta Project and Elite Force) All mid-cap and they did not feed well at all. The other interesting thing is my KWA speedloader didn't like them either. I had a hard time loading mags. Once I switched to my M4 and with to another brand .25 Bio I had 0 problems at all. Fed fine, loaded into the mags fine. Not sure what went wrong with this bag of BB's. Bioval is supposed to be a top brand of BB!

Pros:
The few BB's I did get to shoot did fly very far and the weight was perfect for my 450 FPS DMR.

Cons:
This particular bag didn't like my mags
Didn't like either of my guns
Didn't like my speedloader
And by the end of the day I swapped to a different brand Bio BB
verified buyer
R. TRUJILLO | 2017-01-20
Product Information:
Whether I'm using my KWA or using my tactical 1911. Bioval .30 are always my number 1 choice of BBs. I never have any problems. So far the best, most consistent, and overall best BB for outdoor play. Would always recommend to anyone. 10/10.
People maybe complain about the price but hey, you get what you pay for hands down!

Pros:
Great weight
Helps with accuracy
Great for long range
Never jammed on any weapon
Moist free bag

Cons:
Non what so either!
Search Tags: High Quality Precision Grade Seamless Polished Ammo BBs Bag .30g .30 .3 .3g g 30 30g bio bios biodegradable
People who bought this item also purchased: