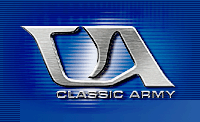 Classic Army/ArmaLite M15A4
A Step Beyond TM M16 Tactical Carbine?
Classic Army was known as an OEM company for Systema parts and TM aftermarket parts. They had managed to come up with several M16 Tactical Carbine style automatic electric guns in the past, but they were well known as poor quality knock off of Tokyo Marui system M16 Tactical Carbine A.E.G.s. After several attempts of improvement, this CA/ArmaLite M15A4 is their latest benchmark of improving their credibility and quality of works.
Now, lets get right to it.
| | |
| --- | --- |
| Weight | 2737.0g |
| Barrel Length | 363mm |
| Barrel Caliber | 6.08mm |
| Bullet Capacity | 300 |
| Bullet | 6mm BB |
| Initial Bullet Speed | 85-95 m/sec or 280.5 - 313.5 fps |
| Battery Type | Mini Type (8.4V) or 12V 1500mAH |
| | |
| --- | --- |
| | The Armalite M15A4 sports a black finish, laser engraving Armalite logo, and a running serial number. The finish is quite nice compared with their older versions. It featured a detachable metal carrying handle. Unlike the TM plastic body, this metal cast body feels much more solid than the ABS plastic (and there is no ugly burn off from the destroyed trademarks) |
| | |
| --- | --- |
| | TM M16 Tactical Carbine features a 3 sections outer barrel and secured together by 6 small hex screws. Those combination equals a infamous barrel wobble for the TM M16 Tactical Carbine. The ArmaLite M15A4 features a one piece barrel secured on the metal frame body. That certainly resolved the barrel wobble problem. M15A4 also sports improved material of Hand Grip, Hand Guard and Retractable Stock. |
| | |
| --- | --- |
| | New M15A4 features a one piece metal hop up unit. This will correct the miss feeding of TM M16 Tactical Carbine' two piece hop up unit. The new hop bucking rubber is made from a tougher material. |
| | |
| --- | --- |
| | M15A4 features a reinforced gearbox, it is much tougher than the TM stock gearbox. It also has the reinforced steel gears that can handle spring upgraded up to Systema M130 Spring. |
| | |
| --- | --- |
| | The CA spring is shorter than the TM stock spring, but the gun shoots around 340fps. A stock M15A4 is good enough for woodland battles and CQB situations. |
| | |
| --- | --- |
| | The M15A4 also has reinforced piston and piston head preinstalled in it. The new piston head will make the movement of the piston unit a lot faster. |
| | |
| --- | --- |
| | Classic Army finally came out with their own motor. The older M16 Tactical Carbine and Mp5 series CA guns used to use TM EG1000 motor. The Classic Army claim it is a high torque and high power motor. The Rate of Fire is also comparable with TM EG1000 motor. The motor head is removable just like Systema Brand Motor. The Motor plate acts like the heat sink for the motor (same as Systema Brand M16 motor plate) |
Overall, we find this gun is a better deal than the TM M16 Tactical Carbine. You are paying a bit more than the stock TM M16 Tactical Carbine, but you are getting a way better deal. Can you imagine grabbing the TM M16 Tactical Carbine at the front barrel and swing it around? We don't think so =) With the CA M15A4, you are getting the whole complete package of upgraded parts like the metal body, one piece outer barrel and upgraded internals. Why did we compare the M15A4 with TM M16 Tactical Carbine, that is because the design of the gun is a copy from TM. But, this time, CA did not just copy it, they refined it and improved tremendously from their previous versions!!!