When You Play Airsoft!! Be Responsible Be Respectful Be careful
What is Airsoft?
Airsoft is a sport and hobby that allows players to battle in mock combat with airsoft guns and the proper protection.
As a sport, airsoft combines several useful skills that can be used everyday and also provides a great work out.
There are many different game styles that can be played in airsoft. With each game style, a plan of attack can be formulated. This requires problem solving skills and creativity. Working with your squad to help you create a plan requires teamwork skills in order to succeed. In the middle of a game, no matter how well formulated your plan is, it can fail, but being a critical thinker with great problem solving skills can win the day. Talking with your team and being able to relay information accurately requires communication skills. You will have to relay information to players you've worked with before, and new players who may not know all the lingo just yet. You'll become an expert in explaining even the most complex of tasks in an easy to understand way.
As a hobby, airsoft can fill a gun enthusiasts dream! Real firearms can be very expensive and some firearms are not allowed to be owned by regular civilians. Having an airsoft replica of the gun they love can bring absolute joy! Whether it be for a prop for a costume, a display in a personal collection, or sentimental reasons, an airsoft gun can easily fill this role without breaking the bank. With how affordable airsoft guns can be, they are also perfect for props in movies and TV shows. If you are working on a action film with a low budget, airsoft will be able to provide an affordable prop with a realistic look.
An airsoft gun is full scale replica of real firearms that shoot a 6mm plastic BB. This is not to be confused with "BB Guns/Airguns", that shoot a smaller metal BB or pellet. The manipulation and function of airsoft guns are very similar, if not exactly the same as the real firearm counterpart.
There are three general power sources in airsoft; electric, gas, and spring. With the average velocity of airsoft guns ranging from 300-500 FPS (feet per second), they are a non-lethal, but can still do some damage to very sensitive body parts. Safety goggles are the minimum protection when you are plinking at some targets. However it is highly recommended to use full face protection when playing against other each other. As stated before, airsoft guns are replicas of real firearms. As such, they should be treated with the same respect and safety as real firearms. The fundamental firearms safety rules should always be used with airsoft guns and following the same laws for transporting your airsoft guns will help keep you safe.
The airsoft community is one you have never seen before. With sports like paintball that leave a visible mark when you are hit. Airsoft does not leave any residue, requiring this to be a sport of honor, honesty, and respect. All of the players are very competitive. Deep down everyone wants to be a winner. However with all of the players understanding this, there is a camaraderie that you won't see anywhere else. Each player wants to have fun and wants everyone else to have fun. You could be in a very intense airsoft game and be angry at the other team, then walk of the field and talk to them about same game and laugh about it. Airsoft is a great sport and hobby to bond with friends and family. It is a hobby for people from all walks of life and a great way to make new friends!
Why Play Airsoft?
Getting out on the field and playing airsoft with a bunch of friends is one of the best things you will ever experience. It better than any video game that you can play because you are in the game! Building your dream gun and load out, then using it in real life is a feeling that can't be replicated. The amount of fun you will have can only be experienced by playing.
There are many airsoft fields across the world. Usually there are two major categories of playing fields. The first being outdoor airsoft fields. These fields will vary between a very wooded areas, all the way to MOUT style fields (Military Operations on Urbanized Terrain). The other category of fields are known as CQB or Close Quarters Combat Fields. Both CQB and MOUT style fields have many buildings and structures with multiple entry points, rooms, hallways, windows, and sometimes even multiple floor levels! Giving you many different angles and play syles. Depending on the field you choose to play at, will dictate how you play.
Weapons:
There are 3 main categories of airsoft guns; they are automatic electric gun (A.E.G.), gas gun and spring gun.
These guns are powered by batter packs. The battery pack powers an electric motor, the motor powers a series of gears, which wind and compress a spring, which in turn is connected to a piston and cylinder mechanism. When the spring is completely compressed by the motor, it is released and exerts force on the piston and cylinder mechanism. This in turn forces compressed air through a nozzle and onto a BB, which in turn is propelled out of the gun. Stock AEGs can deliver BB speeds of 240fps to 310fps using a standard 0.2g BB. Upgrading the spring, and hence the supporting gears, can easily deliver BB speeds of over 400fps or more.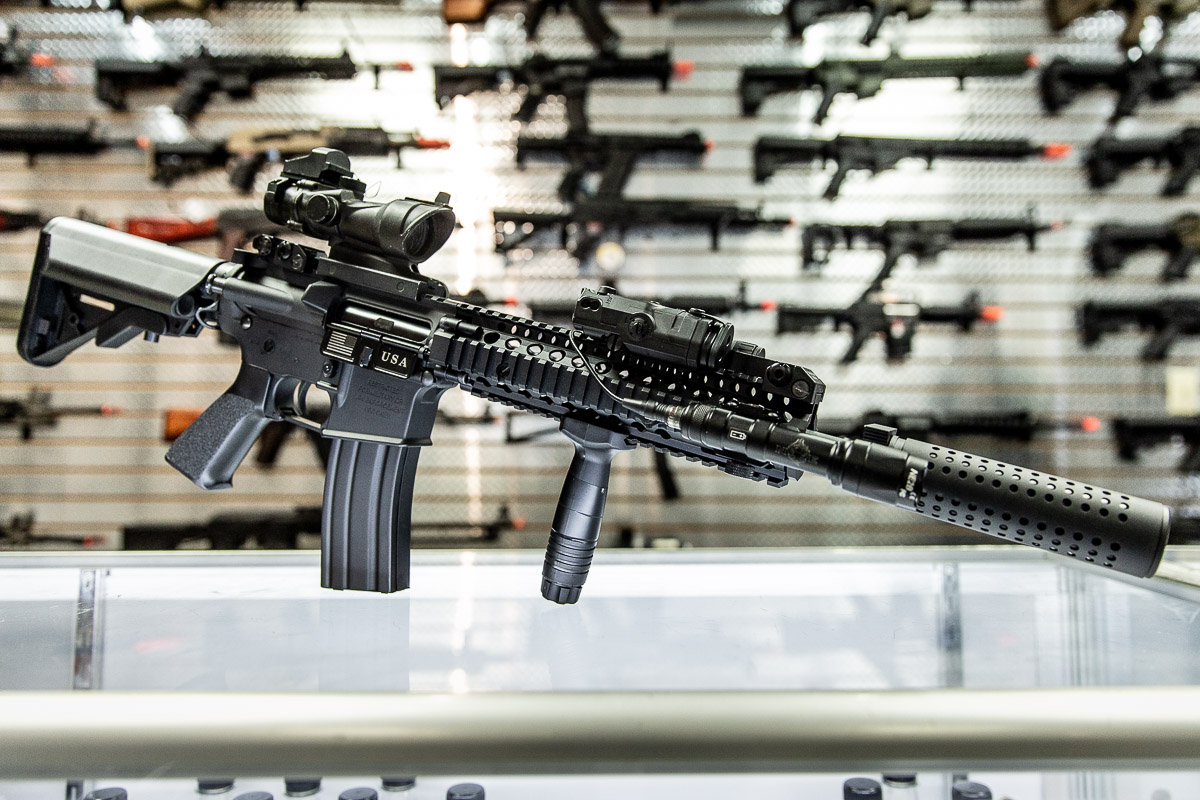 Another popular type of an Airsoft gun is the gas-powered. While there are several types of gas-powered airsoft guns, the most popular are the Gas-Blowback guns (GBBs). The GBB allows a realistic, semi-automatic firing of the gun by employing either an on-board, or magazine-stored gas storage system. Basically, the same compressed air that propels the BB out of the bore is harnessed to cycle the slide back (hence: blowback). This creates the realistic "recoil" by cycling the slide/upper receiver back-and-forth while firing the gun. This system gives the hand-held gun the capability to empty a magazine as fast as you can pull the trigger, and just as easily reload the gun by inserting a fresh magazine. The non-blowback guns do not cycle the slide while firing the gun. Sometimes non-blowback gas guns are less powerful than the GBB.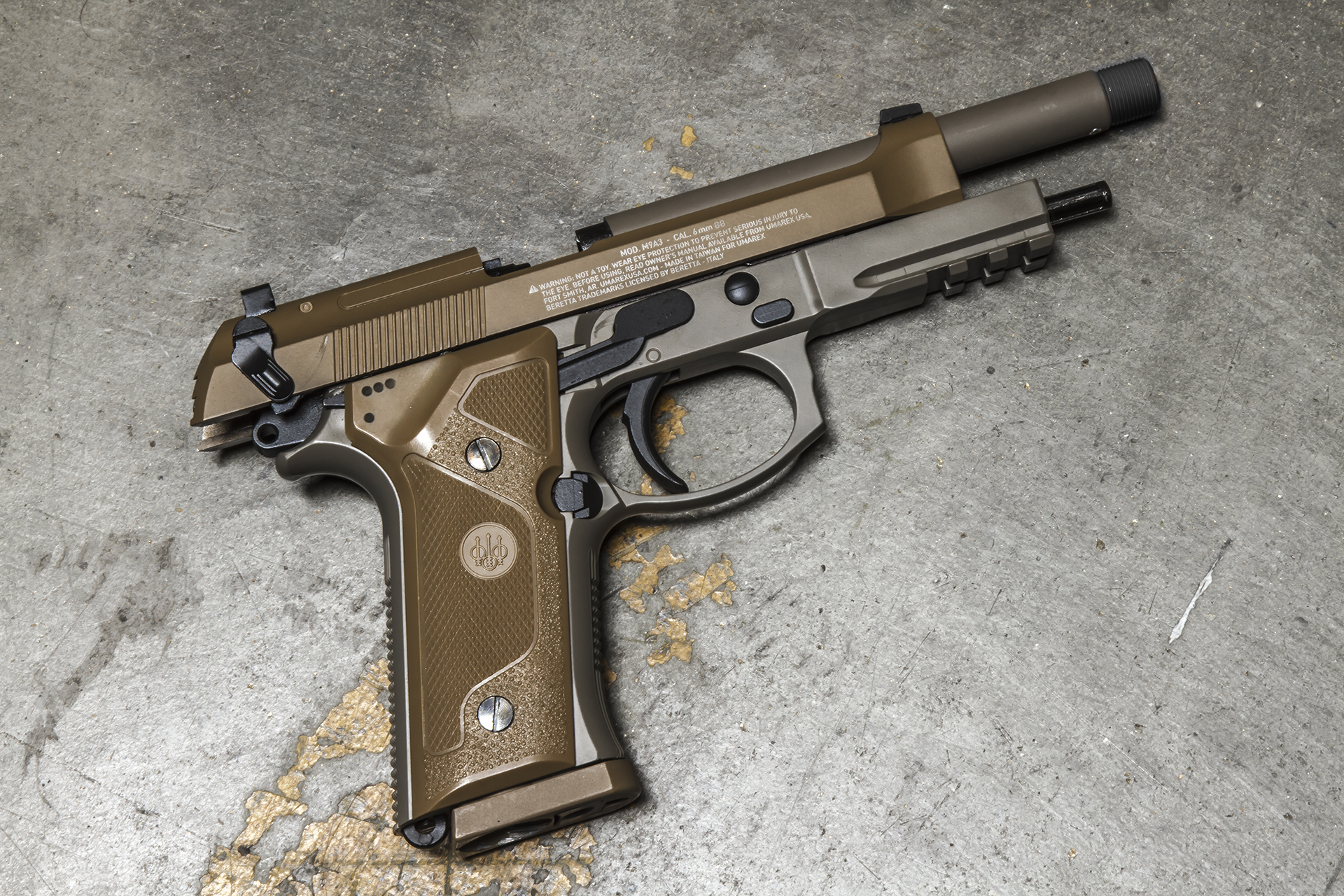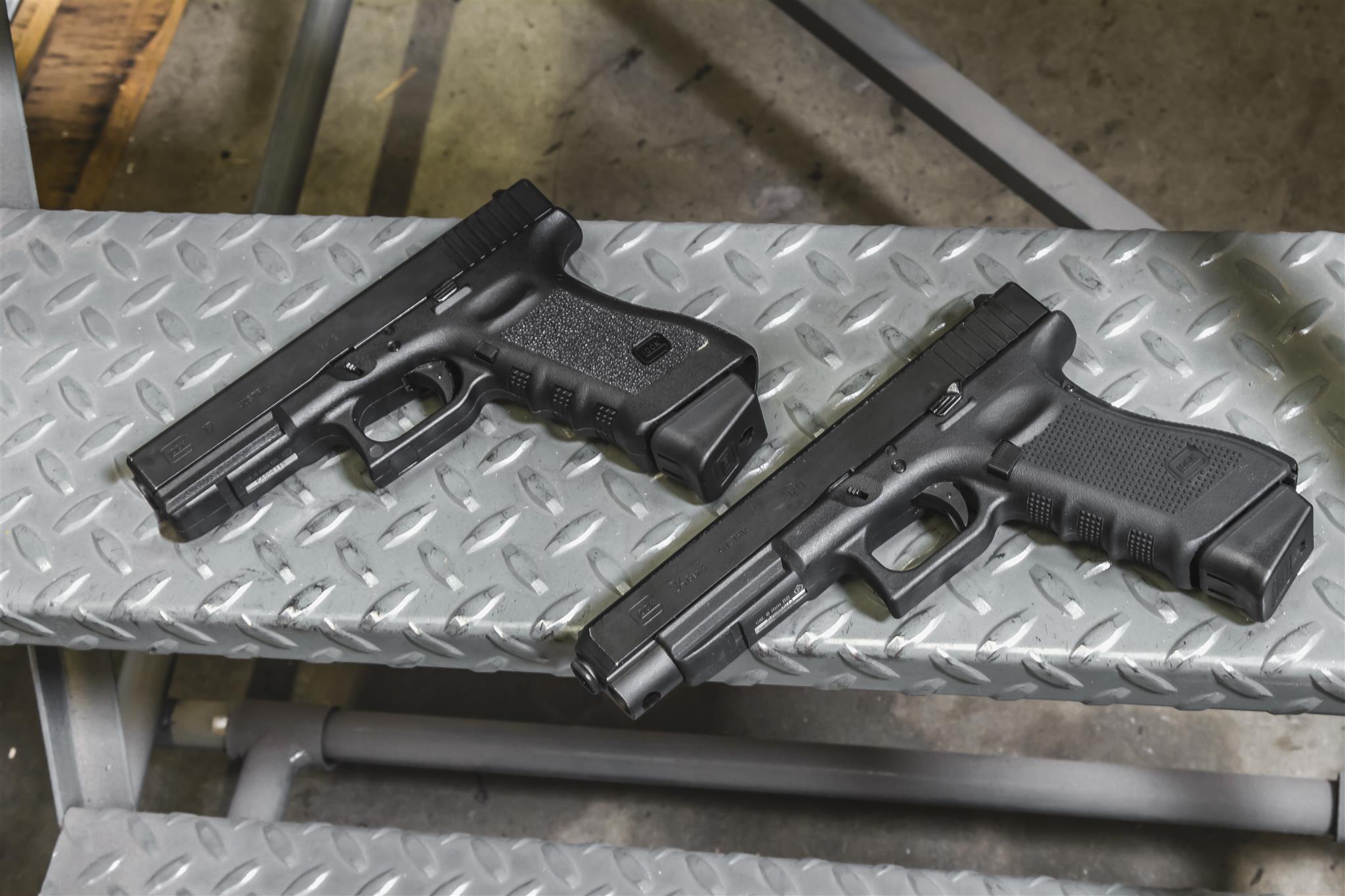 Spring Powered Airsoft Guns
Spring powered airsoft guns are true to their name in that you must pull the spring first, and then fire. These guns are usually magazine fed and semi-automatic, but they must be hand-cocked after every shot. Most of the springers are weak in power, but have come a long way in the airsoft world. Spring powered shotguns and sniper rifles can be some of the best airsoft guns to use!