The Top 10 Pouches You Forgot On Your Rig
Whether you are setting up a minimalist chest rig, or a full scale plate carrier, it's never complete until it has a place to carry your stuff.
We all think of carrying more rifle magazines, but what about the other stuff? Where do you keep your maps, knick knacks and snacks? What are you going to do with your empty magazines? What about water and other field essentials?
Don't worry! We've got your six. Here's our top 10 pouches you forgot to put on your vest:
1. More Pistol Magazine Pouches
You're covered in magazines for your rifle, but did you pack enough pistol magazines? While many of us keep at least one spare, if your rifle goes down, you may be glad you thought to keep a few extra. Pistol magazine pouches are more versatile than the name implies as well. You can use these smaller pouches to store spare batteries, flashlights or multitools as well, all useful items to have with you on the field.
2. A Backpack
Have you thought about adding some kind of rear storage to your plate carrier? It seems like a no brainer, but the amount of players who simply don't know what to do with all that MOLLE space is surprising. That back panel can be used to add a hydration bladder, or a backpack system to increase storage opportunities for items you don't need in combat, but would like to have on you, like speedloaders, bags and bottles of bb's or your comms equipment.
3. Tall and Odd Shaped Storage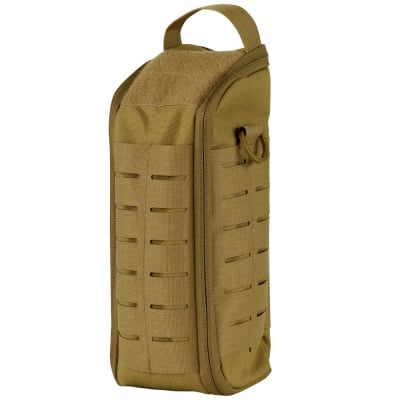 Magazines are easy to store. Every gear company under the sun makes form fitted pouches for just about any firearm. Nobody makes a pouch that holds your BB Bottles and small HPA tanks though… until now!
This Condor Outdoor Field Pouch can be a great piece of kit for storing your weirder items. It is covered in laser cut molle, can be used as a sling bag by repurposing an old two point sling, and you could even get clever with zip ties to run it sideways on a belt or below your MAP pack on your plate carrier. It's a fantastic option for holding those odd sized items you want easier access to than leaving in the backpack you just ordered.
4. Tourniquet Pouch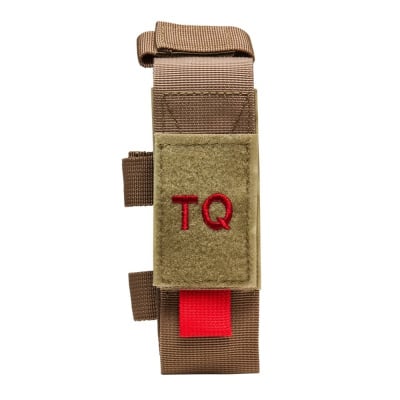 If your vest plays double duty for airsoft and firearms use, you may already have one of these, but if you're just larping at your local MILSIM, this may be the unsung hero you didn't know you needed. With many MILSIM events moving to simulated bandages and tourniquets, having a dedicated place to carry them is not only "MILSIM AF" but incredibly practical.
5. IFAKs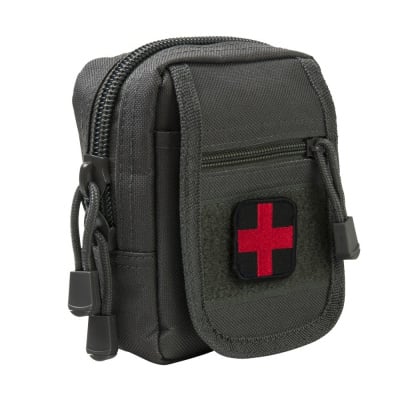 While on the subject of medical gear, having a small trauma kit is handy whether you're playing at a hardcore MILSIM or blasting paper bad guys. Injuries happen, and having some of the kit you need to treat them is useful, just make sure you also get the training you need to know how to use the stuff included. If you just dig the pouch, VISM also sells it separately.
6. Dump Pouch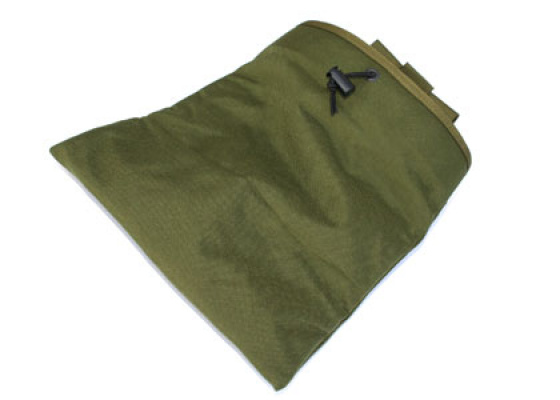 What are you going to do with those empty magazines when you finish shooting? You're not fishing them back into your patches like some kind of Neanderthal are you? Quit taking the slow road to "I wanna get shots-ville" and toss em in a dump pouch! You can stuff them back in your mag pouches later when you're not in a firefight!
Dump bags are also useful for other things, they make a great storage spot for box mags, or for holding large items like props you need for a scenario, a spare grenade launcher or other large bulky items like water bottles!
7. Tiny Storage
Sometimes you just need a small place to keep things like your phone, car keys, or wallet. Sure, you could put them in your pocket, but what if they fall out? Small utility pouches are perfect for extra things like that, or can be a fantastic tool for keeping spare batteries, dead rags and other game essential equipment, without eating up a ton of room on your belt, vest, or chest rig.
8. Admin pouches
Admin pouches come in a few varieties (and one of them gets its own spot on the list) but the most basic are small, out of the way pouches, usually intended to sit front and center on your plate carrier, above your magazines. They are often smothered in Velcro (for that sweet, sweet morale patch action) and have a small amount of storage for things like maps or a dead rag. This type of pouch keeps them in easy reach, but won't impede your reloads when seconds matter most.
9. Admin Pouches, but with storage!
These types of admin pouches serve a different purpose, so we gave them their own spot on the list. Where your thinner basic admin setups are designed for maps and other small items, these pouches are intended to hold bulkier things. This is the perfect type of setup to throw on the front of some MOLLE equipped mag pouches, or the cummerbund of your vest where it's accessible, but won't impede your reloads when installed in the usual location for admin pouches. These are great for radios, tools, and can still hold your maps, data cards, and dead rags you may need for any given event.
10. Kangaroo Pouches
Unfortunately, these aren't for holding small combat capable marsupials; however these are an often overlooked type of magazine pouch for saving space on your kit. By now you've read through this list, seen all of these awesome pouches you forgot to buy and said:
"How am I supposed to fit all of this and still carry all 20 of these high-caps I ordered?"
Fear not, dear reader, as the kangaroo pouch allows you to double up your pistol and rifle pouches, saving valuable MOLLE real estate for other goodies! These kangaroo pouches come in all shapes and sizes, and can help you bump up the storage and efficiency of your setup. We find them especially valuable on more minimalist setups, where you don't want the bulk of a big vest, but want to carry as much kit as you can.
What pouches do you think are the most important when setting up your vest? Is there a must have pouch you can't live without on every set up you build? Let us know on social media! For all of your tactical gear needs, Airsoft GI has you covered.