Best Airsoft Pistols 2023: The Lancer Tactical Knightshade
Weíve already covered one of the new pistols for 2023, the Army Armament R604, but itís not alone in the hot new favorites for the new year. Lancer Tactical has stepped up in a HUGE way with their newest offering, the Knightshade.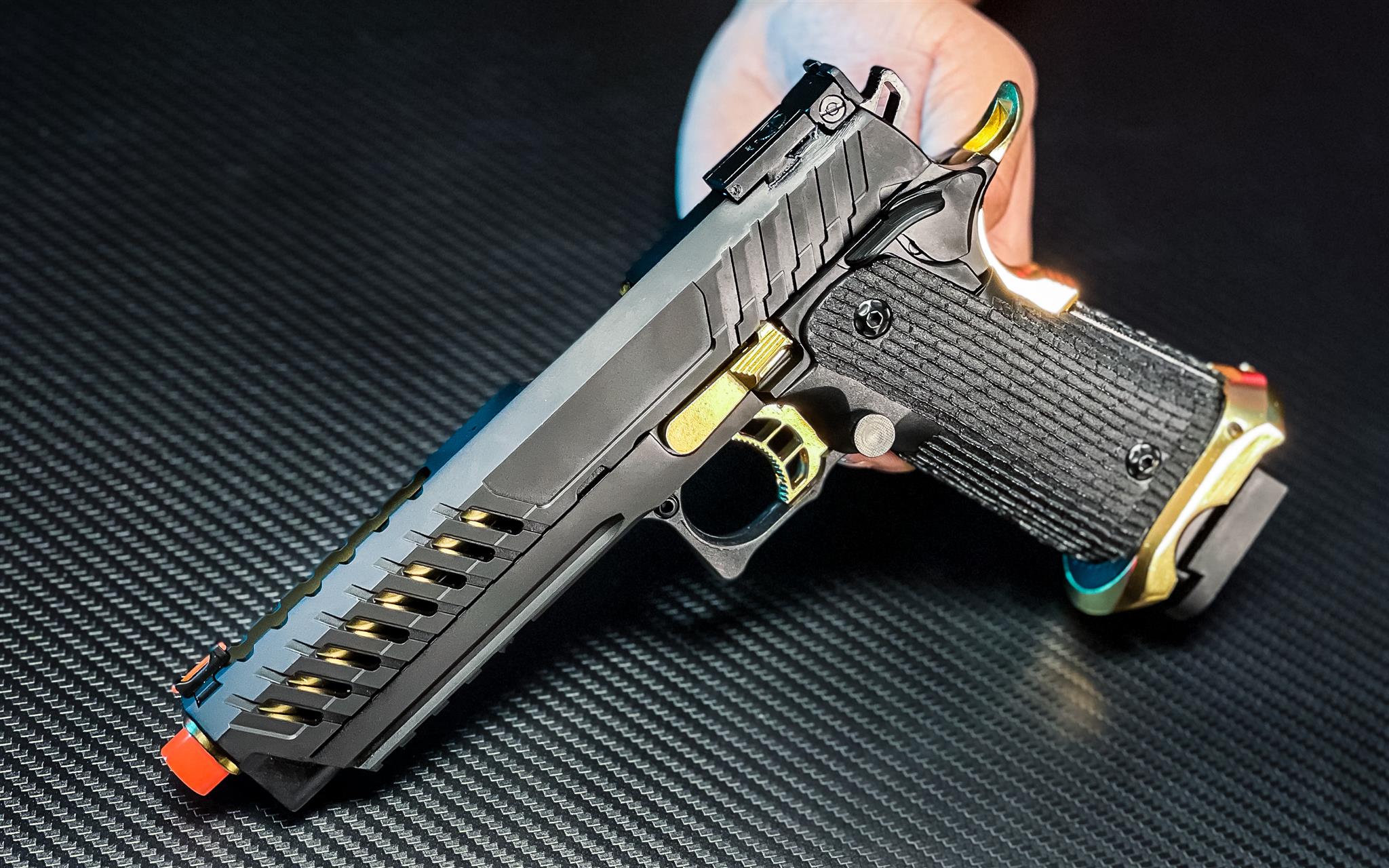 Where the R604 pushed the limits of factory features, this gun is pushing what we should expect from a new pistol in terms of performance and compatibility. Lancer is clearly gunning for the Marui Goldmatch in both style and performance, but can it hit the mark?
Gold Is The New Black
Letís talk about the elephant in the room. This Knightshade pistol is SHINY. Gold appointments adorn the entirety of this sidearm, and they are very different from the preview versions we got to see before the whole pandemic kicked off. Lancer very clearly paid attention to design trends, and used the extra time during 2020 to absolutely finesse every detail of this pistol.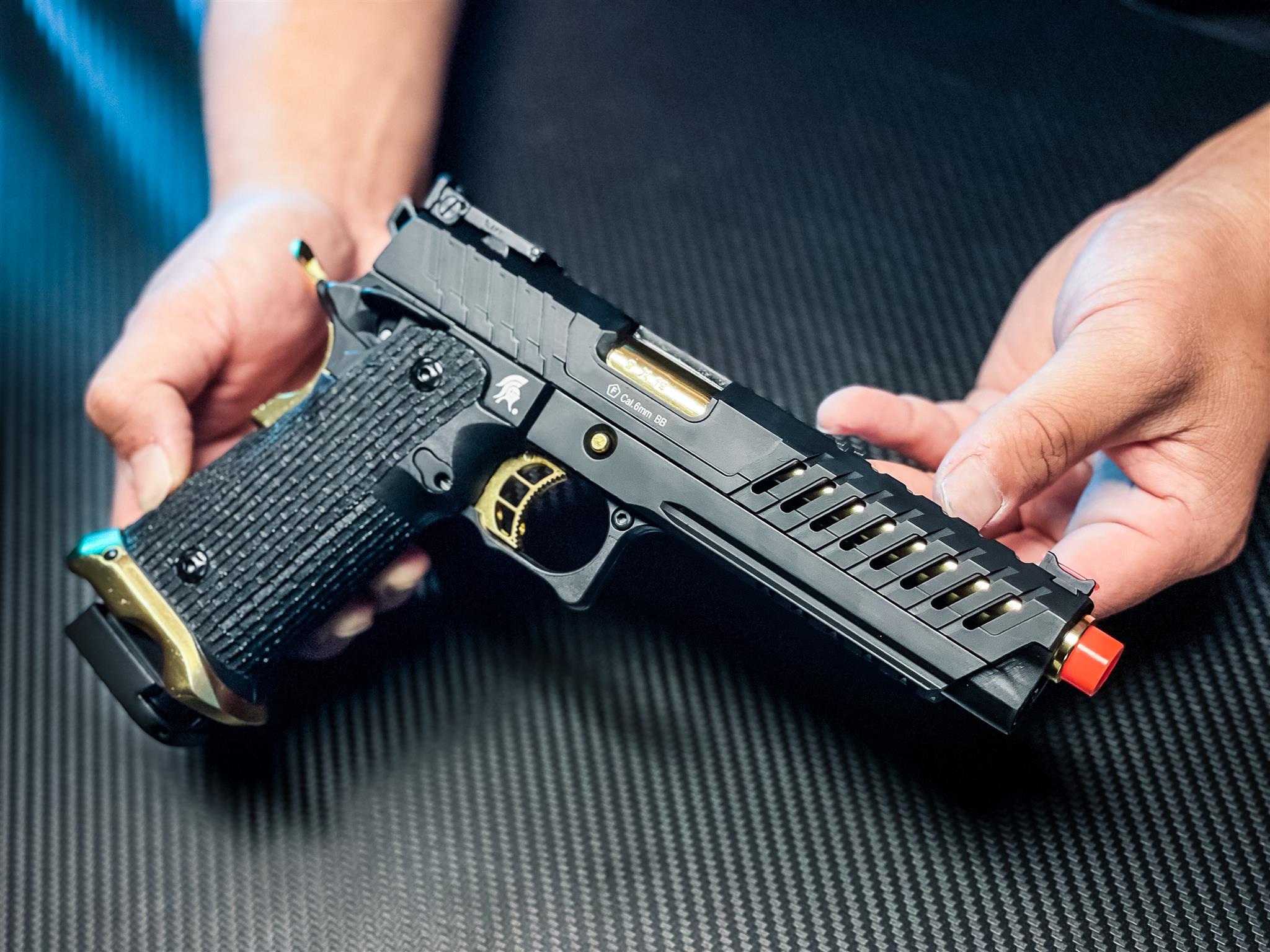 The beaver tail, trigger, magwell flare and slide stop are all gold along with the barrel, while the rest of the pistol is jet black. This creates a very stark visual contrast and makes the pistol very eye catching. The 5.3 inch outer barrel puts this in the same size as the TTI Combat Master from JAG, so it is definitely a statement piece in your arsenal.
The better news though, is that if these flashy parts ever stop being appealing to you, you can swap all of it! This pistol is TM compatible, meaning you can upgrade it to your hearts content!
It Has The Most Important Feature
Before we get down into how this thing shoots stock, letís cover the basic most important rule of Hi-Capas, It needs to take TM parts.
As we mentioned just two paragraphs ago, the Knightshade is completely TM compatible. Now, we have to add the olí asterisk that some parts may require fitment, because thatís just the nature of 3rd party manufacturing, but we were able to swap in other TM spec parts with relative ease and the gun functioned exactly as expected! Donít believe us? We even filmed it for you!
Ok, But How Is It Out Of The Box?
Letís face it, most of you are never going to do any serious upgrades, and none of us want to buy a pistol to gut the whole thing immediately, and the Knightshade isnít going to let you down. The ported slide and rock solid blowback unit make this gun snappy to shoot, with a cyclic time somewhere between 1RPS and how fast you can pull the trigger!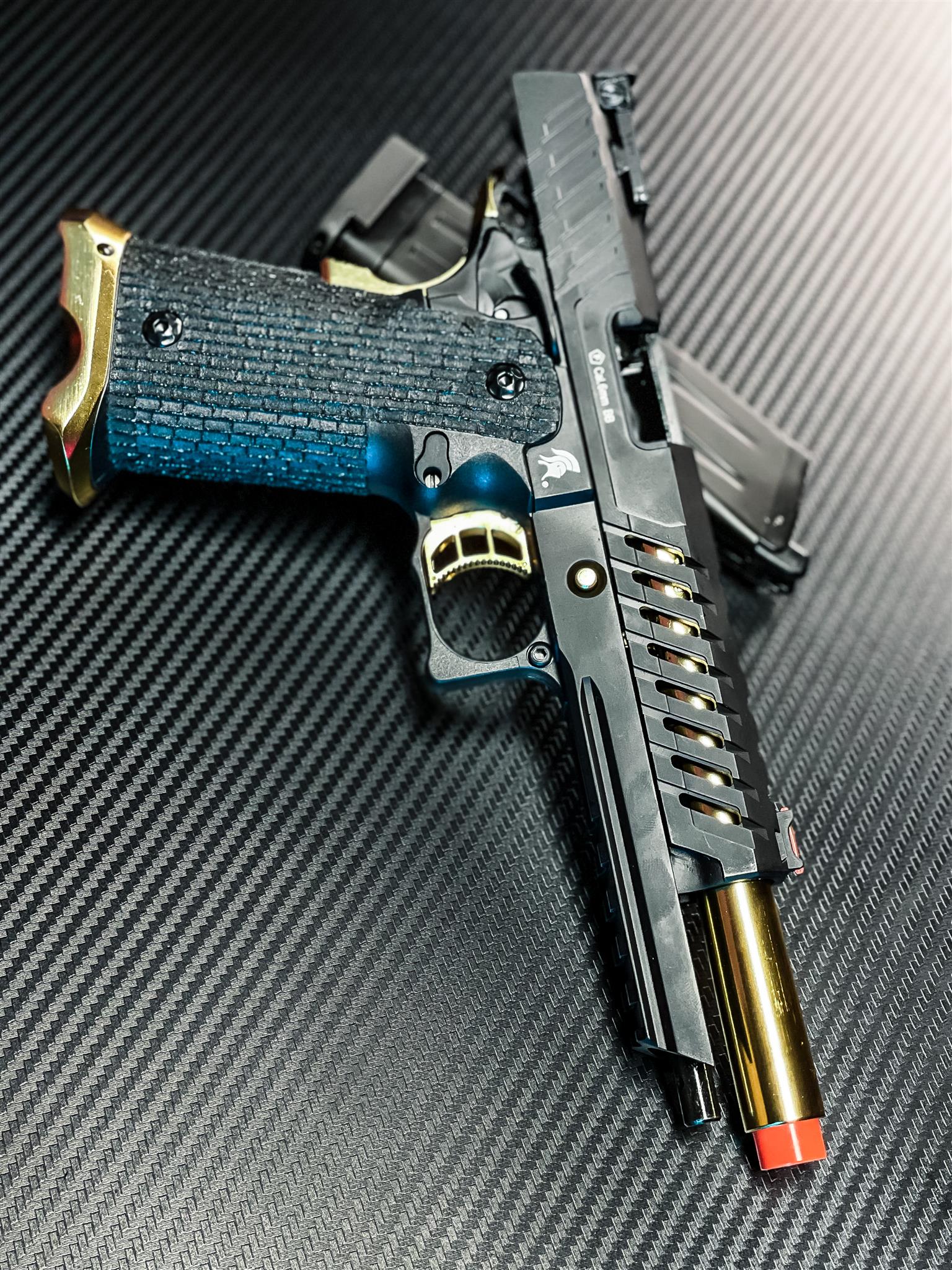 Accuracy is perfectly in line with what youíd expect from a stock pistol. Which means itís probably more accurate than most of you who will ever wield it. That being said, since itís TM compatible, if you wanted to beef the Knightshade up a bit and throw a tight bore or an upgraded bucking into the mix, you definitely can.
The best part about this gun is how easy it is to use as a primary system. While most side arms are back up emergency guns, youíre going to find yourself reaching for this more often than you think. The treebark style texturing on the grip is ultra comfortable and definitely wonít slip on you, and the sights are very easy to keep on target.
Itís the perfect platform to use to begin building the ultimate Hi-capa, but itís rock solid out of the box. What more could you want in a sidearm? Itís definitely a flashy piece, but thereís nothing wrong with flexing on the other team with a bright shiny sidearm, at least theyíll remember who shot Ďem!