Valken Energy 9.6v 1600mAh NiMH Crane Stock Battery w/ BOL Basic Fast Smart Charger Package
[16250]
Free Shipping for orders over $89 No Coupon needed
HOLIDAY PACKAGE
Airsoft GI presents our Holiday Packages! This is a great choice for both holiday shoppers as well as airsoft players looking to save a bundle. By purchasing this bundle deal, you are saving up to 35% the cost of both of these items purchased separately. Many of the items packaged were decided by actual airsoft players who thought that these items would make great useful gifts for the upcoming holiday season.
Savings:
$24.99 for Valken Energy 9.6v 1600mAh NiMH Crane Stock Battery
$45.00 for BOL Basic Fast Smart Charger
$69.99 Total
You save
$10.00
by purchasing this package!
---
Valken Energy 9.6v 1600mAh NiMH Crane Stock Battery
The Valken 9.6v 1600mAh NiMH Crane Stock Battery is designed specifically for use with a Crane Stock. The battery is pack is separated into two halves to fit the slots of the crane stock around the buffer tube. This battery will increase the rate of fire of your airsoft gun due to the higher voltage and its higher discharge rate.
Specifications:
Manufacturer: Valken
Voltage: 9.6v
Milliampere Hours: 1600mAh
Cell Type: Nickel-metal hydride (NiMH)
Connector Type: Mini
Recommended Fit: M4A1 hand guard, M733 hand guard, M4 Commando hand guard, MP5A5 hand guard, and MP5SD6 hand guard
Please Note:
This battery will fit in the G4, Combat Machine, G&G, VFC, KWA, and TSD crane stock. If you have any questions about which type of crane stock this battery will fit in please call us at (909) 869-0671.
Airsoft GI Battery Disclaimer:
Airsoft GI is not responsible for batteries that have been damaged as a result of improper operation, storage, misuse or abuse, accident or neglect, such as physical damage resulting from misuse; contact with liquid, water, rain, extreme humidity or heavy perspiration, sand, dirt or the like, extreme heat, or food; use of the battery for commercial purposes or subjecting the battery to abnormal usage conditions, or other acts which are not the fault of Airsoft GI. Make sure you understand how your battery should be used and how long it should be charged. If you have any doubt regarding the operation, charging, or storage of your battery and/or charger, ask. A charging battery should not be left unattended and should be picked up periodically while charging to check for overheating. Do not charge batteries near flammable material. For more information regarding batteries please refer to the Frequently Asked Questions or the Airsoft GI Airsoft 101 Guide.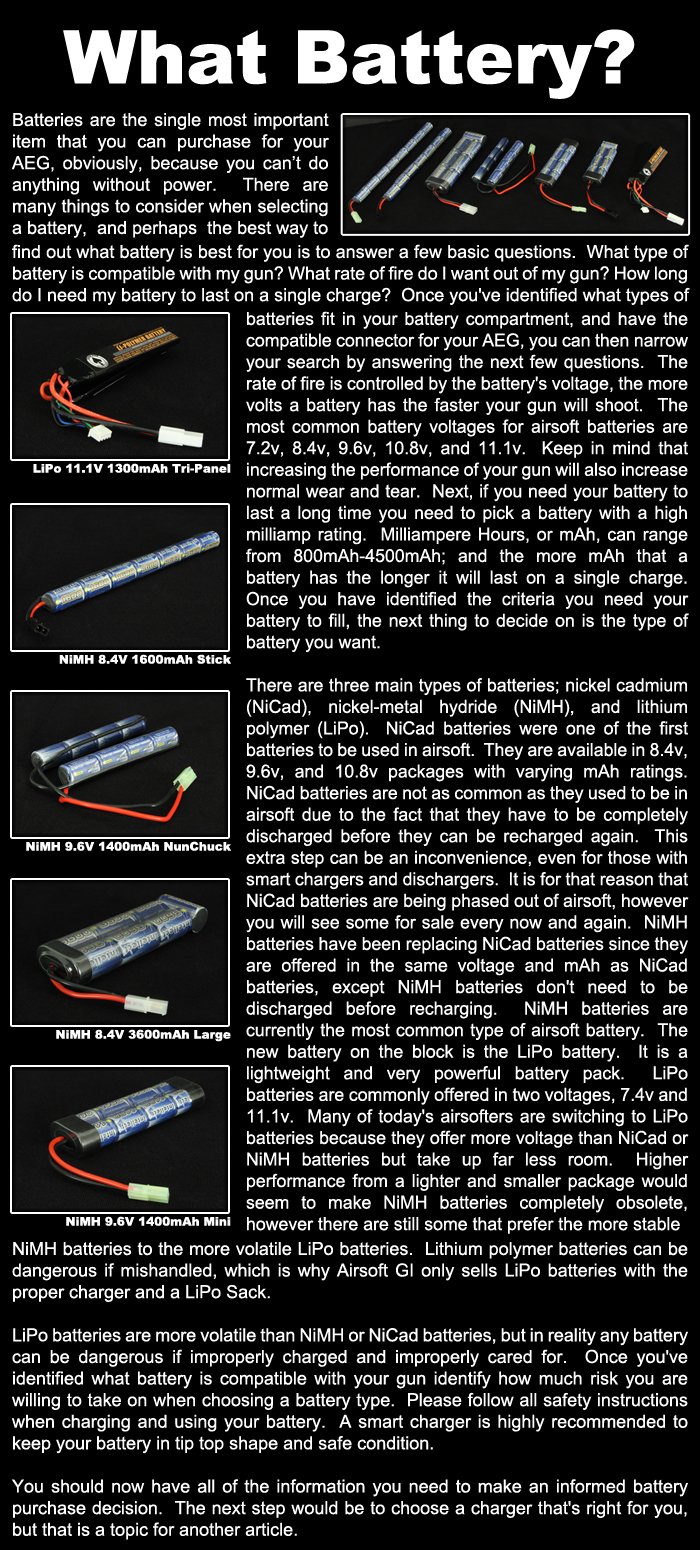 BOL Basic Fast Smart Charger
The Basic Fast Smart Charger will charge battery packs up to 9.6v. It features two different charging speeds and has an adjustable amperage dial. It also has a delta peak cut off and a trickle charge. It also charges NiCd and NiMH battery. This charger is a simple as pressing a button, a must for any airsoft player.
Specifications:
Connector: Mini / Large
Cell Type: NiCd / NiMH
Voltage: 7.2v - 9.6v
Specifications

Manufacturer: Airsoft GI
Color: Green / Black
Package Includes: One (1) Battery and Charger
Could this fit a classic army issc mk22?

Could this fit a classic army issc mk22?

497 days ago

Christian S

0

0

(I have this same question)

Staff Answer:

Yes, might take some trickery with fitment but is possible

494 days ago

1 answers
1 asked

Will this fit?

Will it fit the G&G RK 47 AK Blowback AEG Airsoft Rifle (Imitation Wood)

706 days ago

David M

0

0

(I have this same question)

Staff Answer:

You would need a smaller, stick type battery to fit in most AK style weapons.

705 days ago

1 answers
1 asked

Will this fit

Will this fit a APEX bison pp-19 top folding?

858 days ago

Jacob A

0

0

(I have this same question)

Staff Answer:

No, this will not fit the top folding Apex Bison. You need a stick type battery.

824 days ago

1 answers
1 asked

What charging amp should the charger be set on for this battery?

I received this charger/battery package, but can't find the suggested charging amp for this battery. The directions for the charger says to refer to reference table, but I can't find it. Don't want to pick too high of a charging amp and ruin my battery.

2133 days ago

Sherry T

0

0

(I have this same question)

it's a 1600mAh battery, so 1.6 Amps.

2079 days ago

1 answers
2 asked

Will this fit

Will this fit the Airsoft GI FMG4 13" Next Gen. DMR Airsoft Gun?

2148 days ago

Zachary D

0

0

(I have this same question)

It fits because I just got that same gun in yesterday

2090 days ago

Will this fit the Airsoft GI FMG4 13" Next Gen. DMR Airsoft Gun?

2148 days ago

Zachary D

0

0

(I have this same question)

Staff Answer:

It should

2146 days ago

2 answers
1 asked

will it fid an echo 1 mtc 2 carbine

will it

2157 days ago

Gian R

0

0

(I have this same question)

Staff Answer:

It should

2154 days ago

1 answers
1 asked

Will this work for a classic army m249 para?

I'm new to this stuff

2238 days ago

Davis I

0

0

(I have this same question)

Staff Answer:

This should be able to fit in the hand guard.

2238 days ago

1 answers
1 asked

Does this fit in KWA CQR M4?

I dont know what battery to get

2278 days ago

Austin A

0

0

(I have this same question)

Staff Answer:

It should fit.

2273 days ago

1 answers
1 asked
Search Tags: Package Combo Combination Bundle Deal Deals 7.2v 7.2 8.4v 8.4 9.6v 9.6 Beginner Starter Small Large Smart Charger Battery NiCD NiMh AEG Nickel Metal Hydrate 8 Cell 9.6 1600 AEG 2/3A Nunchuck Butterfly Hydride NiMH NiHM Low Voltage
People who bought this item also purchased: