VISM Micro Green Dot Sight (Integrated Red Laser)
[SF14][09197 / VDGRLB]
( 5 Reviews )
❤ Add to Wishlist

New to airsoft? Here are some safety tips for airsoft guns that we recommend following.
Founded in Southern California in 1997, NcSTAR's mission is to consistently provide superior quality optics and sporting accessories at affordable prices. They are dedicated to providing superb customer service, setting the highest standard in the industry, with a warranty that is second to none. They provide innovative and cutting edge optics and accessories by following the latest industry trends and listening to their customer's feedback. Innovation and Technology have always been key elements behind NcSTAR's Product Development. Their products are designed in America using the latest state of the art software and rapid prototyping equipment. Their expert development team creates, evaluates, and tests every aspect from conception to the finished product, designing products By Shooters - For Shooters.

The Vism Micro Green Dot w/ Integrated Red Laser is a great new optic from our friends over at Vism. It features an extremely compact design, while still having a large enough field of view to effectively see your target. The dot is green and has 5 different brightness settings, but the sight also features a built-in red laser, to help with quick target acquisition. Overall, while small, this optic would make a great addition to the upper rail of any airsoft gun.
Specifications:
Manufacturer: Vism
Model: Micro
Color: Black
Dot Color: Green
Laser color: Red

Features:
Built-in laser
Eye-pleasing green dot
5 Brightness settings

Please Note:

Lasers, both red and green, can be extremely harmful to the human eye. NEVER point your laser at the eyes of another person or animal.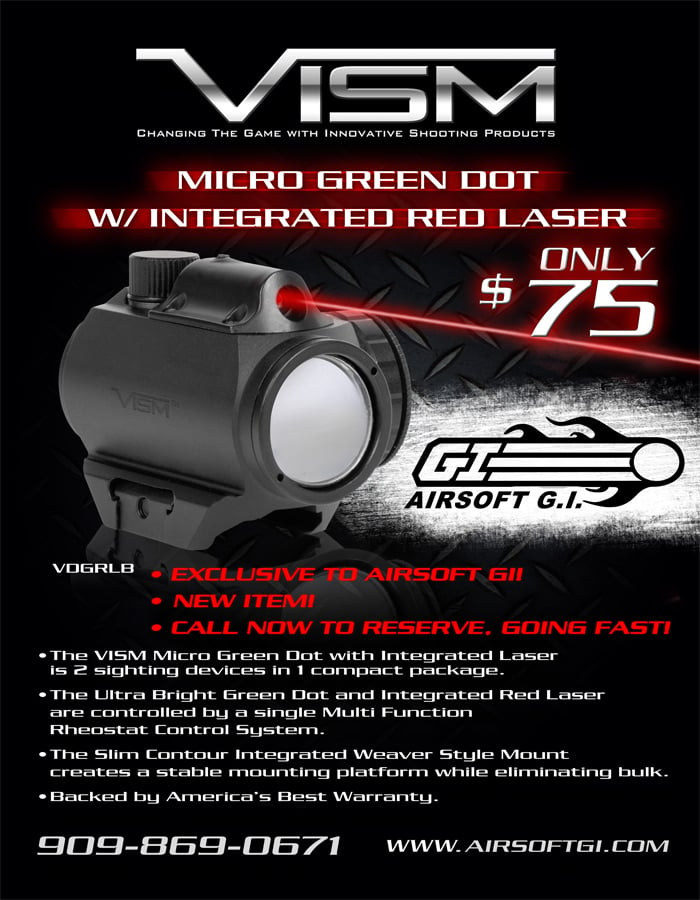 Specifications

Manufacturer: Vism
see 5 reviews
|
Write a Review
verified buyer
A. RANSON | 2014-02-09
Product Information:
This is a really cool attachment for any gun, especially cqb guns for quick target acquisition either by the green dot or the red laser on top. The lenses are clear and the dot is crisp. The laser is ideal for lower lit areas.

Pros:
Good construction
doesn't add weight
tacticool

Cons:
the only issue I had is that it sat too low on the rails for me. Sometimes I felt like I was trying to push my face into the stock of my gun. This sight would be perfect for guns with raised rails like G36 or Famas, even AK's could utilize it well.
verified buyer
B. WARD | 2014-04-22
Product Information:
This sight is about 2 inches long, ideal for smaller weapon systems and CQB environments. It's made from aluminum very look and feel, extremely lightweight and comes with 5 brightness settings and laser on top. It does have some flaws though such as when you go to use the laser and sight at the same time the sight is in stage 5 brightness and can hurt your eyes after a bit, would recommend a small switch near the laser so you can adjust the brightness to meet your criteria. All in all the pros out way the cons and the cons aren't bad enough to stop me from saying this sight will last you a long time, is pretty cheap considering you get a 2 in 1 deal and lastly stop me from giving it a 5/5!

Pros:
Green laser instead of red (easy on the eyes)
Small and compact design (won't block your view too much)
Very vibrant laser and reticle (you'll never need stage 5 brightness)
Comes with a rubber cover for when in storage
A little cool thing I learned is when you use the laser only you can still use it as the reticle so in a sense you have a red and green reticle and it gives the glass a cool red glow

Cons:
Can be really bright (depends on your game environment)
Can't adjust brightness when using both sight and laser (again not a big deal)
The knob to turn it's a little stuff but that could be a pro or a con depending so I'll leave that up to you
It might just be because of allergies or the fact I was sleepy messing about with it but the sight seems kinda blurry I would like for the reticle to be smaller and maybe a blue sight down the road
verified buyer
J. LOCKHART | 2014-07-09
Product Information:
Yeah I bought this sight and having it for only one day the knobs glue wore off and the knob fell off, currently waiting for a response from ncstar warranty department because I am returning it. This product isn't a bad sight, but the quality of the scope could definitely be better than some glue holding a major part of the weapon in place. Oh and I had only got to use the sight once, poor quality overall.

Pros:
Good green dot sight quality
Red laser is pretty nice

Cons:
The item broke within a day of owning it
Does it fit?

Does this fit G4-a1 Daniel deffence 9" ?

3236 days ago

Gail R

0

0

(I have this same question)

Staff Answer:

Yes

3230 days ago

1 answers
1 asked

battery?

What battery is used to power this red dot sight?

3436 days ago

Stephen P

0

0

(I have this same question)

Staff Answer:

It should be CR2032.

3431 days ago

What battery is used to power this red dot sight?

3436 days ago

Stephen P

0

0

(I have this same question)

I believe Cr032 batteries but do NOT quote me on this i'm not sure.. even though I own this optic.. i've never had to pick up extra batteries so you know. :D

3432 days ago

2 answers
1 asked
Search Tags: Reticle Optic Scope Reflex AEG GBB Laser Micro M4 M16 Red Dot Sight Scope Reticle Reflex Optic
People who bought this item also purchased: