UTG Shadow Ops MK96 Bolt Action Spring Sniper Airsoft Rifle Scope Package (OD Green)
[02128]
( 69 Reviews )
❤ Add to Wishlist
Attention Airsoft GI Customers:
All scope packages we will be completed with either the Airsoft GI scope or the NC Star scope shown here: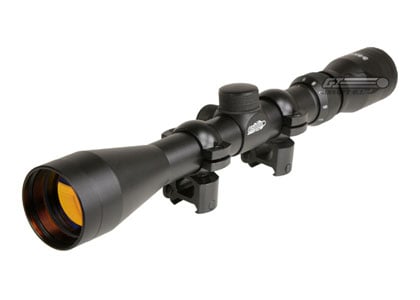 The UTG MK96 Rifle is based on the L96 sniper rifle that is issued to the snipers of the British Army and other various special operations organizations from all over the world. This airsoft replica comes ready to turn you into a true airsoft sniper. It features an adjustable cheek rest and a 20mm scope mount that makes the addition of a scope an ease. And, the spring power bolt is surprisingly easy to pull back for a airsoft gun that is shooting 430-460fps right out of the box. Furthermore, the ergonomically designed grip and stock make this rifle extremely comfortable for the user to keep it trained on target.
Specifications:
Barrel Length: 515mm
Weight: 3340g
Magazine: 30 rounds
System: Spring Bolt Action
Muzzle Velocity: 400-460 fps with 0.2gbbs
Package Includes: Gun, Two Magazines, Bipod Adaptor, Bipod and Manual
Features:

One Piece Precision Metal Barrel

Adjustable Hop-up System

High Power Pin-Point Accuracy Performance

Effective Long Range Shooting

Complete Picatinny Mounting Rail Systems

UTG Deluxe Picatinny Mount Foldable Bipod Complete With Cleverly Designed Tri-Rail Bipod Adaptor

Spare Magazine

Spring Powered Deluxe Speed Loader

Tactical Sniper Rifle Sling

Specifications

Manufacturer: Leapers
Muzzle Velocity: 400-460
see 69 reviews
|
Write a Review
verified buyer
J. PINCKNEY | 2013-07-17
Product Information:
This rifle my friends, is the appitamy of sniper rifles. It has probably a 150 foot range right out of the box with KWA .30 gram bb's. However, with a bit of fine tuning, DIY mods, and a few extra bucks, I was able to turn this into a totally silent, 75 yard death bringer with the occasional 90-100 yarder thrown in there. Out of the box this thing is pretty loud for my needs, but with a little mods and a few parts, I've shot with people 20 feet away and they only hear the whistle of my bb

Pros:
-amazingly quiet
-more accurate at lower fps
-flat stock to rest on stuff
-scope is nice and clear
-amazing once tuned

Cons:
-my hop-up literally desintigrated
-trigger box got fried after not to long
-could be heavy, but man up. You wanted to be a sniper
verified buyer
T. LAWHON | 2013-10-28
Product Information:
I'm rather new to airsoft, however, I've been a handler of many real firearms, and after quite a bit of research decided to purchase this rifle. Airsoftgi offers the best deal on this rifle, as you are receiving an extremely accurate rifle along with a very clear scope and sturdy bipod. Some reviews have complained about parts breaking, the shot being too loud, or the quality of equipment, but they must not have gotten the same thing I did because this is an excellent weapon on the battlefield.

Pros:
Accurate
Easily concealable for stealth capabilites
Good weight
Bolt feels fantastic
Easy mount parts
Sturdy
Two mags instead of one??? AWESOME!
Two part assembly.
High FPS
Hits like a truck. A very small truck...

Cons:
It is a sniper but it still just feels long, making it hard to move in close quarters areas.
Be extra cautious when placing the scope and bipod on their rails. Use a monkey wrench to tighten the bolts as hard as you can. I lost a bolt on my scope in the field and had to jury rig a solution until I could replace it. My fault though, should have thought ahead.
verified buyer
M. BOZIK | 2014-01-28
Product Information:
To start with this is a great sniper for the price and quality of the gun itself. The range of this gun is amazing as well, it shoots strait and accurate with .36g BB's. I suggest using a higher quality BB for this gun since it has a higher fps and to invest in a bottle of silicone spray for your bolt to keep it easy to pull and lubed up.

Pros:
Long Range
Looks Awesome
Scope and Bi-pod included
High Fps
Easy to upgrade



Cons:
Sling is weak (suggest buying one)
Wish the whole gun was metal
Secondary trigger safety
Other than those this is a great gun for anyone who wants to start sniping or is just looking for a new gun in general.
Is the piston sear, in the reciver, a 90 degree piston sear?
0 answers
1 asked

Inner Barrel
0 answers
1 asked

Is the barrel threaded?
0 answers
2 asked
Search Tags: AWP Sniper DMR Polymer Furniture Accuracy Cheek Pad Stock Spacers Upgradable APS2 Compatible 30rd Magazine L96 Accuracy International Arctic Warfare L96 L 96 A1 L96A1 Sniper Rifle Bolt Action BAR BASR AWP AWM AWS AWC AE PM Precision Marksman 762 7.62 L118
People who bought this item also purchased: