UTG LED Long Distance Flashlight w/ Spot Focus
[B12F01][08579 / LT-ELF240]
( 3 Reviews )
+ Add to Wishlist
UTG LED Long Distance Flashlight w/ Spot Focus is a great high powered tactical light that is designed to put out 800 yards of effective illumination. This light features 5 functions including high, medium, low, strobe, and SOS settings. When used on high brightness, this flashlight puts out 200 lumens of white light. The UTG LED Long Distance Flashlight is able to achieve its long distance beam by using a spot focus lamp to focus the beam. The body of this light is interchangeable and features a integrated mounting deck with a quick detach locking lever with full adjustability to ensure proper fitment on any Picatinny Rail. This light gives the user three choices of operation, the user can chose between the coiled remote pressure switch, push button switch or a twist on switch. To ensure that this light is durable and sturdy on the field, a precision machined aircraft grade aluminum body is used and offers the durability needed for intense use. The UTG LED Long Distance Flashlight w/ Spot Focus is a perfect light for outdoor and indoor use and will definitely give you a huge advantage on the field.
Specifications :
Manufacturer: UTG
Color: Black
Lumens: 200 Max
Color: Black
Material: Aluminum
Package Includes: Flashlight , push button switch, twist on switch, remote pressure switch, QD mounting deck, batteries.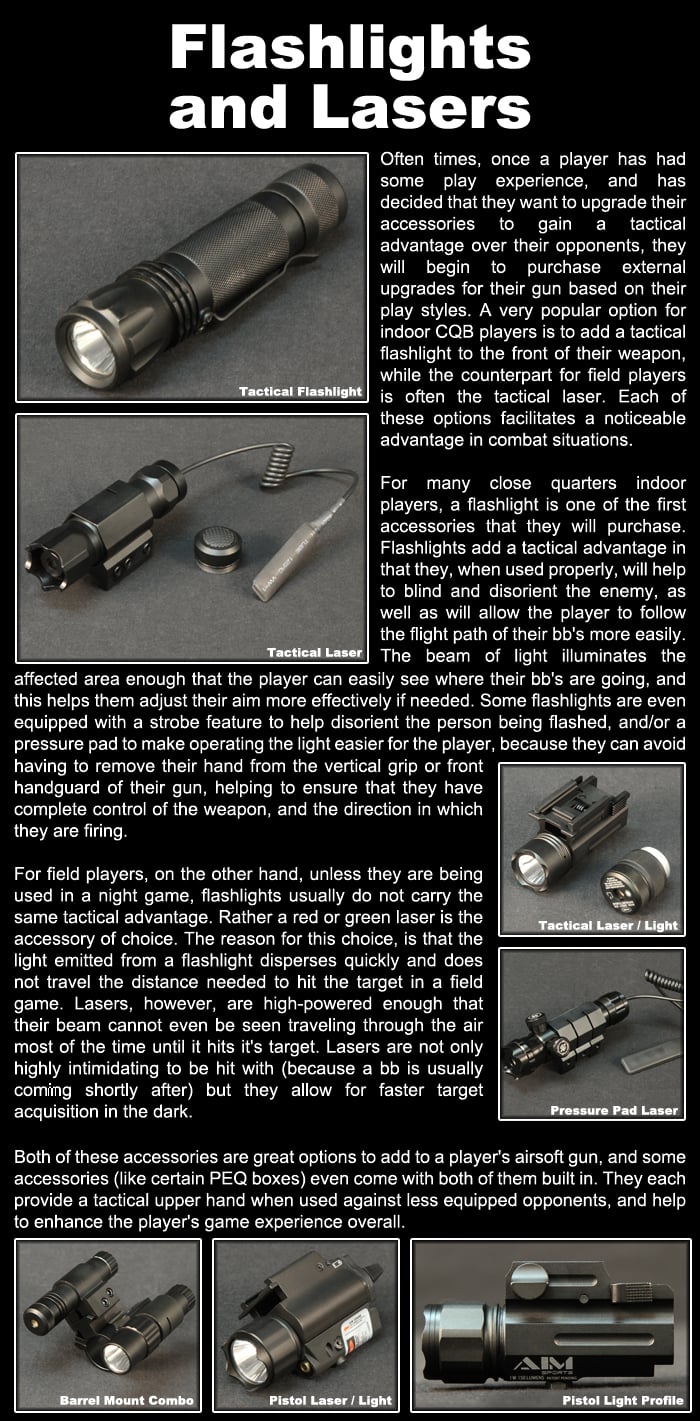 Specifications

Manufacturer: Leapers
see 3 reviews
|
Write a Review
verified buyer
J. LANYO | 2013-08-06
Product Information:
this light i had bought it for a masada or my mp7 but it is alot bigger than i thought so i use it as a hand held great light extremely bright i love it

Pros:
gose up to 800 yards
200 lumints
very bright
comes with alot of adons

Cons:
bigger than i thought (thats what she said hehe)
all around nothing bad to say
T. QUICK | 2013-08-21
Product Information:
best light ever!!!!!!!!!! its so bright i use it not only for airsoft but for work ( auto tech) and if you work on cars you know important it is to have a good light. it blinds the hell out of everyone in cqb but gives up your position as it lights up EVERY THING and if you have limited rail space this is not the light for you this light is BIG and the 123a batteries are expensive
took a luminometer to it at 10ft from lens and it actually puts out 200-201 lumins (0.0) and it has 5 functions lo mid high fast strobe and slow strobe

Pros:
bright as ****!!!!!
makes good horizontal grip
really bright
very secure
did i mention bright
o ya and its bright
S!!!T!!!!R!!!!O!!!!B!!!!E!!!!!
comes with 2 body tubes and switch accessories so with a simple unscrewing of the light head and swapping of the batteries u have a hand held or a rail mounted light


Cons:
for some people it may be to big
cant stay on one function with presser pad
the hey here i am come shoot me light
verified buyer
C. MOTA | 2013-10-02
Product Information:
This is a great tac light! I love that it comes with everything you need to mount this to your rifle plus batteries. Also the 5 settings and the spot focus is the main thing that got my attention. Very durable, just have to be careful and not snag the pressure switch cord.

Pros:
-Great lume
-Settings
-Comes ready to mount and use

Cons:
-Really big
-Some weight to it
-Pressure switch cord can get ripped off easily
Someone mentioned it can't stay on one setting with the pressure pad?
0 answers
1 asked

meterial

is it plastic or metal?

1785 days ago

Sten C

0

0

(I have this same question)

Staff Answer:

It should be made of metal.

1785 days ago

1 answers
1 asked

What is the actual length and weight of this?

Some people say it's to big or to heavy. But it doesn't say how much it weighs or how big it is

1807 days ago

Kevin O

0

0

(I have this same question)

Staff Answer:

Length is approximately 7in. Weight is approximately 9.5oz.

1804 days ago

1 answers
1 asked
Search Tags: CQB Field Distraction Range AEG GBB Pistol Illumination Light Strobe
This product was added to our catalog on Wednesday 06 July, 2011.
People who bought this item also purchased: