Tokyo Marui E90 300 rd. High Capacity Magazine (Black)
[V11I04][00110 / TM-MAG-M90-300]
( 19 Reviews )
❤ Add to Wishlist
Free Shipping for orders over $149
No Coupon needed
This magazine is recommended for use with the Tokyo Marui E90 AEGs, it may work with other brands AEG but cannot be guaranteed by Airsoft GI.
Specifications:
Manufacturer: Tokyo Marui
Magazine Capacity: 300 rounds

High Capacity Magazine Operation:
Find the trap door, usually located on the top of the magazine near the loading nozzle.
Open trap door and fill reservoir with high quality BBs.
Wind the wheel at the bottom of the magazine (notice the pitch and volume of the click).
Continue to wind wheel until pitch changes. Once the click gets louder, or begins to "double click," the magazine is fully wound.
Insert magazine into gun and fire. You may need to rewind the wheel during play.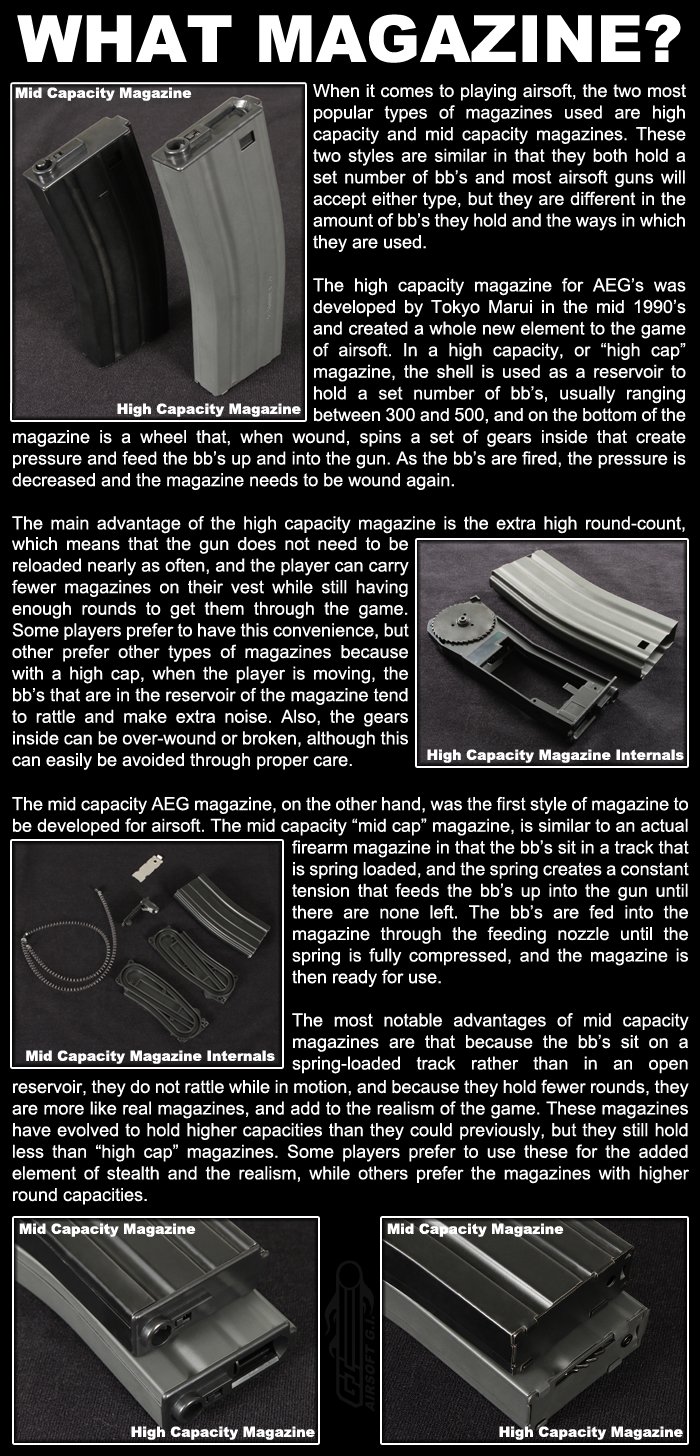 Specifications

Manufacturer: Tokyo Marui
Material: Plastic
Package Includes: One (1) Magazine
see 19 reviews
|
Write a Review
J. STOKES | 2008-07-28
Product Information:
I recently bought a TM P90 TR from ASGI along with one of these hicap mags. I've heard all the problems of them misfeeding and such, but then I also heard there's 2 versions. Fortunately it seems like I have the newer version. It fed all the bbs when it was wound, and only skipped 1 bb. Now this was all done on a stock TM P90, so I can't say how well it works on a high ROF setup.

Pros:
-Feeds all the bbs with a full wind
-Can see how much ammo you have left.
-Little if any noise from the bbs moving around compared to other hicaps. All thanks to the spring pushing the bbs towards the winder.

Cons:
-A little more tricky to load than some other hicap mags, but becomes easier with practice.
-Large, requires special pouches to hold them on a vest, belt, etc.
V. PANG | 2008-08-09
Product Information:
ok i have 6 of these mags and all of them work perfectly. so whoever keeps saying "my mag doesnt work. its marui's fault!" just shut up. its not marui. the mags work fine and to me, are even better then m4 or mp5 high caps. unless you dropped it from the second story window or threw it around, the mag will not misfeed. i only really had 1 jam.. in all 6 mags because my friend filled them all completely (300).

Pros:
clear, able to see the amount of BBs left
high quality plastic
pusher stops rattling
can fire the p90 upside down with high caps.. i dont know why anybody would, but it works!
one FULL wind is enough to fire the entire mag
no BBs left in a tube like all other high cap mags
trades on mag

Cons:
size. 11x2~x1 inches
have to take out to wind (wont need to unless you didnt fully wind it.)
cant load all 300 BBs as advertised.
J. WHITMAN | 2008-12-28
Product Information:
This mag is exelent! Most high cap mags use gravity to feed the bbs into the windup system, which means the bbs are loose. Loose bbs will not fall into the windup chamber evenly, and of couse, rattle. The P90 mag works diferently, it's bbs are puched by a spring towards the windup chamber. This keeps them from rattling around in the mag, and pushes them into the windup evenly.

Loading the mag is simple. Pull the feeder spring to the front(flat end) and open the hatch; the feeder spring will stay in place while the hatch is open. Pour in your bbs, and hold the mag up right to make sure they drop down all the way to the back of the mag. When it's full close the hatch and the spring will push the bbs to the back of the mag. Wind up using the notches, or an alenwrench, and your set.

My only peice of advice is that when you are ready to load the mag, line it up then push it in quickly and firmly, if you let the mag linger between locked and unlocked, it can cause it to unwind.

Pros:
-Clear, can see ammo levels
-No rattle
-Easy to load
-Feeds nicely
-Great capacity
-One wind feeds entire mag

Cons:
-Takes a while to wind
Search Tags: Mil Sim TM Gun CQB P90 Mag Clip tokyo marui 300rd 300 rd round polymer high capacity highcapacity hicap hi cap
People who bought this item also purchased: