Tenergy 9.6v 2000mAh NiMH Nunchuck Battery
[J07D03][07740 / 11419 / NIMH9.6V2000AA]
( 1 Reviews )
❤ Add to Wishlist
Free Shipping for orders over $179
No Coupon needed
New to airsoft? Here are some
safety tips for airsoft guns
that we recommend following.
Description:
The 9.6v 2000mah Intellect Cell battery pack is designed to fit into the hand guard of the M4 series that normally only have space for a conventional mini battery. The battery fits in the M4 hand guard by splitting the battery pack into 2 sections that go around the barrel. Due to its higher voltage this battery will give your AEG a faster rate of fire and it is a must for your upgraded M4.
Specifications:
Manufacturer: Tenergy
Voltage: 9.6v
Milliampere Hours: 2000mAh
Cell Type: Nickel-metal hydride (NiMH)
Connector Type: Mini
Recommended Fit: ICS M4 Battery Box, M4A1 hand guard, M733 hand guard, and M4 Commando hand guard
Please Note:
For best performance we recommend insulating
the wire connections with electrical tape.
Airsoft GI Battery Disclaimer:
Airsoft GI is not responsible for batteries that have been damaged as a result of improper operation, storage, misuse or abuse, accident or neglect, such as physical damage resulting from misuse; contact with liquid, water, rain, extreme humidity or heavy perspiration, sand, dirt or the like, extreme heat, or food; use of the battery for commercial purposes or subjecting the battery to abnormal usage conditions, or other acts which are not the fault of Airsoft GI. Make sure you understand how your battery should be used and how long it should be charged. If you have any doubt regarding the operation, charging, or storage of your battery and/or charger, ask. A charging battery should not be left unattended and should be picked up periodically while charging to check for overheating. Do not charge batteries near flammable material. For more information regarding batteries please refer to the Frequently Asked Questions or the Airsoft GI Airsoft 101 Guide.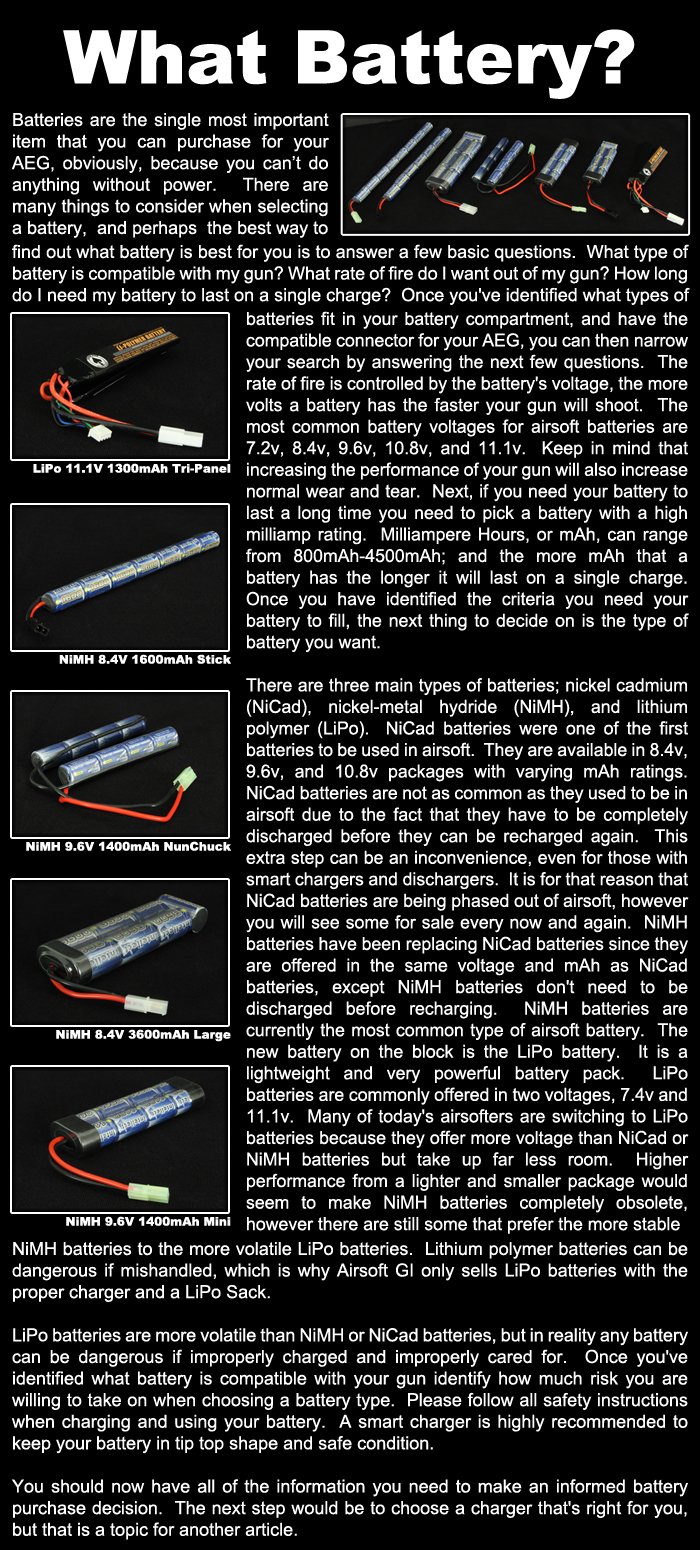 Specifications

Manufacturer: Tenergy
see 1 reviews
|
Write a Review
verified buyer
M. WOLSLEGEL | 2014-05-01
Product Information:
This battery is ok. Got this for my G&G GR16. Just running the standard M4 hand grips and lots of battery space still!

Pros:
-Lots of room easy fit
-Good battery life 2000mAh

Cons:
The trigger will freeze in single fire some times, have to switch rate of fire to auto to make it fire again. It could be the gun"s connecter, but none of my other battery's do that.
Does it fit into the apex fast attack 912 keymod carbine aeg?

Need to know

1944 days ago

Cheryl C

0

0

(I have this same question)

Staff Answer:

You would need a nunchuck style battery.

1943 days ago

1 answers
1 asked

Fit

will this fit in a stuby full stock

2705 days ago

louka b

0

0

(I have this same question)

Staff Answer:

Most likely not

2704 days ago

1 answers
1 asked

Will this fit a Lancer Tactical M4 RIS II?
0 answers
2 asked

would this be a good battery for the a&k masada ?

Is this a good battery type for the a&k masada

3039 days ago

joseph b

0

0

(I have this same question)

Staff Answer:

You could use that or a 7.4v LiPo Battery.

2982 days ago

1 answers
1 asked

fit
0 answers
1 asked

battery fit

I just received an a&k Masada from gitactical. Due to limited space my crane stock battery will not fit. Will this or a mini fit better? It has a mini connector

3132 days ago

Kevin H

0

0

(I have this same question)

Staff Answer:

A 9.6V NiMh NunChuck battery will fit, though the fitment will be tight.

3132 days ago

1 answers
1 asked

scar?

WILL IT FIT fn herstal scar-l by G&G?

3138 days ago

Dan T

0

0

(I have this same question)

Staff Answer:

No it will not fit

3131 days ago

1 answers
1 asked

pdw

will this fit in the lancer tactical full metal pdw's peq box?

3141 days ago

Wendy T

0

0

(I have this same question)

Staff Answer:

No, the Lancer PDW PEQ15 requires a very specific PEQ box LiPo Battery.

3130 days ago

1 answers
1 asked

capability?

will this fit a Small Tamiya connector type?

3190 days ago

lane M

0

0

(I have this same question)

Staff Answer:

It should be

3188 days ago

1 answers
1 asked

Will this battery fit

Will it fit in your Desert G4-A1 with Daniel defense rails

3198 days ago

Julie C

0

0

(I have this same question)

Staff Answer:

No

3194 days ago

1 answers
1 asked

will this fit
0 answers
1 asked

ARX-160?

Will this fit properly in the stock of the Elite Force ARX-160?

3229 days ago

John M

0

0

(I have this same question)

Staff Answer:

It will not fit

3226 days ago

1 answers
1 asked

P90

CA90TR with a extended butt plate Will it fit?

3265 days ago

Cool G

0

0

(I have this same question)

Staff Answer:

Possibly

3264 days ago

1 answers
1 asked

PEQ box
0 answers
2 asked

Will this fit in a cyma cm028?
0 answers
2 asked

KWA M4 A1 CQR MOD 1?

Will this battery fit into a KWA M4 A1 CQR MOD 1?

3307 days ago

Kyle M

0

0

(I have this same question)

Staff Answer:

No

3306 days ago

1 answers
1 asked

G&G G26

The battery that is customized to fit the G&G G26 Laser and Flashlight build is out of stock, and I was wondering if this battery would fit in the hand guard as a substitute.

3419 days ago

Benjy W

0

0

(I have this same question)

Staff Answer:

We would suggest using an Intellect Nunchuck Style Battery.

3419 days ago

1 answers
1 asked

Will this battery fit in a crane stock?

The product description does not say whether this battery can or can't fit in a crane stock, so I would like to know.

3420 days ago

Rudy D

0

0

(I have this same question)

Staff Answer:

This battery cannot fit in a cranse stock.

3419 days ago

1 answers
1 asked

agm?
0 answers
1 asked

Will this fit into the A&K M16A4 SPR

Wanted to get this battery, but don't know if it fits

3439 days ago

James W

0

0

(I have this same question)

Staff Answer:

If your airsoft gun has a full stock, then this will fit.

3439 days ago

1 answers
1 asked

Will this fit in the bottom compartment of the Madbull Troy battle axe stock?

Looks small enough in the picture to fit. Do you have any information conforming that?

3494 days ago

Jerry W

0

0

(I have this same question)

Staff Answer:

These will not quite fit properly in the battle axe stock.

3493 days ago

1 answers
1 asked
Search Tags: Nickel Metal Hydride NiMH NiHM Low Voltage Butterfly AA M4A1 AEG 8 Cell 9.6 2000
People who bought this item also purchased: