SOCOM Gear 11.1v 1500mAh 3s LiPO Mini Battery Package (Battery, Charger & Liposack)
[04268]
( 1 Reviews )
❤ Add to Wishlist
Please Note: Lithium Polymer batteries MUST be charged with a Lithium Polymer Balance Charger!
Description:
Lithium Polymer batteries are the newest available batteries for airsoft and other hobby toys. They are designed as a light weight, high output power source. This 11.1v Li-Po battery can deliver more power than 12v Ni-MH large type battery with only half of the size and a third of the battery cells.
Specifications:
Manufacturer: SOCOM Gear
Voltage: 11.1v
Milliampere Hours: 1500mAh
Cell Type: Lithium Polymer (LiPo)
Connector Type: Mini
Recommended Fit: M4A1, G36 series, MP5A5, SCAR, AUG, P90
LiPoSack Use and Safety Instructions:
Battery safety:

∑ Lithium Polymer batteries are volatile. Failure to adhere to established charging guidelines may result in fire, personal injury and damage to property if charged or used improperly.



The makers of LipoSack or its distributors or retailers assume no liability for failures to comply with these use and safety guidelines.

By purchasing this product, the buyer assumes all risks associated with its intended use. If you cannot comply with these guidelines please return this product unused to your retailer.


1) Charge batteries in a safe area away from flammable materials and only on a non-flammable surface in a vented area. Do not discharge batteries below 3 volts/cell. Doing so may result in cell damage and subsequent cell venting upon a subsequent charge.
2) Do not recharge damaged batteries. Dispose of damaged batteries in the proper manner.
3) Some Lipo chargers on the market may have technical deficiencies that may cause it to charge the battery incorrectly or at an improper rate. It is your sole responsibility to assure that the charger you purchased works properly. Always monitor the charging process to assure batteries are being charged properly. Failure to do so may result in cell damage or fire.
4) In the event of a crash, you must remove the battery from the model for observation and place in a safe open area away from flammable materials.

LipoSack Use Instructions:

1) Ensure that charger rate is properly set and polarity is correct.
2) Attach charging leads to battery.
3) Place battery in LipoSack towards the bottom.
4) Place LipoSack on non-flammable surface.
5) Route charge leads through vent at the top seam of the LipoSack.
6) Close top flap of LipoSack and press hook and loop closure fully closed.
7) Charge battery using proper charging practices.


Airsoft GI Battery Disclaimer:
Airsoft GI is not responsible for batteries that have been damaged as a result of improper operation, storage, misuse or abuse, accident or neglect, such as physical damage resulting from misuse; contact with liquid, water, rain, extreme humidity or heavy perspiration, sand, dirt or the like, extreme heat, or food; use of the battery for commercial purposes or subjecting the battery to abnormal usage conditions, or other acts which are not the fault of Airsoft GI. Make sure you understand how your battery should be used and how long it should be charged. If you have any doubt regarding the operation, charging, or storage of your battery and/or charger, ask. A charging battery should not be left unattended and should be picked up periodically while charging to check for overheating. Do not charge batteries near flammable material. For more information regarding batteries please refer to the Frequently Asked Questions or the Airsoft GI Airsoft 101 Guide.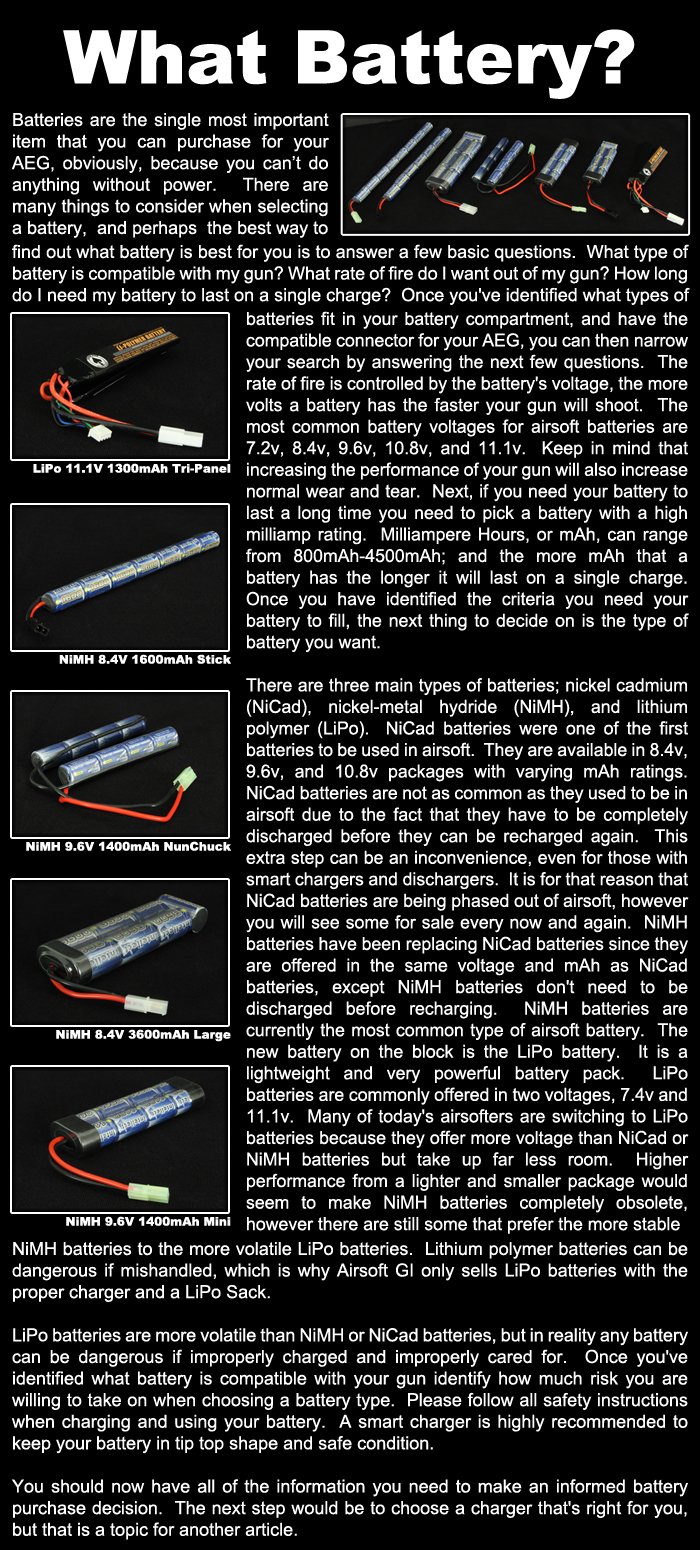 Specifications

Manufacturer: SOCOM Gear
see 1 reviews
|
Write a Review
V. PANG | 2008-11-25
Product Information:
SOCOM Gear batteries are one of the safest lithium polymer batteries for airsoft on the market today. SOCOM Gear designed a formula that makes it less likely to combust, and even if it does, minimizes the flame/explosion. This package makes it even safer by adding a charger with an automatic cut-off when its done charging and a Liposack. LiPo batteries can from over charging, and that factor is eliminated by the charger. The Liposack is a durable fireproof bag that will contain the flames/explosions and will hopefully minimize property or personal damage or harm. Even so, it is probably a good idea to be in the same room with it.. and a fire extinguisher nearby wouldnt be a bad idea either.. (probably wont need it because of the Liposack)

Pros:
INSANE ROF WITH A STOCK KWA M4A1!!! (around 30 rps)
Safer then other LiPo batteries
Comes with great charger and Liposack
Charges faster then most NiMH batteries (only took 2-3 hours for discharged to full charge)
Smaller and more compact then mini NiMH batteries, but more powerful!

Cons:
Can combust or explode if improperly handled or cared for (hit by BBs, punctured, etc..)
2 seperate wires.. 1 plugs into the charger, the other plugs into the AEG.

Cannot put battery at bottom of Liposack as instructed without putting in charger too.. wouldnt be able to tell when its done charging.


These cons come with having a LiPo battery.. theres no way around it. LiPo batteries are volatile and require great caution and care. If you take care of your LiPo and adhere to all the set guidelines for charging and use, you will not have a problem.
buffer tube

Will this fit in a standard m4 buffer tube

1918 days ago

Michael N

0

0

(I have this same question)

Staff Answer:

No it will not

1918 days ago

1 answers
1 asked
Search Tags: Lithium Polymer 3 Cell KWA AEG M4 MK36 G36 Mini Small Brick 11.1 1500 lipo Battery Package Liposack Lipobag Bag Charger Socom Gear
People who bought this item also purchased: