Prometheus EG Precision AEG Inner Barrel for M4A1/SR16/SG551 (363mm)
[G03A00][01584 / PR-4582109580097 / LAY-PRO-BRL363]
( 5 Reviews )
❤ Add to Wishlist
Free Shipping for orders over $149
No Coupon needed
Prometheus is one of the best, if not the best, names in airsoft. They are widely known for their extremely high quality upgrade parts for all different types of guns. Precision barrels are best described as an inner barrel with a diameter of 6.03mm or less. Precision inner barrels allow for better compression, improved accuracy, and in a few cases increase muzzle velocity. Although precision barrels often require more maintenance and cleaning, they can give an AEG a greater range and improve the overall performance of an airsoft AEG.
Specifications:
Manufacturer: Prometheus
Material: Stainless Steel
Bore Diameter: 6.03mm
Gun Type: M4
Barrel Length: 363mm

Features:

Length: 300mm

Inner Bore: 6.03mm

Stainless Steel Construction

Increase Accuracy & Range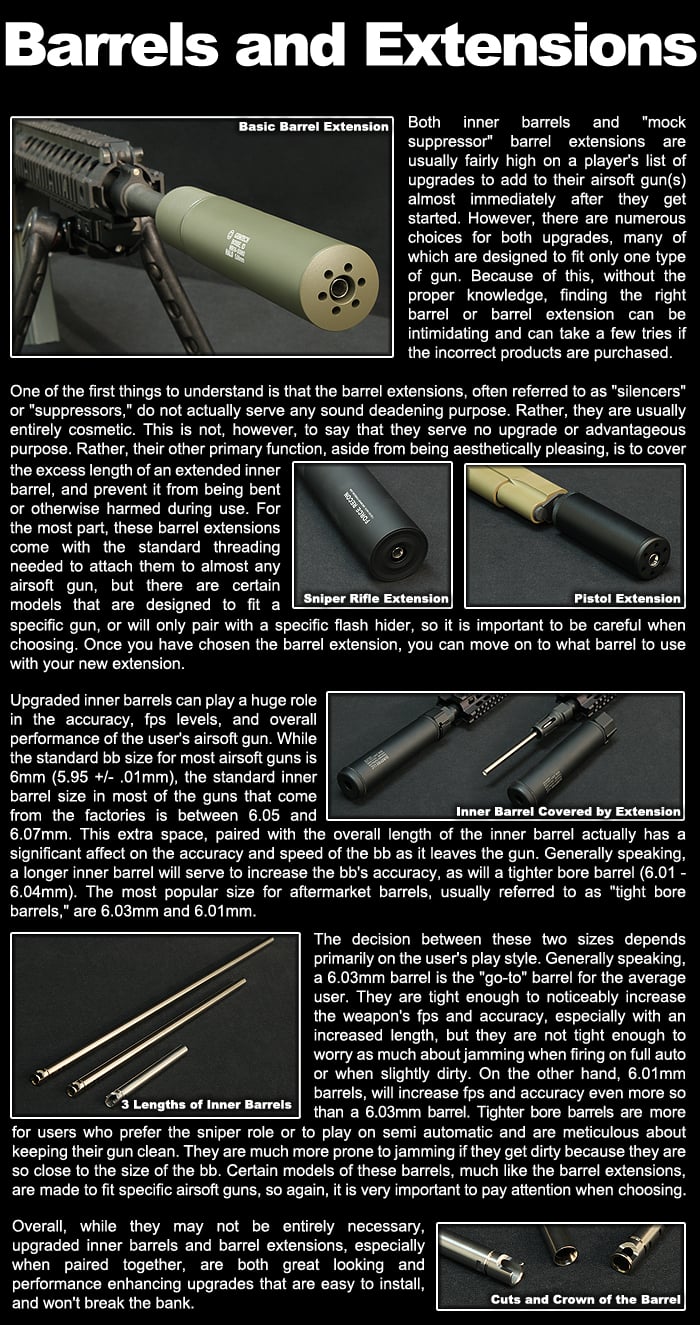 Specifications

Manufacturer: Prometheus
Color: Silver
Size: 363mm
Material: Stainless Steel
Package Includes: One (1) Precision Inner Barrel
see 5 reviews
|
Write a Review
verified buyer
F. THAMMA | 2008-06-23
I installed this barrel in my recently purchased KWA M4-System (amazing gun by the way) and was able to get 1 inch groupings from 50 ft away on the first hundred shots. I've read that it has a 10,000 round break-in period but if it's already this accurate before even reaching 200 rounds, imagine the potential accuracy after breaking in. Worth every penny for M4/M16 owners.
T. LEITNER | 2009-02-24
Product Information:
I bought this for my KWA M4A1 a while back as I was looking for better accuracy. This barrel is amazing out of the box, but I ran into problems with pitting and then horrible accuracy. Word to the wise: be anal retentive about keeping this thing clean. If you can stop the pitting and wear on it, its a great barrel. I had 8-10 inch groupings at 200ft.


Pros:
Excellent accuracy out of the box


Cons:
Hard to keep in top form
Pitting occurs very easily
Not really a con for most, but if you own a regular KWA M4A1 it sticks out a bit, so make sure your compensator covers it up.
B. DELA MERCED | 2009-03-12
Product Information:
i bought a barely used barrel for my G&P M4. All i can say is that it brought me to 385 from 365 fps in a matter of one week. i chronoed my gun at 365. after i bought the barrel i chronoed at 375. i went back to the shop after a game and bought new prometheus gears. i chronoed it again and landed on 385 fps. maybe it was the gears but i don't think so. the barrel was pretty much broken in already so all i had to do was break it in more to get the most out of it. i can't wait to play with my gun again.

Pros:
accuracy improved a bit
more fps

Cons:
breaking it in
scar

Will this fit on my vfc scar

2403 days ago

Quinton W

0

0

(I have this same question)

Staff Answer:

Yes it should

2402 days ago

1 answers
1 asked

vfc scar

Will this foot in my vfc scar h? I know it's a little long but it says for m4 so that worries me

2403 days ago

Quinton W

0

0

(I have this same question)

Staff Answer:

It just refers to the length, so as long as you have a standard length SCAR barrel, it should fit

2402 days ago

1 answers
1 asked

A&k masada

Can I put this in my masada, it's the perfect length and the masala Prometheus barrels are either to short or too long

2410 days ago

caleb h

0

0

(I have this same question)

Staff Answer:

It should be fine

2406 days ago

1 answers
1 asked
Search Tags: Internal Upgrade Replacement Tightbore Range Accuracy Part Piece Increase Performance Trajectory Grouping Distance Output Tight Bore
People who bought this item also purchased: