P Force High Precision .20g 5000 ct. BBs (Black)
[M05C01][03073 / BPF2-KG-B / PRIMA-BPF2-KG]
( 4 Reviews )
❤ Add to Wishlist
Free Shipping for orders over $149
No Coupon needed
P Force offers 5000 BB's per bag for the same price as the other brands. Using .20g BB's is recommended for close combat play with AEGs and pistols. Black BBs are harder to see so your enemy will never really know where they were shot from.
Specifications:
Manufacturer: P Force
Dimensions: 5.98mm
Quantity: 5000 rounds per bag
Design: All electric guns, high power spring guns, high powered gas guns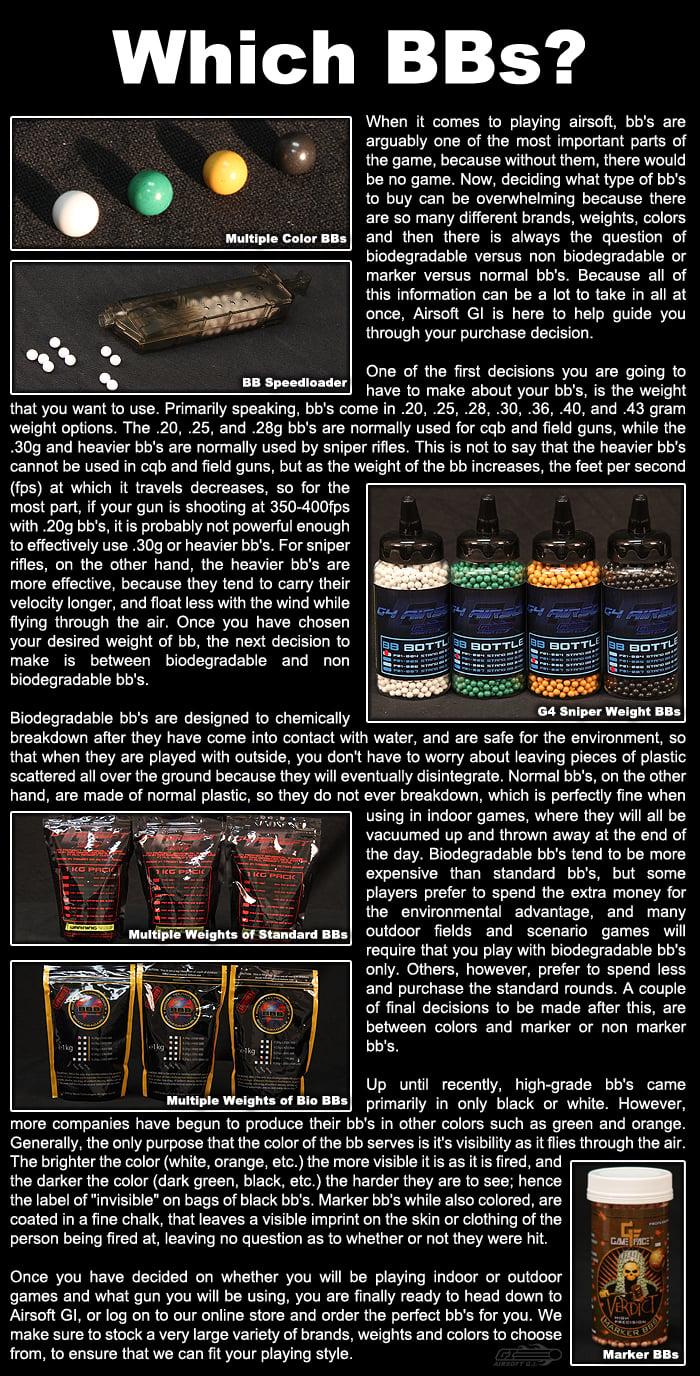 Specifications

Manufacturer: P Force
see 4 reviews
|
Write a Review
D. ERTL | 2008-02-09
This is not brain surgery !!!!!!!! You can simply take your .20 Grams times that by 5000 and wow 1000 Grams oh ya that is also = to 1 KG Oh ya the million dollar answer 5000 just to be clear.. you obviously have a computer use it ....
T. TRIMMER | 2008-04-30
It also says 5000 pcs on the bag if you look close enough... No math to it...

But black makes perfect for non-traceable rounds so it will make it harder for your enemies to see your rounds. good for snipers who want more concealment.
S. BURGESS | 2010-01-13
Product Information:
These bbs are great for their actual price, it's 15 bucks for a 5000 pack of really awesome bbs. No jams or double feeds so far, and the accuracy at 120 feet is great with my G&G GR16. No stray shots to the right,left, up, or down. It's a little weird that these things still shoot accurately at 450 fps at 140-150 feet, even though they're 0.20 grams, but that definitely isn't a con. The bbs have no visible lines or seams, and i have NOT found 1 imperfect bb in the bag. They are also very polished, it's like a little black mirror in your hand. These are definitely good bbs, I'll be buying some more of these, and you should as well.

NOTE: These are not the bbs to get if you want to get your hop up adjusted. These are very hard to see in flight, which is what they are meant for. Tracers work both ways, so go with these if you don't want to be spotted or tracked. If you buy these, don't complain about not being able to see them. THEY'RE BLACK!

Pros:
-No visible lines or seams
-Great polish
-Very accurate
-Very hard to see during the day (good thing)
-Does not mark up your barrel
-No jams or misfeeds
-Affordable


Cons:
- Doesn't come in a container with a loading nozzle (well, who wants a huge container though?)
Nothing else besides that, but even then that one con doesn't even matter.
Scratch that con out,
GET THESE!
Search Tags: High Quality Precision Grade Seamless Polished Ammo BBs 0.20g .20g BB Bag .20 20g 20
People who bought this item also purchased: