NcSTAR Crossdraw Tactical Vest w/ Annex MI-3 Face Mask (Black)
[16146]
( 1 Reviews )
❤ Add to Wishlist
Free Shipping for orders over $149
No Coupon needed
Airsoft GI presents our Holiday Packages! This is a great choice for both holiday shoppers as well as airsoft players looking to save a bundle. By purchasing this bundle deal, you are saving up to 35% the cost of both of these items purchased separately. Many of the items packaged were decided by actual airsoft players who thought that these items would make great useful gifts for the upcoming holiday season.

Savings:
$48.49 for NC Star Crossdraw Tactical Vest (BLK)
$18.95 for Annex MI-3 Full Face Mask (Black)
$67.44 Total
You save
$22.45
by purchasing this package!
NC Star Crossdraw Tactical Vest (BLK)
This tactical vest features 3 magazines pouches, on the right abdomen, that can fit a variety of different types of magazines. Above the magazine pouches, on the right pectoral, there is a utility pouch for miscellaneous items. On the left abdomen is a fast draw pistol holster with pistol magazine pouch. On the left pectoral, are three fixed pistol magazine pouches. On the back of the vest there is MOLLE to attach hydration carriers and other items. It also comes with a pistol belt which is equipped with another pistol magazine pouch that is mounted horizontally. The NC Star Tactical Vest (Blk) is one size fits all with adjustable straps around the sides and shoulders. To make sure everything is secure there is a zipper down the center, just like your everyday zip up hoodie, and it is reinforced with two buckles. This vest can hold everything that you need to carry for your primary and side arm.
Specifications:
Manufacturer: NC Star
Model: Crossdraw Tactical Vest
Color: Black

Features:
Rifle magazine pouches
Pistol magazine pouches
Utility pouches
Pistol holster
Molle back for hydration carrier
Belt with pistol pouches
Fully adjustable shoulder and side straps.


Please Note:

This vest is not designed to stop real ammunition.
Annex MI-3 Full Face Mask (Black)
The Annex MI-3 is a great entry level full face mask that has similar features to high quality masks at a fraction of the price. The MI-3 features a closed cell, water resistant SBR foam which allows the mask to be comfortable and easily washed. The body of the mask is made from high density injected polyethylene. The polycarbonate lens features Fog and scratch resistant coating as well as a hard coated lens treatment. The Annex MI-3 is the perfect choice for a player that requires a high quality face mask without breaking the bank.
Specifications:
Manufacturer: Annex
Model: MI-3
Color: Black
Package Includes: One (1) MI-3 Mask

Features:
High strength high-density injected polyethylene
QuickChange lens-release system
Closed-cell, water-resistant SBR foam
fog and scratch resistant polycarbonate lens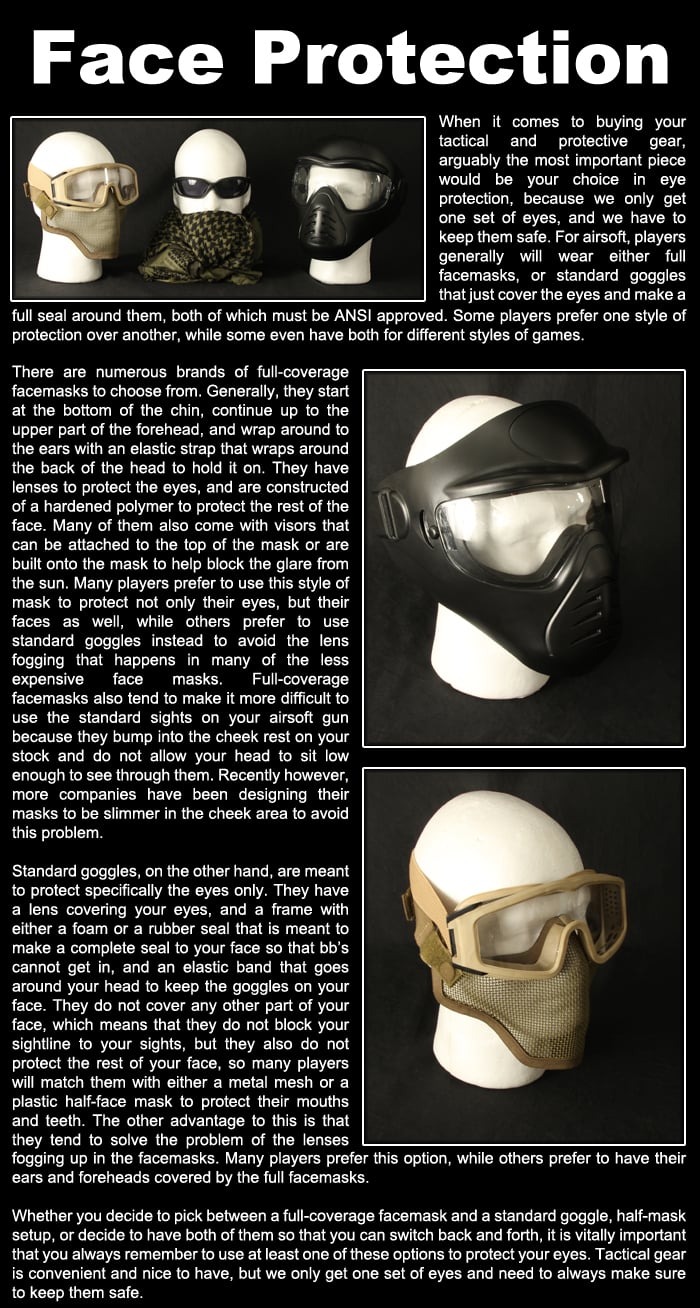 Specifications

Manufacturer: Airsoft GI
see 1 reviews
|
Write a Review
verified buyer
S. | 2019-09-16
Product Information:
was just looking for a good face mask when I saw this deal so not only did I get a good mask but I also got a great vest to go with it

Pros:
mask has QuickChange lens-release system
mask has fog and scratch resistant polycarbonate lens
vest holds you m4 mags
vest holds you pistol and spare pistol mags

Cons:

Search Tags: Package Combo Combination Bundle Deal Deals Pistol Magazine Pouch Rifle Magazine Pouch Pistol Holster Utility Pouch Adjustable Velcro Kit Black NCstar Night Urban Dark Small Medium Large Face Eye Protection Polymer Head Gear Equipment He Nc Star
People who bought this item also purchased: