Mechanix Wear M-Pact Gloves 2012 Version (Tan S/M/L/XL)
[17267 / MPT-72]
( 8 Reviews )
Back in 1991, Mechanix knew right away they had a good thing going with Mechanix Wear Gloves. They had no idea what kind of revolution they would start. From the first use of Mechanix Wear "Original" Gloves by pit crew teams at the Daytona 500, Mechanix Wear gloves have been the leader in the high performance work glove market. Before they knew it, they had 41 NASCAR teams asking for Mechanix gloves along with just about every other high profile motorsports team in every type of racing! As a result of the exposure, everyday mechanics, technicians, construction workers, Do-It-Yourselfers, industrial safety, emergency services, and military professionals all benefit from Mechanix products.

Every Mechanix Wear product represents a total commitment to its intended use. They consider everything: fit, feel, function, durability, quality, style and value. There is a lot of dedication and pride in everything Mechanix does, and it all adds up to superior performing products for you, their valued customer. Whether you're jumping the pit wall at Daytona or just doing a little tune up in the garage, you can have complete confidence that Mechanix Wear products offer you the best protection in the industry. Mechanix Wear gloves are for more than just racing, they are for toolboxes everywhere.

Mechanix Wear gloves are some of the best designed and most trusted hand wear used by the world's top racing teams. The experience and exposure gained in the racing world has lead Mechanix Wear to branch out its R&D and develop some of the best hard use tactical gloves in the world. Recently, they have taken their incredibly popular M-Pact glove and made it even better with the 2012 version. The Mechanix Wear M-Pact Glove 2012 Version features a new rubberized grip on the thumb, index finger and palm, and molded rubber on the knuckles and fingertips. These ensure that you not only have a superior grip on your weapon, increasing your control and accuracy, but they make sure that your hands stay completely protected at the same time. The 2012 M-Pact also features double stitching and dual panels in critical wear areas, a Trek Dry spandex top to keep your hands dry, and a hook and loop wrist closure for a secure fit, and overall provides an incredible advantage over other, less advantageous gloves.
Specifications:
Manufacturer: Mechanix Wear
Model: M-Pact Glove 2012 Version
Color: Tan
Size: Large
Package Includes: One pair of gloves

Features:
New rubberized grip on thumb, index finger, and palm
Protective padding in palm
Double stitching in critical wear areas
Hook and loop wrist closure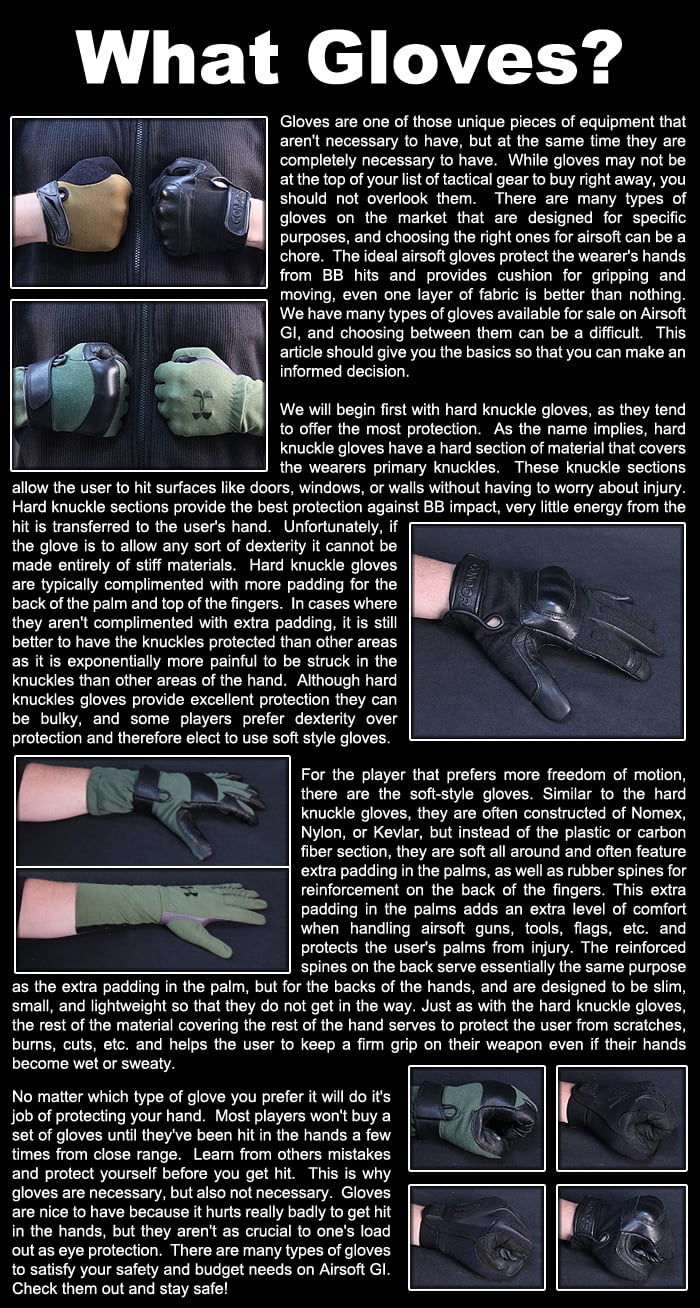 Specifications

Manufacturer: Mechanix Wear
Material: Synthetic Learther & Spandex
Package Includes: One (1) Set of Gloves
see 8 reviews
|
Write a Review
A. LENDRUM | 2014-02-06
Product Information:
Best gloves iv owned hands down iv always loved mechanixs gloves they last the test of time if not they'll take care of you

Pros:
Best gloves iv owned very durable very comfortable great grip & control plus added protection to the knuckles they fit real good & backed by a good company

Cons:
The only cons I would have to say is they stain with anything dark on them & certain areas the threads came loose abit just burnt them & they've been fine
M. JOHNSON | 2015-12-31
Product Information:
I got these gloves (this version as well) off of Amazon for a tad cheaper (but they were on sale). I primarily got them as work gloves with airsoft in the back of my mind. They are insanely comfortable, offer great dexterity, and decent protection. The palms are a perfect texture and because of that, they have become my winter driving gloves. The pads on the palm are wonderful when mountain biking to help absorb shock, as well as the rubber, which saved my knuckles last time I was out and nailed a tree with my right handle bar. They have amazing abrasion protection, especially on the palm and work well for landscaping, wood chopping, brush clearing, moving angle iron, etc. Now, the texturing on the thumb and index finger didn't offer much and wore out incredibly fast. I would have preferred the old fingertip style, but this offers greater dexterity and the base palm material is quite durable and I don't see it blowing out anytime soon. One thing that I heard from other reviews is that you should reinforce the stitching on the parachord attached to the wrist, so I did right off the bat and I haven't had a single issue with it. I have heard (but not experienced) that with the newer Mechanix gloves, the Velcro on the wrist wears out quickly, but with this 2012 version, it has held up quite well, even after putting them on and off several times a day and washing them frequently. I suppose I should also mention that they are great weapon gloves with enough sensitivity and dexterity to use in airsoft, hunting, and recreational shooting. Also, getting shot in the knuckles will not cause the pain of putting an angry hornet in your glove! And whoever decided to put that foam pad on the knuckle of the index finger is a freaking genius (The very first time I wore these, I hit myself with a hammer right on the pad and didn't feel a thing)! I initially regretted spending almost $30 on a pair of gloves and had a hard time justifying it, but based on the insane amounts of abuse that I have put these things through, and the fact that they don't show it, these gloves are definitely one of the best purchases I've made in a long time and worth every penny!!! (at the very least, I saved a lot in emergency room costs from three or four instances that would have needed stitches if I hadn't been wearing these)

Pros:
-Durable
-Comfortable
-Great texture on fingers and palms
-You don't even notice the rubber guards
-Excellent design (everything you need, nothing you don't)
-Versatile
-PHENOMINAL value, worth every penny and then some!
-I wish I could give these more than a 5 star review, Mechanix hit it out of the park with this design!

Cons:
-Texturing on the fingertips of the thumb and index fingers wears off very quickly
-Kind of pricy for gloves (if you're a poor college student like me), but they pay themselves off very quickly if you do any amount of work with your hands or drive in a cold climate
M. HILTON | 2017-06-26
Product Information:
awesome gloves! fit perfectly, give great protection while allowing dexterity and they are not expensive.
used them for a couple years now and i wont be changing them for something else anytime soon. they are showing minimal wear in the time used, and i dont have any rail covers on my 416 rails and those are quite sharp.

Pros:
good price and available
many colors for any loadout
durable
fits- like a glove
good protectioin
doesnt limit movement

Cons:
none, really. i need 30 characters so i guess being out of stock here is a con
Search Tags: Protection Grip Hand Mechanic Mechanics Traction Knuckle Protection Rubber Padded Pad Pads Impact M Pact
This product was added to our catalog on Tuesday 06 May, 2014.