Madbull Ver. 2 Precision AEG M4 Inner Barrel (363mm)
[SF27][01233 / MB BARL 363MM]
( 23 Reviews )
❤ Add to Wishlist
Free Shipping for orders over $99 No Coupon needed
Madbull is one of the top manufacturers in the airsoft industry, they are world renowned for their high quality products and their tight bore precision inner barrels are no exception. The Madbull Version 2 Precision inner barrel features a 6.03mm diameter for increased range, accuracy, and in some cases increased muzzle velocity.
Specifications:
Manufacturer: Mad Bull
Length: 363mm
Bore: 6.03mm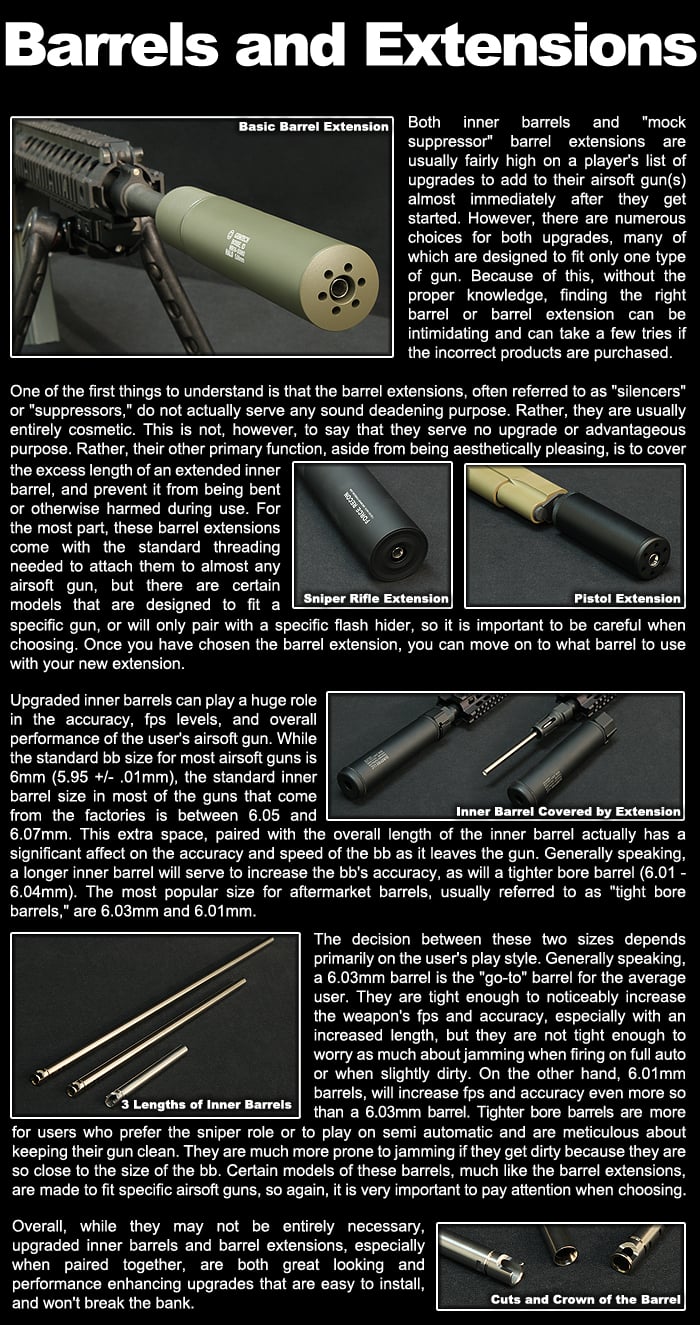 Specifications

Manufacturer: Madbull Airsoft
Color: Black
Size: 363mm
Material: Aluminum
Package Includes: One (1) Precision Inner Barrel
see 23 reviews
|
Write a Review
W. HE | 2013-12-16
Product Information:
Beautiful barrel. Sleek black, 6.03mm, and really does seem to jack up the fps as advertised. My current set up used this with the stock hop up (a so-so plastic two-piece by JG) and with an M100 spring, it shot way up there at 373fps. You have to be careful about this if you CQB, but it'll be well worth the hassle, as this barrel is really accurate for the price. Really excited to see how this works well fielded with Madbull's Ultimate Hop Up.

Pros:
Super accurate
Increases FPS by a lot (may be a con for some)
Great deal for price


Cons:
Increases FPS by a lot (may be a pro for some)
verified buyer
M. DREWNIAK | 2014-01-24
Product Information:
I bought this in hopes to get a small increase in fps for my G&G GR15 Raider L. I chronoed before and after and did not see an increase. I believe the stock barrel was 6.04 so there was much of a drop in size. There was however a noticable tighter shot group which is awesome.

Pros:
-easy to install upgrade.
-increased accuracy.
-nicely packaged. I was worried about the possibility of this getting bent in shipping but the barrel is inside a very strong plastic tube that can't be bent.
-Great Price!

Cons:
-no increase in fps when dropping from a 6.04 barrel but that's expected with such small change.
verified buyer
J. SMITH | 2014-01-31
Product Information:
I've been using this product since the very beginning of 2013, and it has preformed flawlessly, it is accurate and has yet to jam on me, great performance all around.

Pros:
-accurate and reliable
-fits perfectly in my mk18 setup with a suppressor
-no jams
-accurately hit people at 200 ft.

Cons:
-does get easily scratched, but that doesn't effect performance of this awesome barrel
Will this work on anthing other than an m4

i have a cyma aks-74u and i would like to purchace this, but do not know if it will fit

1298 days ago

Dmitriy G

0

0

(I have this same question)

Staff Answer:

It will work, but it is sized for an M4 length barrel.

878 days ago

1 answers
1 asked

jg 614

Would this inner barrel work?

2128 days ago

Jeffrey S

0

0

(I have this same question)

Staff Answer:

This should work

2128 days ago

1 answers
1 asked

fit

will it fit a g&g raider m4

2138 days ago

jamel m

0

0

(I have this same question)

Staff Answer:

If it is a standard length M4

2135 days ago

1 answers
1 asked

Compatibility with the WE Scar-L AEG?

Will this work with the WE Scar-L AEG?

2152 days ago

Justin G

0

0

(I have this same question)

Staff Answer:

It should work

2148 days ago

1 answers
1 asked

hop up bucking
0 answers
1 asked

will this work on a a&k masada

?

2281 days ago

josh t

0

0

(I have this same question)

Staff Answer:

It should

2281 days ago

1 answers
1 asked

cqr?

would this fit into a kwa cqr mod 1

2309 days ago

Jack W

0

0

(I have this same question)

Staff Answer:

Yes, it should fit

2309 days ago

1 answers
1 asked

Fit?

Will this fit in the MRF-x?

2325 days ago

Nazneen I

0

0

(I have this same question)

Staff Answer:

It should work

2324 days ago

1 answers
1 asked

correct length for g&g gr 15?

i wanted to know if this is the correct length for my g&g gr 15 raider (STANDARD LENGTH, NOT EXTRA LONG OR CQB)? thanks

2351 days ago

Brian R

0

0

(I have this same question)

Staff Answer:

This is the length for a standard M4

2351 days ago

1 answers
1 asked

Will this fit an A&K M4?

The inner barrel length of my A&K M4 is the same size as this one (363mm). Just want to make sure that the internals fit together before I buy it. Returns are a hassle.

2361 days ago

Jacob D

0

0

(I have this same question)

Staff Answer:

It should fit.

2360 days ago

1 answers
1 asked

VFC Scar L

Would this fit on a VFC scar l mk16?

2366 days ago

josiah t

0

0

(I have this same question)

Staff Answer:

It should fit.

2365 days ago

1 answers
1 asked

will this fit my elite force m4 cqb?

my stock barrel is 10 inches long. is the madbull too big? will it fit my gun?

2384 days ago

Junior R

0

0

(I have this same question)

Staff Answer:

This barrel is too long. You would need something like a 300mm inner barrel to fit without a barrel extension.

2381 days ago

1 answers
1 asked

I have a G&G Combat Machine CM16 Raider-L, would it fit this rifle?

i know that it'll fit it but i was wondering if it would be perfect or would i have to get a extension because it's too long?

2387 days ago

Edward W A

0

0

(I have this same question)

Staff Answer:

Yes it will fit your GC16.

2385 days ago

1 answers
1 asked

In order to uprade do you.....

in order to upgrade my gun do i need to get the same length inner barrel o does it need to be bigger???

2410 days ago

Justin G

0

0

(I have this same question)

Staff Answer:

The same length inner barrel as your stock one should be optimal.

2409 days ago

1 answers
1 asked

How much more velocity does this barrel give? My gun is already shooting pretty hot and i don't want too much FPS.

The gun is already shooting about 400 FPS

2430 days ago

Janice S

0

0

(I have this same question)

The barrel really shouldn't increase the FPS, the spring inside the gearbox is what increases the FPS. The barrel is what gives the rifle the range.

2387 days ago

1 answers
2 asked

how do i install this inner barrel on an m4?

i have no idea... thanks :)

2443 days ago

Ryan D

0

0

(I have this same question)

Staff Answer:

Check this out: <a href="http://www.youtube.com/watch?v=9Sj_9yPwxPc">http://www.youtube.com/watch?v=9Sj_9yPwxPc</a>.

2442 days ago

1 answers
1 asked

will this barrel fit a vfc 416 cqb

I need a longer inner barrel and outer barrel for the vfc 416 cqb on account of I will be using it as an outdoor field gun and need the accuracy and fps if u have any recommendations for me it'd be much appreciated thanks

2450 days ago

keenan t

2

0

(I have this same question)

Staff Answer:

This will fit.

2450 days ago

1 answers
1 asked
Search Tags: Internal Upgrade Replacement Tightbore Range Accuracy Part Piece Increase Performance Trajectory Grouping Distance Output Tight Bore
People who bought this item also purchased: