Madbull AK PBS-01 14mm CCW Barrel Extension
[X06B06][11871 / MB BE PBS 1]
( 2 Reviews )
❤ Add to Wishlist
Free Shipping for orders over $89 No Coupon needed
The Madbull AK PBS-01 14mm CCW Barrel Extension is machine milled completely out of T6 aluminum with a smooth metal body. The textured end of the barrel allows for easy installation and removal. The Madbull AK PBS-01 is an excellent choice for an authentic look on all AK platforms. This barrel extension does not have any silencing abilities and only for aesthetic purposes only. With the combination of a longer tightbore barrel, performance may be increased on the field.
Specifications:
Manufacturer: Madbull
Material: T-6061 Aluminum
Color: Black
Length: 7 3/4"
Weight: 1lb 4oz
Package Includes: Barrel Extension

Features

14mm CCW

Matte Black Finish

High Quality Build Construction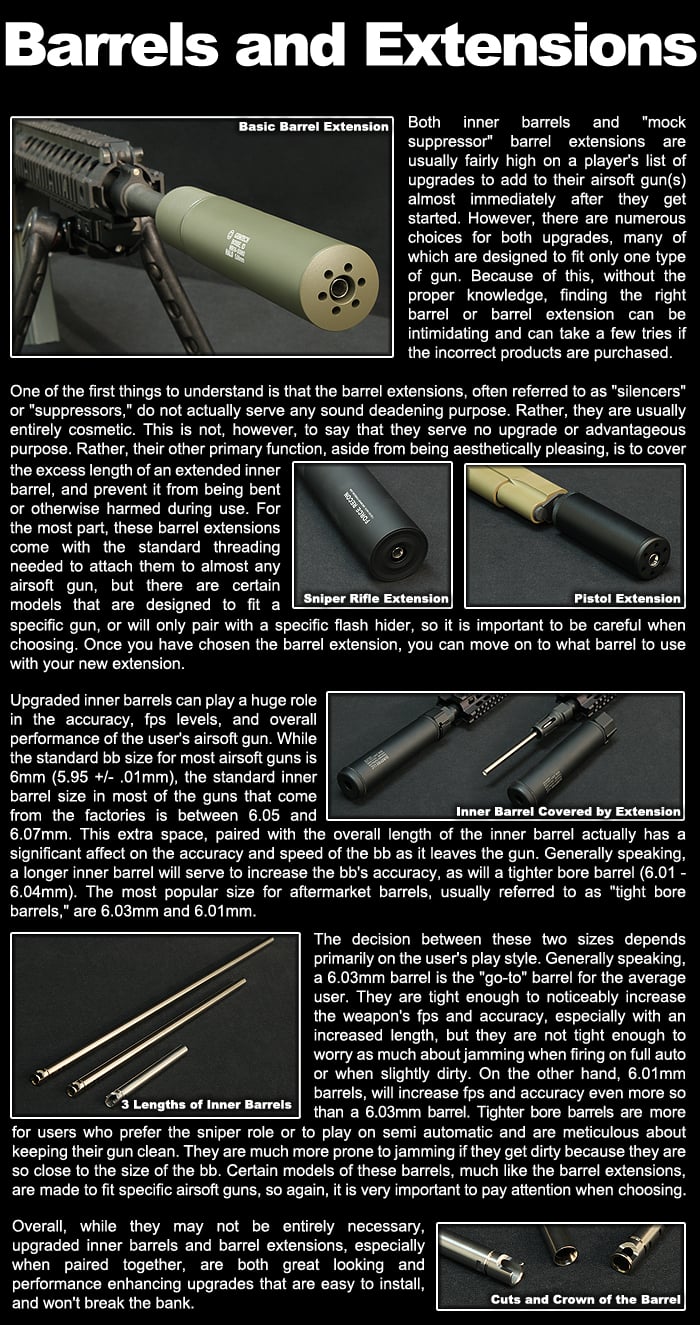 Specifications

Manufacturer: Madbull Airsoft
see 2 reviews
|
Write a Review
A. WEBSTER | 2014-01-08
Product Information:
An average suppressor just like any other suppressor except well it doesnt "suppress". But if your a man (or woman) of style then i would recommend this product.

Pros:
*Looks good on any kind of AK
*Good if you want to play stealth missions if you want it to feel realistic
*Increases range due to longer barrel

Cons:
Nothing that bad wrong with the attachment
*Increased ball drop
verified buyer
M. HAINES | 2014-08-23
Product Information:
A nice solid mock suppressor for you're AK. Looks amazing on my AK74U. Aggressive texturing allows for a solid grip. Tightens securely with no wobble.

Pros:
Solid construction with no wobble. Full metal. Aggressive Texturing.

Cons:
A little on the hefty side. Cant think of anything else.
kwa akg

Will this fit on a kwa akg 74m

2049 days ago

Colin C

0

0

(I have this same question)

Staff Answer:

As long as the gun has 14mm CCW threads

2038 days ago

1 answers
1 asked

Will this work with G&G RK's

I'm wondering if this will work with two G&G RK's, the RK 104 EVO AEG an the RK Beta AEG.

2220 days ago

Daniel B

0

0

(I have this same question)

Yes I use it on an RK-104 evo looks great but its heavy

2150 days ago

I'm wondering if this will work with two G&G RK's, the RK 104 EVO AEG an the RK Beta AEG.

2220 days ago

Daniel B

0

0

(I have this same question)

Staff Answer:

As long as the gun has 14mm counter clockwise threads, it should work

2220 days ago

2 answers
1 asked
Search Tags: 14mm AK47 Cosmetic Mock Suppressor Mock Fake Suppressor Silencer Barrel Extension Extender Can Cosmetic
People who bought this item also purchased: