Madbull 6.01mm Precision Echo 1 ASR, MK96, & APS-2 Inner Barrel (455mm)
[Z10C02B][07465 / MB BARL ULT ASR]
( 2 Reviews )
❤ Add to Wishlist
Free Shipping for orders over $149
No Coupon needed
Madbull 6.01mm Precision Inner Barrel for ECHO1 ASR, MK96, & APS-2 (455mm)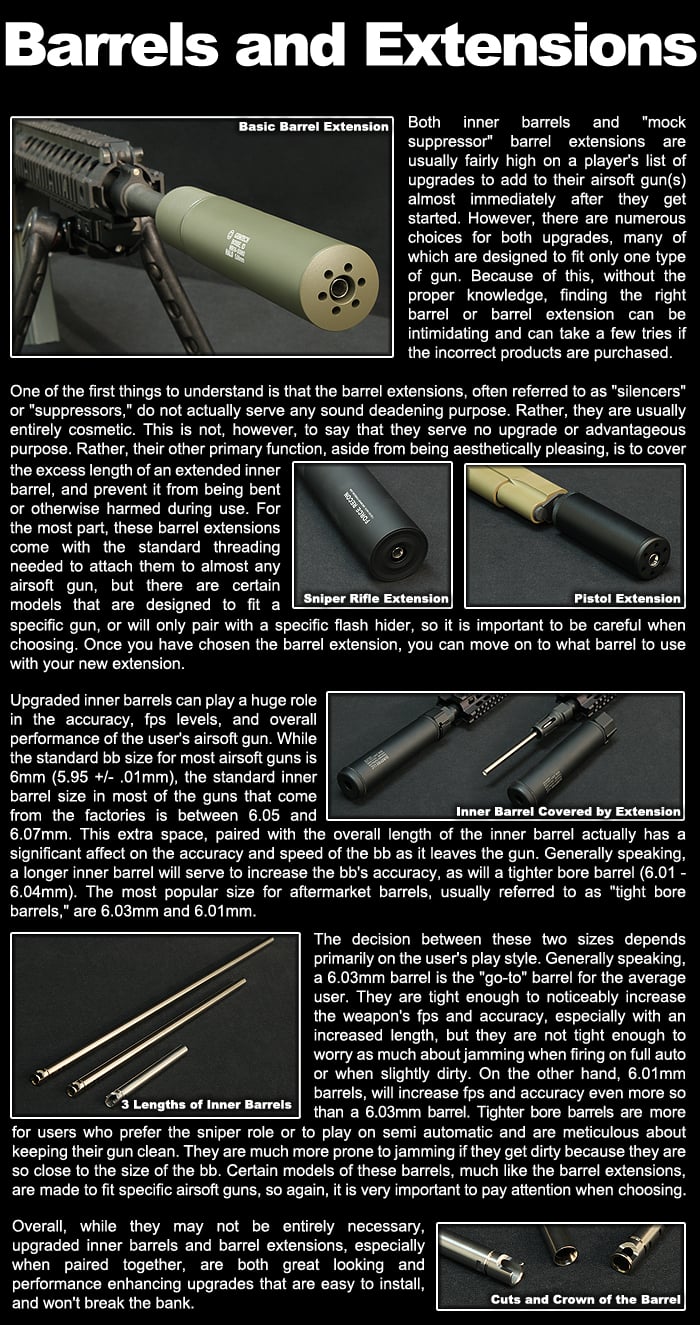 Specifications

Manufacturer: Madbull Airsoft
Color: Black
Size: 455mm
Material: Aluminum
Package Includes: One (1) Precision Inner Barrel
see 2 reviews
|
Write a Review
N. MIHAN | 2013-08-07
Product Information:
Amazing product! A must have for ASR owners. Without it, my ASR (with upgrade kit) had a 200 foot effective range. Now with the tight-bore installed it now has a 250 foot effective range and I hit the 200 foot target much more than before. It definitely increases fps by around 15, but on the other hand it makes it sound louder. This could be a good thing as well, because it makes it sound more realistic. Be warned, howerver, as it takes around 100 shoots to be broken in (at first I thought it was terrible but after 100 shots it was shooting perfectly). Overall this is a fantastic upgrade you should definitely get if you are an ASR owner.

Pros:
-Increased range by 50 feet
-Increased fps by 15
-Increased accuracy by a lot

Cons:
-Slightly Louder
-None other to report! :D
verified buyer
K. CARD | 2013-11-28
Product Information:
Well it definitely was a good barrel. The price was good, it was easy to install. It made the gun a little louder but not by much. I did'nt notice any increase in fps. My only problem with it is its durability. After about a month or so my gun started shooting real crappy. The inside of the barrel had started to wear down. Looked almost like chipped glaze or something. I really like Airsoft GI's products but I would'nt recommend this.

Pros:
Good price. Increased accuracy. Light weight.

Cons:
It starts to wear down after about a month or two. Makes the gun louder. Accuracy stinks after it degrades.
compatibility
0 answers
1 asked

Compatability

Will this work in the D Boy Full Metal MK12 MOD0?

2870 days ago

Owen C

0

0

(I have this same question)

Staff Answer:

It should

2867 days ago

1 answers
1 asked

Compatibillity
0 answers
1 asked

VFC HK416 Compatable?

Will this fit my hk416 by VFC? if not which one will

2977 days ago

Caleb D

0

0

(I have this same question)

Staff Answer:

It should fit, however the inner barrel may stick out

2977 days ago

1 answers
1 asked

TM compatable?
0 answers
1 asked
Search Tags: Bolt Action Accuracy Upgrade Echo 1 Classic Army Tokyo Marui Cyma King Arms G4 G&G L96
People who bought this item also purchased: