Lancer Tactical CA-221G Airsoft Safety Clear Lens Goggles Vented (OD Green)
[B10I03][11537 / CA-221G]
( 4 Reviews )
❤ Add to Wishlist
Free Shipping for orders over $89 No Coupon needed
The Lancer Tactical lineup of airsoft safety goggles are a great option for the player who wants to ensure that their eyes are completely protected during the game, but does not want to have to empty their wallet to do so. These goggles provide full seal protection, and are very comfortable to wear, ensuring that they won't distract you during combat. The strap of the goggles is adjustable, allowing them to fit just about any player's head size, and the carry bag that slips over the lenses during transport can also double as a cleaning cloth. These goggles are vented on the top to reduce fogging by allowing more air flow through to the lens, they also feature a OD green frame great for dark and dense woodland environments.
Specifications:
Manufacturer: Lancer Tactical
Model: CA-221G Airsoft Safety Mask Vented
Color: OD Frame / Clear Lens
Size: Adjustable
Package Includes: One (1) pair of goggles

Features:

Full seal protection

Comfortable to wear

Large field of view

Adjustable size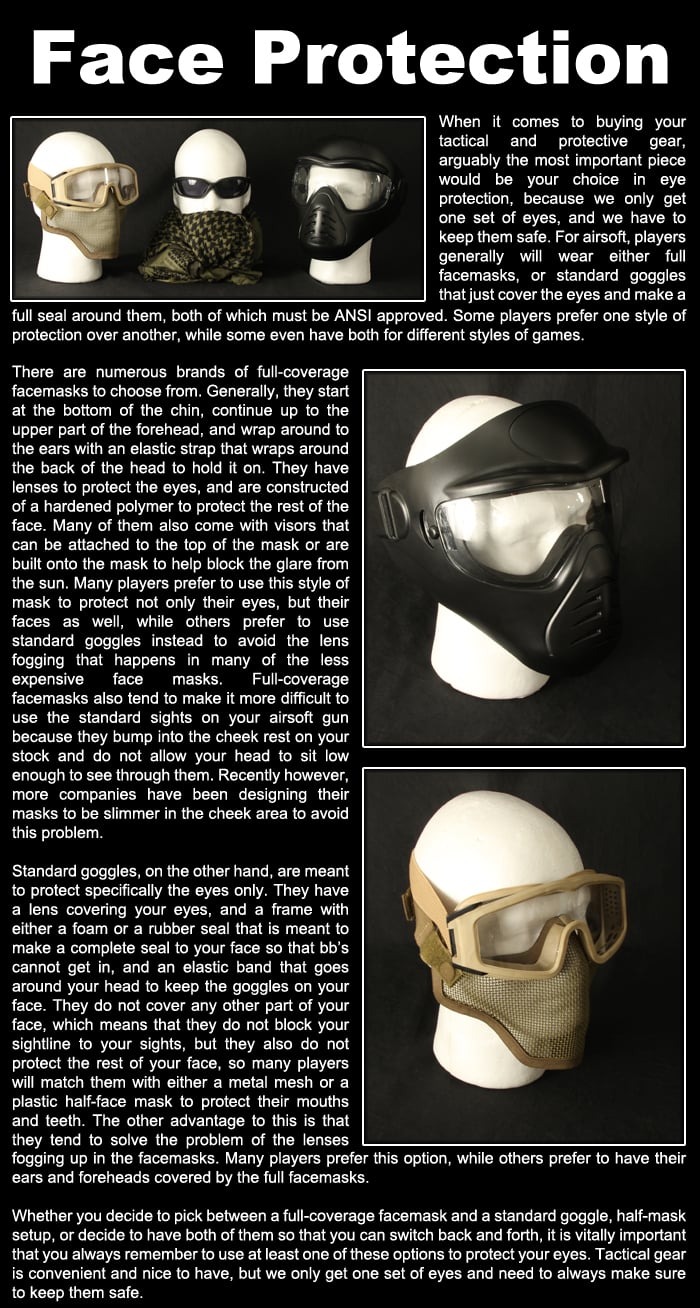 Specifications

Manufacturer: Lancer Tactical
Color: Olive Drab Frame / Clear Lens
Size: One Size Fits Most (Adjustable)
Material: Polycarbonate Lens
Package Includes: One (1) Pair of Vented Safety Goggles
see 4 reviews
|
Write a Review
verified buyer
M. RISLEY | 2014-03-25
Product Information:
For a beginner or entry level goggles.. look no further. For $13.60 you can't go wrong. They protect your eyes for an inexpensive price. fully adjustable and comes with cleaning rag attached. The lens can be removed for cleaning, and the straps can be easily removed too. i played for 6+ hours indoors and they were good. If i didn't run like a mad man they didn't fog up. the fog was actually decent, and in between rounds they would lose the fog. the problem came when sweat precipitation got in, the water streaks i couldn't get fully clean on the field, but that didn't happen until the very end of the day. The vents can be removed for better airflow, however… this leaves spots where BBs can get it. I drilled holes in my vents for more aeration. (i will see how they fair next time i go). you can also super glue mesh to the vent holes for total protection/aeration. You can also buy anti-fog/DIY anti-fog remedies. but enough about fog… the goggles stick out from your eyes and makes aiming down sights a little different, but manageable. As one user posted, there is an EXCESS amount of foam. but this can be desirable for people. And if its too much… its foam… just cut it.

Pros:
-Inexpensive. Everything you could want for $13.60
-Okay on Fog
-Removable lens
-Removable strap
-Adjustable
-Removable vents

Cons:
-Sticks out somewhat
-Lots of foam (can be a pro to some. and always removable)
-CAN fog/cause precipitation. (although avoidable… see above)
verified buyer
V. NUNEZ JR | 2015-06-27
Product Information:


Pros:
-Adjustable
-fit well with Bravo Strike Mesh Masks
-Soft foam padding
-Cheap price



Cons:
-Fogged ALOT! easily fixable by removing all four dust ventilators on top and bottom of goggles
verified buyer
A. BAZAIL | 2019-02-10
Product Information:
Very cheap good goggles and the vents are removable to prevent fogging if not they fog really bad.

Pros:
Adjustable
cleaning cloth
foam is supper comfortable.

Cons:
Fog a lot just remove vents and they will not fog at all.
Lens scratches a lot more than others.
Will these withstand paintballs
0 answers
1 asked

Glasses

Will this fit over my glasses

2087 days ago

Michael h

1

0

(I have this same question)

Staff Answer:

It depends on the frames of your glasses

2085 days ago

1 answers
1 asked
Search Tags: Eye Protection Eyepro Safety Eyewear Wear Goggle Foam Full Seal Flakjak Flak Jak Vent Vents Olive Drab Forest goggles
People who bought this item also purchased: