King Arms MK36/G36 98 rd. AEG Mid Capacity Magazine - 5 Pack (Black)
[U14B00][05681 / KA-MAG-05-V]
( 5 Reviews )
❤ Add to Wishlist
Free Shipping for orders over $149
No Coupon needed
This magazine is recommended for use with the Echo 1, JG, Tokyo Marui, Classic Army, and Ares MK36 series AEGs, it may work with other brands AEG but cannot be guaranteed by Airsoft GI.
Specifications:
Manufacturer: King Arms
Magazine Capacity: 98 rounds
Package Includes: 5 Magazines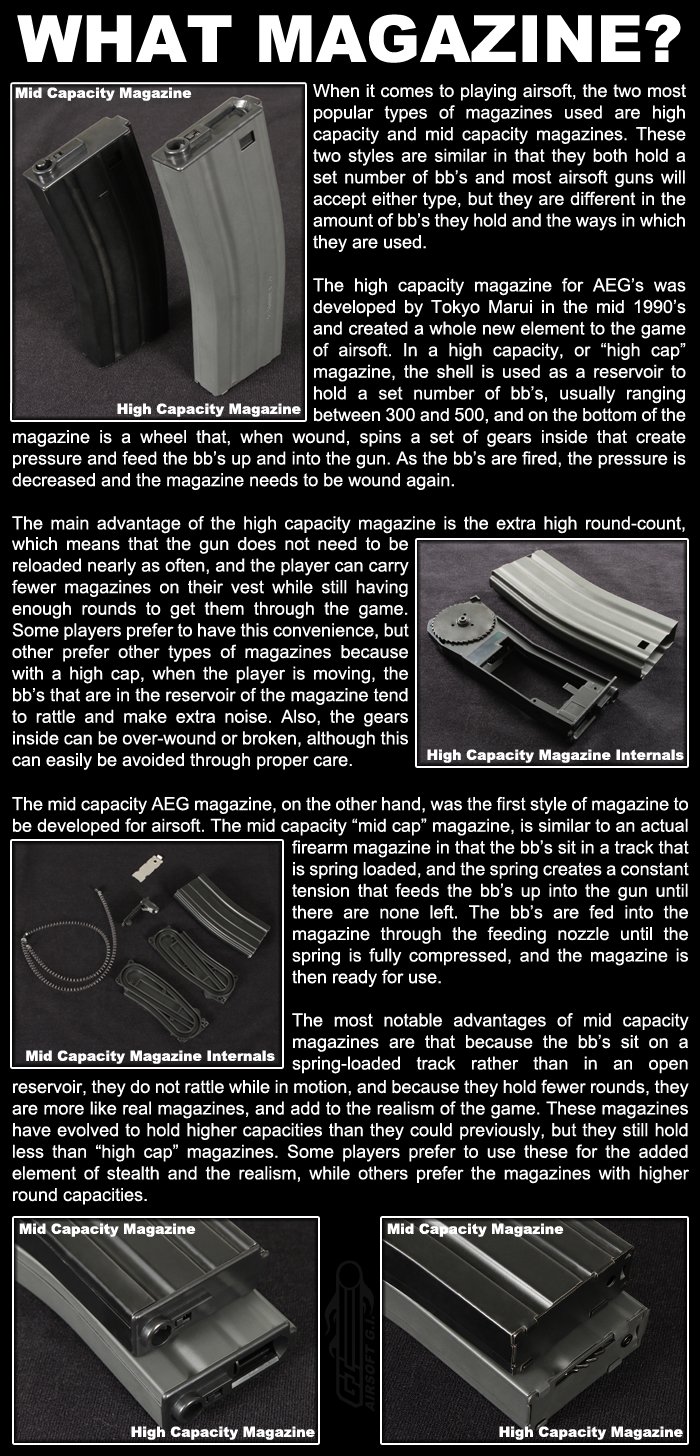 Specifications

Manufacturer: King Arms
see 5 reviews
|
Write a Review
verified buyer
L. WYLDER | 2010-01-05
Product Information:
I use these mags for my JG MK36 Rifle with the built in scope. These magazines definitely do their job and give you a decent capacity and a good amount of magazines for the price. These really are the best G36 mid-caps for the money. They are a tight fit at first but just give them a satisfying slap at the bottom and they will break in. Of course my stock high-cap mag comes in and out easily. Mag pouches if your wondering I've heard fit best in double or tripple AK molle pouches which I will get. I even have used them in my East German 4-Cell mag pouch and they all fit perfectly (random I know). They are built of a durable plastic EXCEPT the hooks and connectors to clip them together. All the hooks on every single one of my mags have broke trying to either clip them together or take them apart. Clip them at your own risk. If you do manage to clip some, I suggest keeping them that way.

Pros:
Good capacity
More realistic than high caps
Decent price
5 mags
Fit into my JG MK36

Cons:
Plastic hooks and connectors are CHEAP. Break easily.
Hard to find compatable mag pouches.
verified buyer
B. MOORE | 2010-06-12
Product Information:
these are pretty ok mags. i got them for kwa g36c and they fit VERY snug. thats good and bad because they are a little too tight so getting them in requires an extra slap on the bottom (i think someone said that earlier) and getting them out requires a tug. they are EXTREMELY good for what you pay for them and to describe them simply: it do what it do. dont spend a ton of money on mags from the company. get these, they are good enough. (opinion) O.O

Pros:
-no wobble or noise compared to high cap.
-very cost-effective.
-stack together positively. (ive seen people on here trash the clips saying they will break easily but ive snaped them together and apart being a little rough on them and they dont look or feel like they are going to break any time soon).


Cons:
-you have to make sure they are in all the way and slap the bottom to make sure they are in.
-tight in the mag well obviously, but i shaved down a part on it and it slides in easier. so if you feel like fixing minor problems, thats not really a big deal. lol
-ive noticed that sometimes when i hit my mags together hard, the springs will let one or 2 bbs go out. idk what the deal with that is. it may just be mine but i dont plan on throwing my full mags into walls when i go on rage fits so i dont see it being that big of a problem.
-PRETTY MUCH ALL OF THE CONS ARE MINOR OR CAN BE FIXED
verified buyer
S. GOOD | 2013-08-22
Product Information:
i bought a pack in 2010 with the JG G36C (sadly discontinued because Umarex sued most companies for rights to make H&K replica airsoft guns). They fed nicely and held 90-95 rounds, give or take because i didnt take the time to properly break them in. a few of the plastic nubs that you use to clip the mags together broke and i could only clip 4 together (including the hi-cap i got with the gun). these were a very snug fit, had to give the bottom of the mag a slap to fully seat it in the magwell. you need large magazine pouches to hold these, they are very fat and can only fit one in a standard M4/M16 pouch. don't abuse these and they will serve you well

Pros:
-5 pack
-holds 3 times the capacity of the real things
-lightweight
-fits snug (in a JG well)
-doesn't cost as much as the ares packs
-nice finish that matches most stock high-caps
-numbers and writting on the mags

Cons:
-fat
-only fits one in a M4/M16 pouch
-plastic nubs for stacking mags broke on two
-difficult to stack at first (which is how i broke a few nubs)
-makes that loud plastic clack sound when two bang together

overall, i'd buy these again in a heartbeat. they're just the right capacity to play milsim and tactsim, and they're affordable enough to buy a couple packs to not break the bank, but as i said above, they dont fit in standard 5.56 pouches. use AK or larger pouches to carry these things in. 4/5 for the breaking nubs, everything else is good
will these fit the SRC XM8?
0 answers
1 asked

Will these fit?

Will these mags fit in an elite force h&k g36c?

2024 days ago

Max C

0

0

(I have this same question)

Staff Answer:

It should be cross compatible.

2023 days ago

1 answers
1 asked

Stock

Hey are these ever coming in stock I check pretty regularly but I can't seem to ever snag any is this due to any licensing issues regarding umarex? I'd rather purchase from you guys your my favorite vendor.

2695 days ago

Mathew w

0

0

(I have this same question)

Staff Answer:

Thanks! We're trying to get them back in stock, but currently we don't have an ETA for them.

2694 days ago

1 answers
1 asked
Search Tags: Mil Sim Gun KA Polymer Field SM G36 Mag Clip Box Set Mid Cap mid cap midcap medium capacity aeg automatic electric gun airsoft mag magazine clip
People who bought this item also purchased: