King Arms AUG 110 rd. AEG Mid Capacity Magazine - 5 Pack (Black)
[U14B00][03206 / KA-MAG-08-V / MAG-KA PHAN 110R]
( 11 Reviews )
❤ Add to Wishlist
Free Shipping for orders over $149
No Coupon needed
This magazine is recommended for use with the Echo 1, JG, Tokyo Marui, and Classic Army AUG series AEGs, it may work with other brands AEG but cannot be guaranteed by Airsoft GI.
Specifications:
Manufacturer: King Arms
Magazine Capacity: 110 rounds
Package Includes: 5 Magazines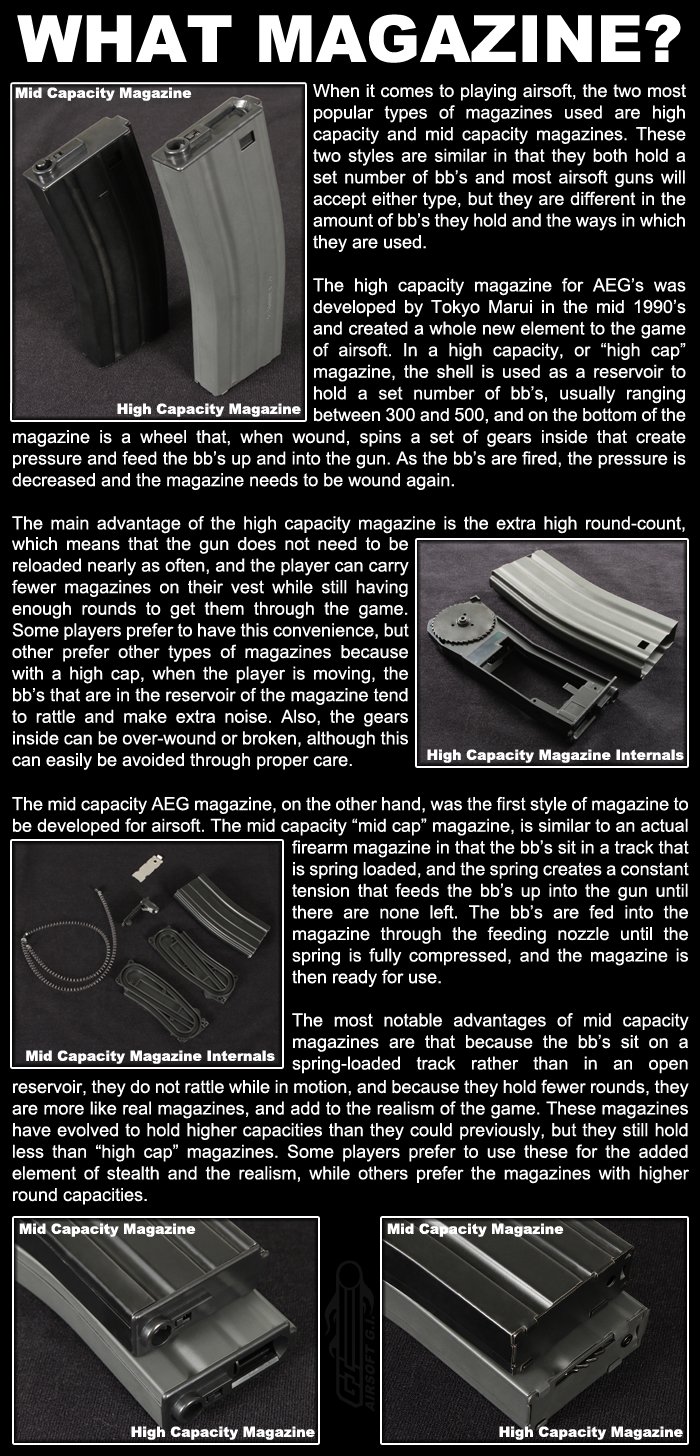 Specifications

Manufacturer: King Arms
see 11 reviews
|
Write a Review
Z. KATZER | 2010-05-16
Product Information:
i bought these mags for a JG Aug A3 and i was not very impressed with the performance as well as the strength of the plastic they chose to use. i had many feeding problems when i used them, even after i used silicon oil on the spring. the main problem i had with these mags was with the tabs on the bottom that hold the springs in place, three out of five of these tabs broke and made the mag useless, maybe i got a bad batch but luckily i had some other m4 mags that i used to replace the tabs and had no other problems with them breaking so i know king arms messed up the formula on their plastic.

Pros:
there aug mid caps, and this is the only company that make any
good capacity
good price

Cons:
weak plastic on the tabs that hold the spring in place, once they break the mag is useless
feeding problems
i give this two stars because if the tabs break they wont work, i was lucky and had extra tabs from other mags,
verified buyer
N. HEIN | 2013-03-28
Product Information:
These were awesome in my opinion. i bought this set from here a while back. the only issue i have come across was a recent one... almost simultaneously all of them began to jam. about 2 inches from the opening. has anyone else had this problem and have come up with a reason/fix for this ... i hate using my hi-cap and id hate to go back to it.

Pros:
-no winding .... i hate winding.
-durable
-look good for canadian laws of needing transparent parts on a gun
-good for realism when needing to change a mag in the heat of battle.. i myself have have dropped those things and slammed a new one in with no hinderence at all.

Cons:
-a recent issue of jams
-i was really satisfied with these mags that this field needs very little to be said.
M. FINN | 2013-12-06
Product Information:
These magazines are not as reliable as I thought they going to be. About the first day I had these Mag's they broke in the Aug. As I was not impressed with the quality of these Mag's. I don't recommend these Mag's to anyone looking for Aug Mag's. I myself will never buy another kingsarms magazine.

Pros:
,None,................................................


Cons:
Plastic
Break easy
don't feed that well
Expensive for plastic magazines
Are these compatiable with the ASG AUG A2?

I only have one i need more and these are in my price range.

2768 days ago

Dalyn V

0

0

(I have this same question)

Staff Answer:

The product should be compatible with most AUG type airsoft guns.

2768 days ago

1 answers
1 asked
Search Tags: Mil Sim Gun Polymer KA Bullpup Mag Clip Box Set Mid Cap mid cap midcap medium capacity aeg automatic electric gun airsoft mag magazine clip
People who bought this item also purchased: