JBU 6.03mm High Precision AEG Inner Barrel for M4 Plus (407mm)
[02958 / SDJA09]
( 6 Reviews )
Description:
Precision barrels are best described as an inner barrel with a diameter of 6.03mm or less. Precision inner barrels allow for better compression, improved accuracy, and in a few cases increase muzzle velocity. Although precision barrels often require more maintenance and cleaning, they can give an AEG a greater range and improve the overall performance of an airsoft AEG.
Specifications:
Manufacturer: JBU
Material: Aluminum
Bore Diameter: 6.03 mm
Gun Type: M4 Plus
Barrel Length: 407 mm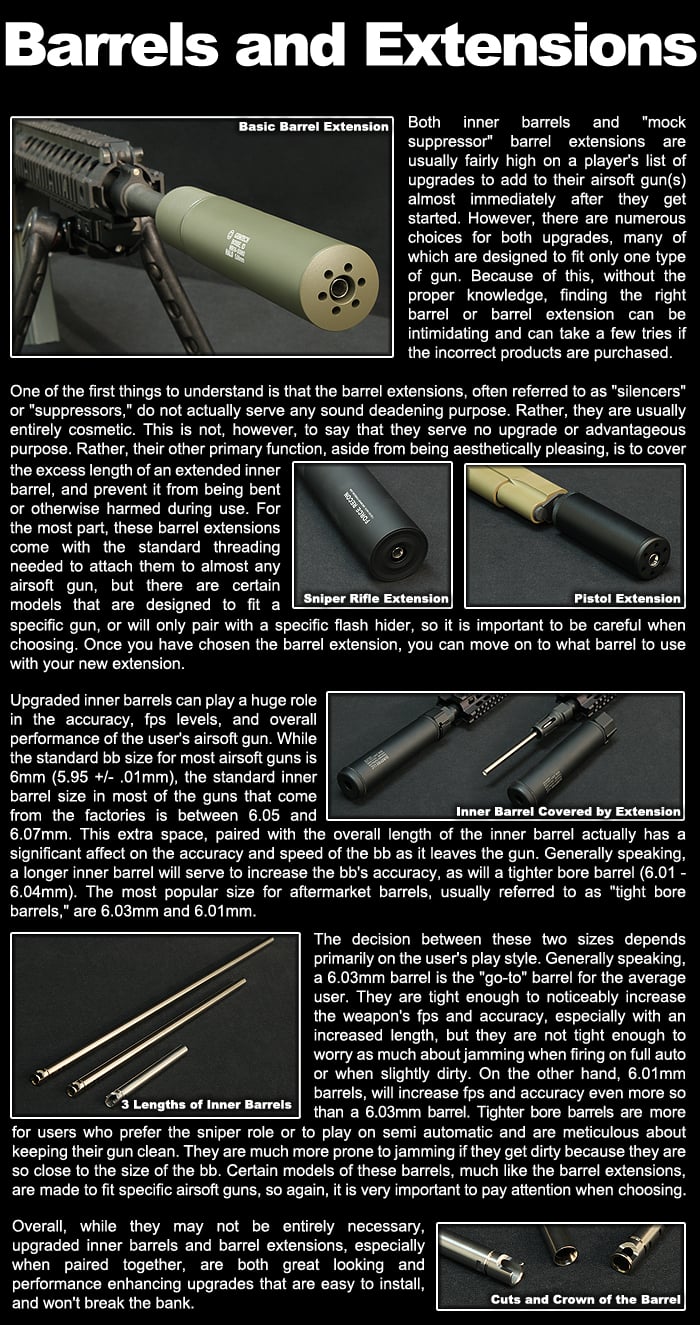 Specifications

Manufacturer: JBU
Color: Grey
Size: 407mm
Material: Aluminum
Package Includes: One (1) Precision Inner Barrel
see 6 reviews
|
Write a Review
verified buyer
P. SWANTEK | 2008-12-26
Product Information:
Very nice first of all. It is a light silver color and is very smooth. Fit into my JG m733 with just a little push. I added a madbull blackside to cover the extra barrel and still had about 2 more inches to spare.
Very accurate, I have a Tasco 3-9x50 scope and can group within about 4 inches from 25 yards. It makes the gun sound cooler and seems like it's shooting harder( seems like maybe 10 fps?) but anyway solid barrel definetly recommend it but just consult ASGI before getting any of them because the longer the barrel, you might need a new cylinder or something like that.

Pros:
Solid feel
Better compression
Fits perfectly in a JG m733
Very accurate

Cons:
None
verified buyer
J. DEPRO | 2010-08-29
Product Information:
Well after ordering the wrong length, returning, and receiving the correct length, this barrel fails to perform. After the hassle of replacing hop up parts and bucking, as I went to test fire with this barrel, the accuracy was close at best, with very frequent flyers. So after a disassembly, as I look down the barrel there is black rings around the inside. Tried to clean/lube and nothing happened. Appears as if the teflon inner coating is flaking ALREADY....waste of 40 bucks highly dont recommend, get a higher end barrel, pay the extra price...for something that will actually work/last.

Pros:
30 bucks.

Cons:
Shipping costs
Be careful with hop up nub...
Peeling/Flaking teflon before use..
Doesnt work.
C. PEREZ | 2012-12-14
Product Information:
To begin with this barrel is well protected! It comes shipped in a exta heavy duty clear plastic cylender with rubber @ each end to seal it. I'm very impressed with this barrel I installed it in one of my m4's ,and let me tell you huge difference accuracy is dead on now for the m4 where I sight acquire and pull the trigger it gose straight where I point. This barrel I would reommend to the novice airsoffer for installing its pritty simple but remamber where all parts go and don't tear the bucking. Get this barrel if you have accuracy problems this will fix it.

Pros:
Great packaging

Barrel is 100% accutate

The.bore of the barrel is super close to the bb now


Cons:
NONE!!!!!!!!!
Will this fit/work?
0 answers
1 asked
Search Tags: Internal Upgrade Replacement Tightbore Range Accuracy Part Piece Increase Performance Trajectory Grouping Distance Output Tight Bore
This product was added to our catalog on Saturday 05 January, 2008.
People who bought this item also purchased: