Intellect 9.6v 2000mAh NiMH Custom ICS AN/PEQ2 Box Battery
[V09F01][03714 / ERBAT5]
( 4 Reviews )
❤ Add to Wishlist
Free Shipping for orders over $99 No Coupon needed
This 9.6v 2000mah battery pack is constructed of quality Intellect cells and is designed for the ICS AN/PEQ2 battery box. Due to its higher voltage and output this battery pack will give your gun a faster rate of fire and extend your playing time. Also, the battery pack offers a more immediate solution to your power needs then wiring your gun to the outside.
Specifications:
Manufacturer: Intellect
Voltage: 9.6v
Milliampere Hours: 2000mAh
Cell Type: Nickel-metal hydride (NiMH)
Connector Type: Mini
Recommended Fit: ICS PEQ box and the PHX PEQ box

Please Note:
The ICS M4 Pistol has a different kind of battery box. This battery is not compatible with the OEM battery box that comes with the ICS M4 Pistol.
Airsoft GI Battery Disclaimer:
Airsoft GI is not responsible for batteries that have been damaged as a result of improper operation, storage, misuse or abuse, accident or neglect, such as physical damage resulting from misuse; contact with liquid, water, rain, extreme humidity or heavy perspiration, sand, dirt or the like, extreme heat, or food; use of the battery for commercial purposes or subjecting the battery to abnormal usage conditions, or other acts which are not the fault of Airsoft GI. Make sure you understand how your battery should be used and how long it should be charged. If you have any doubt regarding the operation, charging, or storage of your battery and/or charger, ask. A charging battery should not be left unattended and should be picked up periodically while charging to check for overheating. Do not charge batteries near flammable material. For more information regarding batteries please refer to the Frequently Asked Questions or the Airsoft GI Airsoft 101 Guide.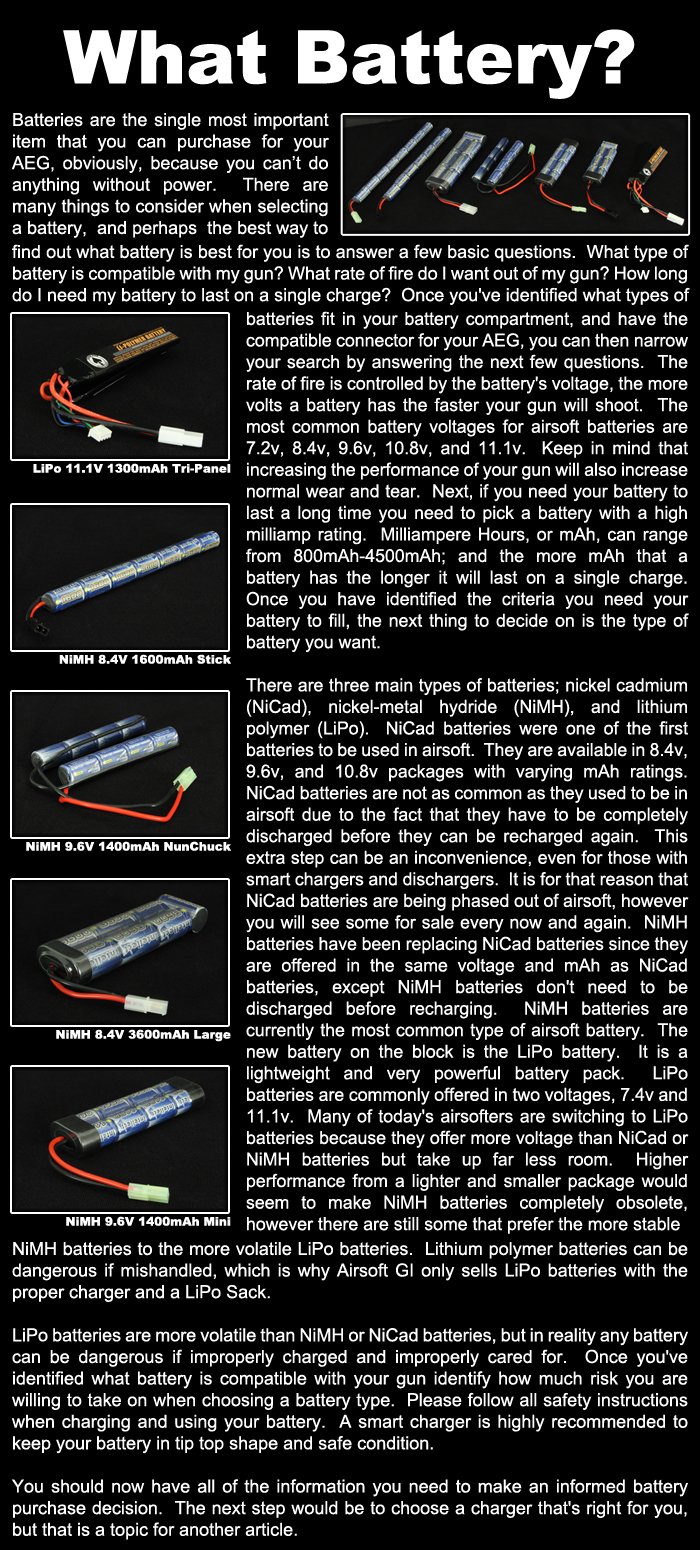 Specifications

Manufacturer: Intellect
see 4 reviews
|
Write a Review
verified buyer
B. VAN HAREN | 2009-04-27
Product Information:
Very nice battery. Has 8 cells in it and when out in an E1 PEQ box it has plenty of room. the wire is a prefect length for guns that tun to PEQ boxes. When fully charged it makes my KWA piss bb's. it made me cry to see bb's come out that fast :O!!!!!!

Pros:
Fits in most all PEQ boxes.
Reletivly small
holds a charge
makes a KWA piss bb's


Cons:
none so far
mabye to fast for some guns and could destory the gearbox.
verified buyer
J. FERREL | 2010-04-09
Product Information:
Nice battery that fits in my PEQ2 box. Use this with my G&G GR-16. Nice to see my gun come back to life! Good rate of fire and last for a pretty long time!


Pros:
Good price tag
Fits in PEQ2 box
last a long time

Cons:
connecting wire could be a little longer but it works
verified buyer
K. DURUSSEL | 2010-04-07
Product Information:
I wanted to get this for my G36C, to put in my Star PEQ2. Just to let all know, that this does not fit in the Star PEQ2. The title says PEQ2 battery but oh well, also this does not fit in most but stocks, I had to take off my butt pad on my GR16A3 and it just barely fir in there. Still giving the battery a 5*, but I would give the description a 2*

Pros:
It is a great battery, nice power, and makes all my guns ROF go up over a regular Tanergy.

Cons:
The title and description was a little misleading but oh well my fault.
Troy Battle Axe Stock
0 answers
1 asked

Battery Fitting

Will this go well with an Airsoft GI Combat Machine M4 RIS AEG Airsoft Gun?

2130 days ago

Kenny H

0

0

(I have this same question)

Staff Answer:

No

2129 days ago

1 answers
1 asked

Battery fitting
0 answers
6 asked
Search Tags: Nickel Metal Hydride NiMH NiHM Low Voltage PEQ2 AA 8 Cell 9.6 2000 PEQ
People who bought this item also purchased: