Intellect 9.6v 2000mAh NiMH Crane Stock Battery
[02428 / ERBAT1]
( 15 Reviews )
❤ Add to Wishlist
Free Shipping for orders over $99 No Coupon needed
The 9.6v 2000mah Intellect crane stock battery is designed to fit into the crane stock of the G&G GR-16 and SRC M4 CQBR. The battery fits in the crane stock by splitting the battery pack into 3 mini sticks that go into the space provided in the stock. Due to its higher voltage this battery will give your AEG a faster rate of fire and it is a must for your upgraded M4.
Specifications:
Manufacturer: Intellect
Voltage: 9.6v
Milliampere Hours: 2000mAh
Cell Type: Nickel-metal hydride (NiMH)
Connector Type: Mini
Recommended Fit: SRC crane stock

Please Note:
This battery is made specifically for the SRC crane stock, it may fit into other manufacturer's crane stocks but cannot be guaranteed by Airsoft GI. This battery is not recommended for the G4, Combat Machine, G&G, VFC, Socom Gear, or KWA crane stock.
Airsoft GI Battery Disclaimer:
Airsoft GI is not responsible for batteries that have been damaged as a result of improper operation, storage, misuse or abuse, accident or neglect, such as physical damage resulting from misuse; contact with liquid, water, rain, extreme humidity or heavy perspiration, sand, dirt or the like, extreme heat, or food; use of the battery for commercial purposes or subjecting the battery to abnormal usage conditions, or other acts which are not the fault of Airsoft GI. Make sure you understand how your battery should be used and how long it should be charged. If you have any doubt regarding the operation, charging, or storage of your battery and/or charger, ask. A charging battery should not be left unattended and should be picked up periodically while charging to check for overheating. Do not charge batteries near flammable material. For more information regarding batteries please refer to the Frequently Asked Questions or the Airsoft GI Airsoft 101 Guide.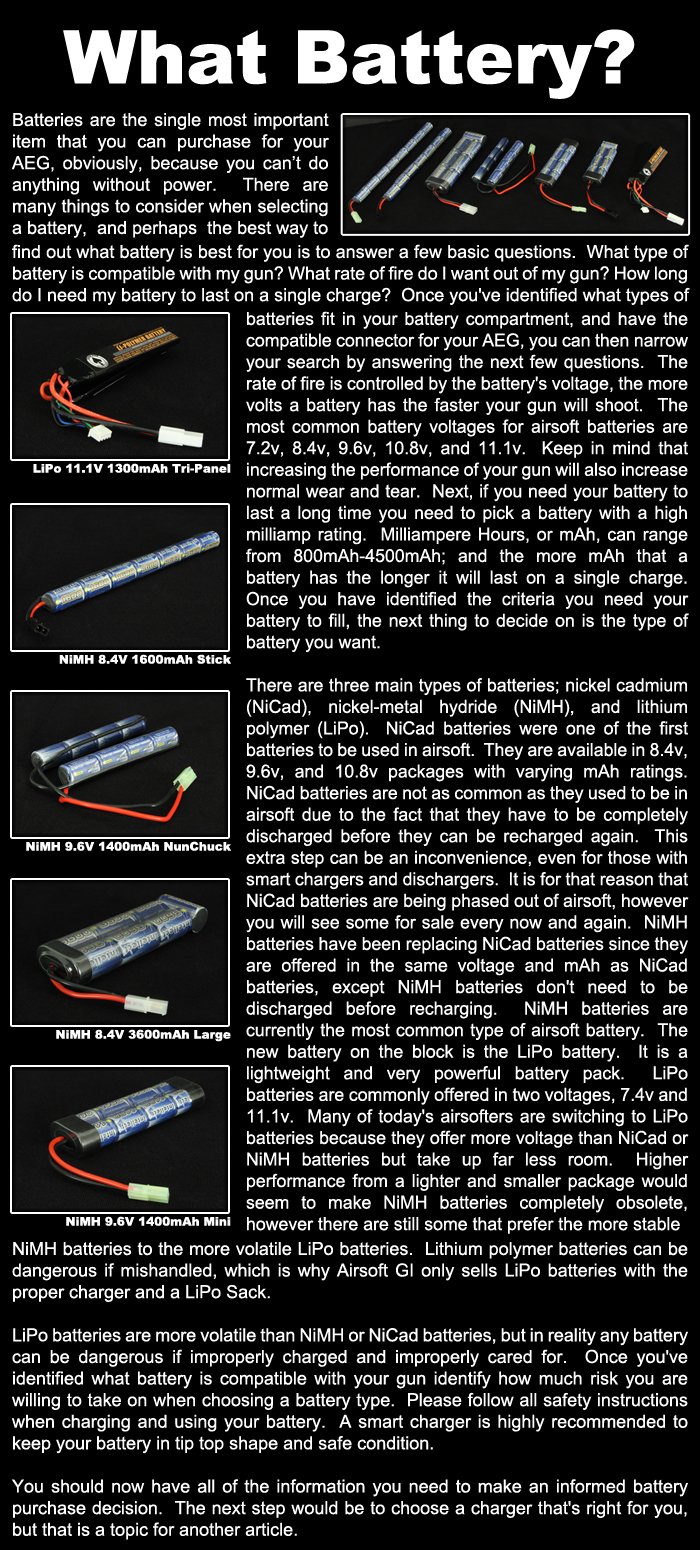 Specifications

Manufacturer: Intellect
see 15 reviews
|
Write a Review
J. BURNS | 2010-07-21
Product Information:
great battery defiantly a good buy for new or maybe some more experienced airsofters. the battery is easily fitted in most crane stocks (crane stocks only) but some are a real pain. i have 3 different types of crane stocks on different guns and there is no rattle on all of them. a steal for 35 bucks. i did buy this from a different store but i thought i should tell you guys here about it.

Pros:
great price
adds a decent amount of ROF to gun(with proper motor)
no rattle
long battery life


Cons:
alot of wires
hard to fit in some crane stocks


these cons are very minor BUY IT
verified buyer
H. MOE | 2010-04-17
Product Information:
great battery, i bought it with my classic army x series m16 a4 because i thought i would put a crane stock on it ( now i know it would look silly ) . but this battery has a great rate of fire all day, and hasnt died on me yet. when i first got it though, i quick charged it and started shooting and it only lasted 10 shots at most. i did some research and with most new batteries, u have "break them in" this means u have to slow charge them at least once for a full charge before u start to quick charge.

Pros:
great rate of fire
last all day
really skinny cells
doesnt need discharger

Cons:
lot of extra wires
needs to be trickle or "slow" charged at first
verified buyer
W. TANNER | 2010-05-16
Product Information:
Just wanted to touch on a few things. I ordered this and it works beautifully. I have a KWA SR10 and was having quite a hard time finding a battery that not only fit the crane stock, but had a decent capacity. Airsoft GI does not recommend this battery for the KWA crane stock because it doesn't let you collapse the stock all the way (which is true). But, if you're like me, and play with it at least partially extended (I like mine on position 3) it does fit.

I don't really have much else to say, but I figured I would let people know that this DOES fit in a KWA crane stock (at least the SR10).

Pros:
Great Price
Fits in my KWA...hehe

Cons:
The wires are pretty long, which makes it a little tough to install the battery. It takes a little time, but you can fit it all in just fine.
will it fit

will it fit the battery compartment of a VFC Scar L?

2193 days ago

Jake S

0

0

(I have this same question)

Staff Answer:

Most likely not

2192 days ago

1 answers
1 asked

Will it fit in a G36C?

I have an ARES H&K G36C, will it work with this airsoft gun?

2363 days ago

Nick S

0

0

(I have this same question)

Staff Answer:

You will want something like a 9.6v 1600 mAh crane stock battery

2363 days ago

1 answers
1 asked

Will it fit?

Will this battery fit the MagPul USA MOE M4 Rifle Length Handguard even with an extremely tight fit? http://www.airsoftgi.com/product_info.php?cPath=745_30_500&products_id=7960

2366 days ago

Brandon W

0

0

(I have this same question)

Staff Answer:

This battery should be able to fit easily.

2366 days ago

1 answers
1 asked

Will it fit?

Will it fit for the Echo 1 TROY MRF-X AEG Airsoft Gun?

2388 days ago

Jared M

0

0

(I have this same question)

Staff Answer:

It should be able to fit that airsoft gun.

2385 days ago

1 answers
1 asked

Would the battery be compatible for my classic army m15a4?

My classic army m15a4 has an adjustable crane stock. If the stock was to be adjusted to a cqb setting would the battery be compatible for it? An answer would help me out a ton with making a purchase, thanks.

2408 days ago

Carson W

0

0

(I have this same question)

Staff Answer:

It should work if you don't plan to adjust the stock.

2408 days ago

1 answers
1 asked
Search Tags: AA Nickel Metal Hydride NiMH NiHM Low Voltage Classic Army Crane Stock A&K SPC 8 Cell AEG 9.6 2000
People who bought this item also purchased: