Intellect 9.6v 1600mAh NiMH Nunchuck Battery
[03372 / ERBAT24 / 603245]
( 32 Reviews )
Free Shipping for orders over $99 No Coupon needed
The 9.6v 1600mah High Output NiMH Nunchuck battery pack is designed for the hand guard of the M16 carbine electric guns. The battery is pack is separated into two halves to fit around the barrel inside the hand guard. This battery will increase the rate of fire of your airsoft gun due to the higher voltage and its higher discharge rate. It is a must for G&G GR16 Carbine TM M4A1 or CA M15A4 Carbine.
Specifications:
Manufacturer: Intellect
Voltage: 9.6v
Milliampere Hours: 1600mAh
Cell Type: Nickel-metal hydride (NiMH)
Connector Type: Mini
Recommended Fit: M4A1 hand guard, M733 hand guard, M4 Commando hand guard, MP5A5 hand guard, and MP5SD6 hand guard
Please Note:
Tokyo Marui AEGs may require some modification. This battery will fit in the G4, Combat Machine, G&G, VFC, KWA, and TSD crane stock. If you have any questions about which type of crane stock this battery will fit in please call us at (909) 869-0671.
Airsoft GI Battery Disclaimer:
Airsoft GI is not responsible for batteries that have been damaged as a result of improper operation, storage, misuse or abuse, accident or neglect, such as physical damage resulting from misuse; contact with liquid, water, rain, extreme humidity or heavy perspiration, sand, dirt or the like, extreme heat, or food; use of the battery for commercial purposes or subjecting the battery to abnormal usage conditions, or other acts which are not the fault of Airsoft GI. Make sure you understand how your battery should be used and how long it should be charged. If you have any doubt regarding the operation, charging, or storage of your battery and/or charger, ask. A charging battery should not be left unattended and should be picked up periodically while charging to check for overheating. Do not charge batteries near flammable material. For more information regarding batteries please refer to the Frequently Asked Questions or the Airsoft GI Airsoft 101 Guide.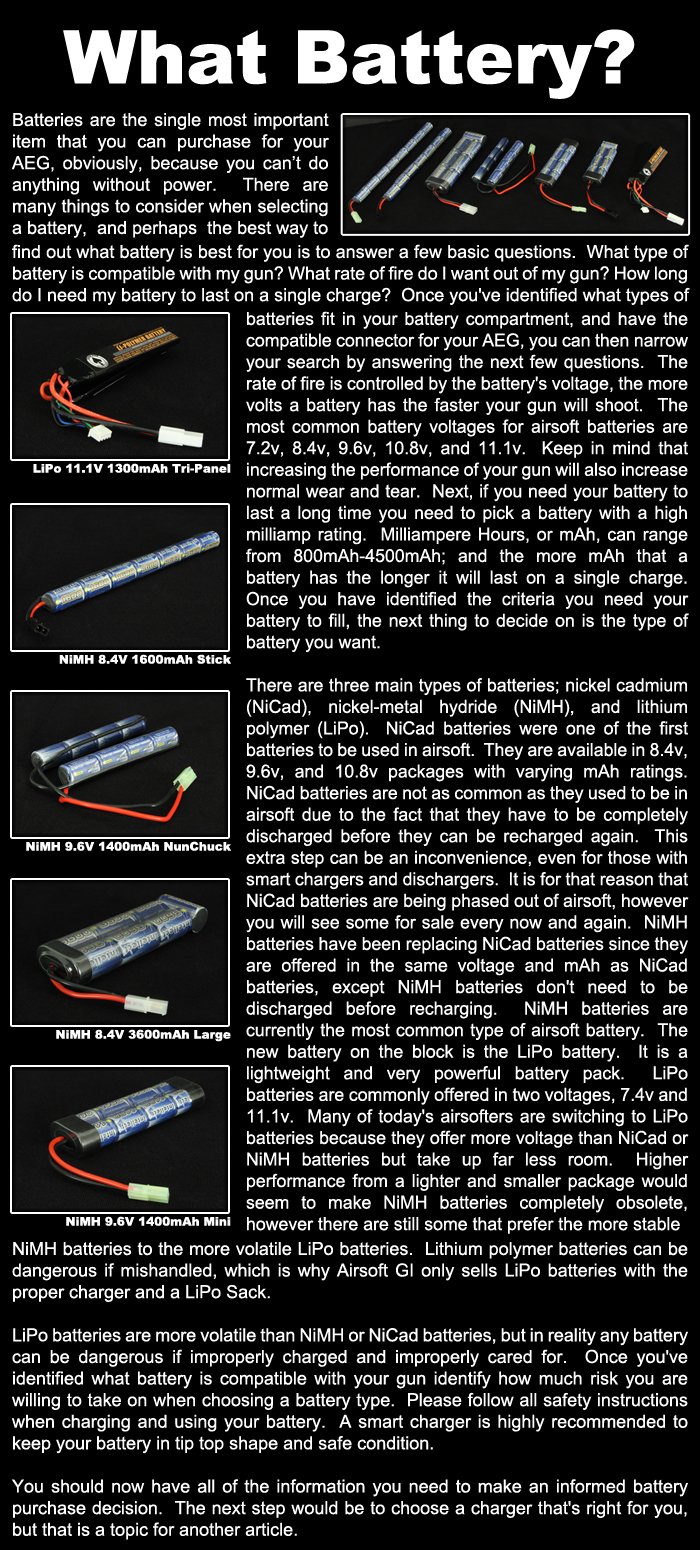 Specifications

Manufacturer: Intellect
see 32 reviews
|
Write a Review
verified buyer
J. ENGELKEN | 2014-04-14
Product Information:
These are Intellect 9.6v 16000mAh NiMH Nunchuck batteries. I got them as a spare to the batteries that came with my G&G Combat Machine M4. I got to test them out at a large local Op recently and they performed beautifully. The event was 3 days long with night fighting. I had these in my gun the whole time with no issues what so ever, all running off of a single charge the night before the start.

Pros:
Pros:
They work
They are long lasting
compatible with any nunchuck accepting gun
the wires are several inches long which is nice because it doesn't put strain on the connectors

Cons:
Cons:
I can't think of anything bad about these. I have never heard of Intellect before but these batteries lasted me three whole days of constant use without issue.
verified buyer
M. RISLEY | 2014-05-09
Product Information:
buy this… NOW. just do it. This battery is freaking great at the price range it's in. This battery lasted me a whole day on the field with still some juice going. I charged this battery for one full cycle, and it's keeping it's charge for 2 weeks now. I use my airsoft gun to shoot a couple of vermin in the morning before work (so 10-50 shots a day) and this battery is still shooting even though i charged it two weeks ago.

Pros:
-Inexpensive
-LONG lasting charge
-Good RPM with 9.6v
-Fit in crane stock

Cons:
-I usually like to post honest cons, but this battery has none and i mean it
verified buyer
E. SANTAMARIA | 2014-06-27
Product Information:
I got his battery for my VFC 416, and first I wanna mention I was skeptical about the battery fitting in my gun, but I gave it a shot, and I am very pleased! The battery gives my gun a great ROF and trigger response and fits in my 416, PTS Masada, and my friend's KWA G36C, and his JG M4 S-System. An additional plus is the price, it originally goes for $35, but it is on sale for $25. Defenitely worth the $25 bucks. Only concern I have with the battery is I do not know how long the battery life is...

Pros:
Price: It's on sale for $25 bucks!!! It is worth the $25 bucks.
ROF: My 416 shoots pretty fast with this battery, stokc! Very pleased
Crane Stock: It fits in the 416 crane stock, and it will fit bigger compartments as well.

Cons:
Battery Life: Since I don't know the battery life, I'm just gonna list it as a con...
Charger Type
0 answers
1 asked

Battery charge
0 answers
2 asked

Does it fit Echo1 AK700???
0 answers
1 asked

Will it fit the echo 1 Troy series?

I have an Echo 1 Troy MRF-MX. Will this battery fit? And how long will it last with constant usage wit a full charge?

2339 days ago

John H

0

0

(I have this same question)

Staff Answer:

Yes

2338 days ago

1 answers
1 asked

what will it fit?
0 answers
1 asked

will this fit

Will this fit in the crane stock of the elite force m4 cqb

2346 days ago

Gabriel C

0

0

(I have this same question)

Staff Answer:

It should fit

2344 days ago

1 answers
1 asked

will this fit in a King Arms 516 Crane Stock

I understand that they fit in most but would it fit in mine? I dont want to buy it and they it doesnt fit.

2347 days ago

Anna C

0

0

(I have this same question)

Staff Answer:

It should fit

2345 days ago

1 answers
1 asked

Will This fit In a PEQ box?

I want to get a PEQ box for my m4 and i need to know a few things before i want this battery 1. Can this Fit into a PEQ? If yes/no Any recommended PEQs? 2. Can this fit Most airsoftGI Custom built AEGs?

2360 days ago

Gene L

0

0

(I have this same question)

Staff Answer:

It depends on the PEQ box, but this will fit inside most AEGs

2359 days ago

1 answers
1 asked

does this battery have a mini tamiya connector?

I need a 9.6v 1600mAh battery with a mini tamiya connector for my custom gun that I am ordering

2360 days ago

Brendan S

1

0

(I have this same question)

Staff Answer:

Yes, this is a mini/small type connector

2359 days ago

1 answers
1 asked

Will it fit?

Will this fit my classic army crane stock?

2377 days ago

Jessica B

0

0

(I have this same question)

Staff Answer:

It should fit

2376 days ago

1 answers
1 asked

Will it Fit???

Will this work in the ClassicArmy Scar-L Sporline? Because a 9.6v mini battery doesn't fit.

2377 days ago

Nathan R

0

0

(I have this same question)

Staff Answer:

It should work

2377 days ago

1 answers
1 asked

Will it work in the elite beretta blow back aeg arx160

Will this work in the elite beretta aeg blow back arx160

2378 days ago

Amy R

0

0

(I have this same question)

Staff Answer:

It should fit

2377 days ago

1 answers
1 asked

Will it fit??

I just got a cyma 028 I am looking for a new 9.6v battery. Will this fit in the full stock. If not do you know of any batteries that will? Thanks

2381 days ago

Jack S

0

0

(I have this same question)

Staff Answer:

It should fit

2380 days ago

1 answers
1 asked

will it fit?

I am planing on getting a KWA CQR mod-1 and hoping to get a magpul PTS MOE hand guard, will this battery fit in either the included hand guard or the magpul one? Thanks.

2385 days ago

Tim G

0

0

(I have this same question)

Staff Answer:

It should be able to fit

2385 days ago

1 answers
1 asked

charger type

what type of charger would be good for this

2395 days ago

Andrew L

0

0

(I have this same question)

Staff Answer:

I would recommend purchasing the best smart charger you can afford. For example, <p> http://www.airsoftgi.com/product_info.php?products_id=8478 </p>

2394 days ago

1 answers
1 asked

Will this ship

Under the price it says "USPS shipable"... Does that mean only the UPS shipping option will work for this product and not 2nd day by air UPS shipping?

2399 days ago

Naz been I

0

0

(I have this same question)

Staff Answer:

It means that USPS is an option you can choose from, you are not limited to just USPS

2398 days ago

1 answers
1 asked

VFC 416?

Will this battery fit in the VFC 416 CQB without any modification?

2404 days ago

Eugenio S

1

0

(I have this same question)

Staff Answer:

The products you had specified should be compatible with each other.

2404 days ago

1 answers
1 asked

Will it fit in a G36 hand guard?

I have the Umarex G36, so would it fit in the handguard?

2410 days ago

Daniel C

0

0

(I have this same question)

Staff Answer:

This should be able to fit in that hand guard.

2408 days ago

1 answers
1 asked

Will it fit in a crane stock

I am buying a g4- a1 custom and need a battery

2422 days ago

Alex E

0

0

(I have this same question)

Staff Answer:

Yes this will fit in that crane stock.

2420 days ago

1 answers
1 asked

would this fit in a A&K Full metal m60 AEG ?

would the battery fit and also would the charge or power of the battery good for the gun ?

2445 days ago

Brendan S

0

0

(I have this same question)

Staff Answer:

This should fit for both gun performance and battery storage space.

2442 days ago

1 answers
1 asked

what size is the connetor

mini or large

2447 days ago

Brit H

0

0

(I have this same question)

Staff Answer:

This battery has a small type connector.

2447 days ago

1 answers
1 asked

does this come with a charger?

do i need to buy a separate charger?

2454 days ago

Hayden L

0

0

(I have this same question)

Staff Answer:

The charger will need to be bought separately.

2454 days ago

1 answers
1 asked

Will this battery work in this gun

Will this battery work in this gun and is it the same connecter Airsoft GI FMG4-A1 Knights Armament URX 3 Airsoft Gun

2455 days ago

Austin E

0

0

(I have this same question)

Staff Answer:

This battery should work with that gun.

2455 days ago

1 answers
1 asked

How long does it take to charge the battery.

I got an Echo-1 XCR-C and i don't know how long to charge it for with the regular charger. The gun didn't come with instructions.

2466 days ago

Kozak K

0

0

(I have this same question)

Staff Answer:

The charge should take no more than 3.5 hours.

2464 days ago

1 answers
1 asked

Will it fit ICS CXP-16

Will this battery fit the crane stock of the ICS CXP-16?

2489 days ago

Kevin B

0

0

(I have this same question)

Staff Answer:

This battery should fit inside the crane stock.

2485 days ago

1 answers
1 asked

Does this battery automatically discharge when not in use?

Have 2 of these and when one was in my gun it worked fine. However, when it died and I put the other one in, it was dead. I had charged both, but the other one just wasn't in use for like 2 hours. And no it isn't broken or fried. Works good if it is put into the gun right after it is charged.

2494 days ago

Nick M

0

0

(I have this same question)

Staff Answer:

These batteries shouldn't discharge when not in use.

2492 days ago

1 answers
1 asked
Search Tags: Nickel Metal Hydrate Butterfly Crane Stock 2/3A M4A1 G4 MP5A5 MK5A5 MK36 G36 AEG 8 Cell 9.6 1600 Hydride NiMH NiHM Low Voltage
People who bought this item also purchased: