G&P 9.6v 3300mAh NiMH Custom AN/PEQ2 Box Battery
[J401500797 / GP250B]
( 8 Reviews )
Free Shipping for orders over $149
No Coupon needed
The G&P AN/PEQ2 with 9.6v 3300mAh battery is perfect for airsoft guns, such as the CA M15A4 RIS, that have rails but little room for a battery. It is the one of the most realistic battery boxes available on the market. It would look great on the fore grip of any aisoft gun. Also, the battery is designed to use the maximum amount of space, giving this battery box a higher voltage and output.
Specifications:
Manufacturer: G&P
Voltage: 9.6v
Milliampere Hours: 3300mAh
Cell Type: Nickel-metal hydride (NiMH)
Connector Type: Mini
Recommended Fit: M4A1 RIS, or any AEG wired to the front RIS hand guard
Please Note:
This battery box is rail mounted and requires a small battery connector. Also, this battery pack is a sealed one piece unit, it cannot be taken apart, any attempt to do so could damage the product.
Airsoft GI Battery Disclaimer:
Airsoft GI is not responsible for batteries that have been damaged as a result of improper operation, storage, misuse or abuse, accident or neglect, such as physical damage resulting from misuse; contact with liquid, water, rain, extreme humidity or heavy perspiration, sand, dirt or the like, extreme heat, or food; use of the battery for commercial purposes or subjecting the battery to abnormal usage conditions, or other acts which are not the fault of Airsoft GI. Make sure you understand how your battery should be used and how long it should be charged. If you have any doubt regarding the operation, charging, or storage of your battery and/or charger, ask. A charging battery should not be left unattended and should be picked up periodically while charging to check for overheating. Do not charge batteries near flammable material. For more information regarding batteries please refer to the Frequently Asked Questions or the Airsoft GI Airsoft 101 Guide.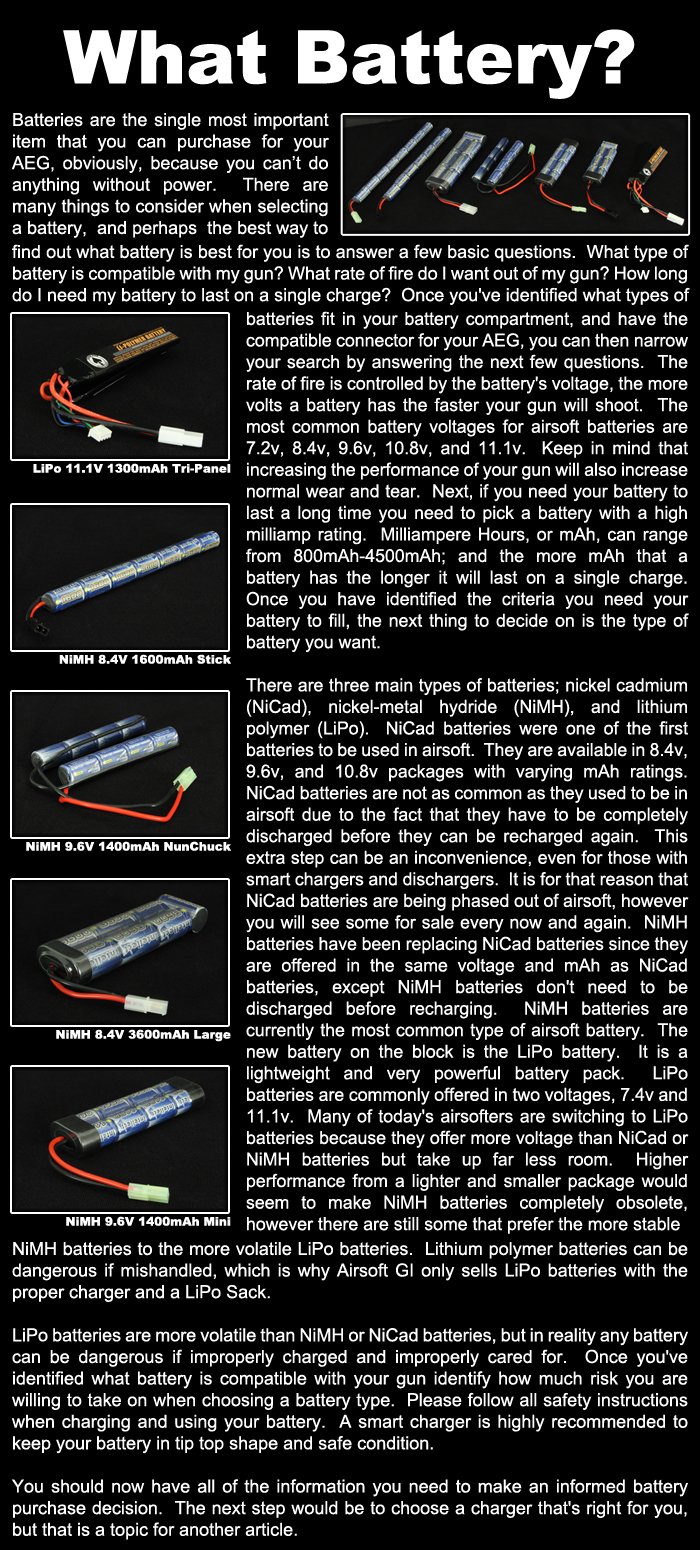 Specifications

Manufacturer: G&P
see 8 reviews
|
Write a Review
L. MOORE | 2009-08-04
Product Information:
Excellent battery. I have this battery connected to my Combat Machine M4, and you can literally see the stream of BBs flying down the range. When this battery is fully charged, it allows my gun to shoot approximately 20 to 21 rounds per second. It is made of plastic, and some parts can easily fall out, but you really shouldn't complain because it is easy to fix with some super glue. My only complain is the weight of this battery. It does make the gun very front heavy.

Pros:
Amazing ROF
Holds the charge for a long time
The battery inside doesn't wobble around

Cons:
Heavy
Parts fall off easy - easily superglued so nothing major
verified buyer
R. VOLPE | 2009-10-20
Product Information:
I've owned two of these so far. Of course it is heavy, you'd be stupid not to think it was considering the battery itself is made up or 8 large cells. Anyone who has any experience with airsoft batteries besides the ones that come with their guns know a large battery weighs significantly more than a mini, so expect the same weight you would from any other large battery. On the first one I owned the decorative parts fell off after falling during a game, so I ended up selling it. However, the one I just ordered off of GI seems to be pre-glued. I tried pulling off the parts and dropping the unit several times and nothing has budged in the least bit; I was going to just krazy glue the parts on before playing with it, but I may not have to.

Pros:
-9.6v battery, give you a higher rof than an 8.4v
-3,300 mah (will last much longer than your average skirmish)
-parts seem pre-glued on in newer units (my old one was from 07)
-good looking AN/PEQ2 replica


Cons:
-makes gun front heavy (only a big deal if you're a wuss)
-Tamiya connector (when your wiring and connectors are located outside your gun there is a chance of them breaking, I will be switching mine to deans connectors shortly for a more stable connection and to shorten the wires themselves)
verified buyer
D. WALBORN | 2009-12-16
Product Information:
Ok, so after reading multiple reviews about parts falling off, as soon as I recieved the the box, I checked all the knobs and covers to see if anything felt loose, Apparently I was a little too rough and broke two of the knobs off, nothing a little JB Weld couldn't take care of though. Overall this thing performs better than I could have ever imagined. I have an ICS CQB M4 LE, stock, the Intellect 9.6v 2000mah batteries worked fine. After a tightbore 363mm inner barrel, M100 Spring/Upper gearbox upgrade and quite a few more things, my rof went down the toilet and the gun felt like it would hardly wind itself, I was sure I would have to go with a 10.8, but I ordered this as a last resort. To my surprise, my gun fires with a higher velocity and way more accurate than it ever has. Nothing but positive notes on this battery at this point.

Pros:
-Realistic Peq-2 replica
-3300mah
-Solid build
-Accuracy/ROF/Velocity increase
-Went a full day on one battery, never happened before
-Amazing eye candy on the side of the gun

Cons:
-Price(oh well, you get what you pay for)
-Weight(who doesn't want bigger arms anyway)
When will this be back in stock?

Please I really want to buy this but it has been out of stock for 4 months now.

2738 days ago

Kathryn P

0

0

(I have this same question)

Staff Answer:

We are hoping to get it back in stock soon. Please click on the "request item" button near the "out of stock" button in order to notify our purchasers that this item is in demand.

2737 days ago

1 answers
1 asked
Search Tags: Sub-C Nickel Metal Hydrate 8 Cell AEG RIS RAS Rail Wire to Front 9.6 3300 PEQ Hydride NiMH NiHM Low Voltage