Elite Force Universal M4/M16 300 rd. High Capacity Magazine (Black)
[I12D00][33650 / 2279524]
Free Shipping for orders over $89 No Coupon needed
This magazine is designed for a Elite Force M4/M16 style AEG airsoft gun. The magazine holds up to 300 rounds which should last you a while depending on how must you shoot. Take a couple of magazine with you on your next skirmish to make sure you have enough BBs to take out your target. The magazine may work with other major brands but it cannot be guaranteed by Airsoft GI.
Specifications:
Manufacturer: Elite Force
Model: Universal M4/M16 High Capacity Magazine
Magazine Capacity: 300 rds
Color: Black
Package Includes: Magazine

Features:

Wind Up Wheel Design
400rd Capacity
High Capacity Magazine Operation:
Find the trap door, usually located on the top of the magazine near the loading nozzle.
Open trap door and fill reservoir with high quality BBs.
Wind the wheel at the bottom of the magazine (notice the pitch and volume of the click).
Continue to wind wheel until pitch changes. Once the click gets louder, or begins to "double click," the magazine is fully wound.
Insert magazine into gun and fire. You may need to rewind the wheel during play.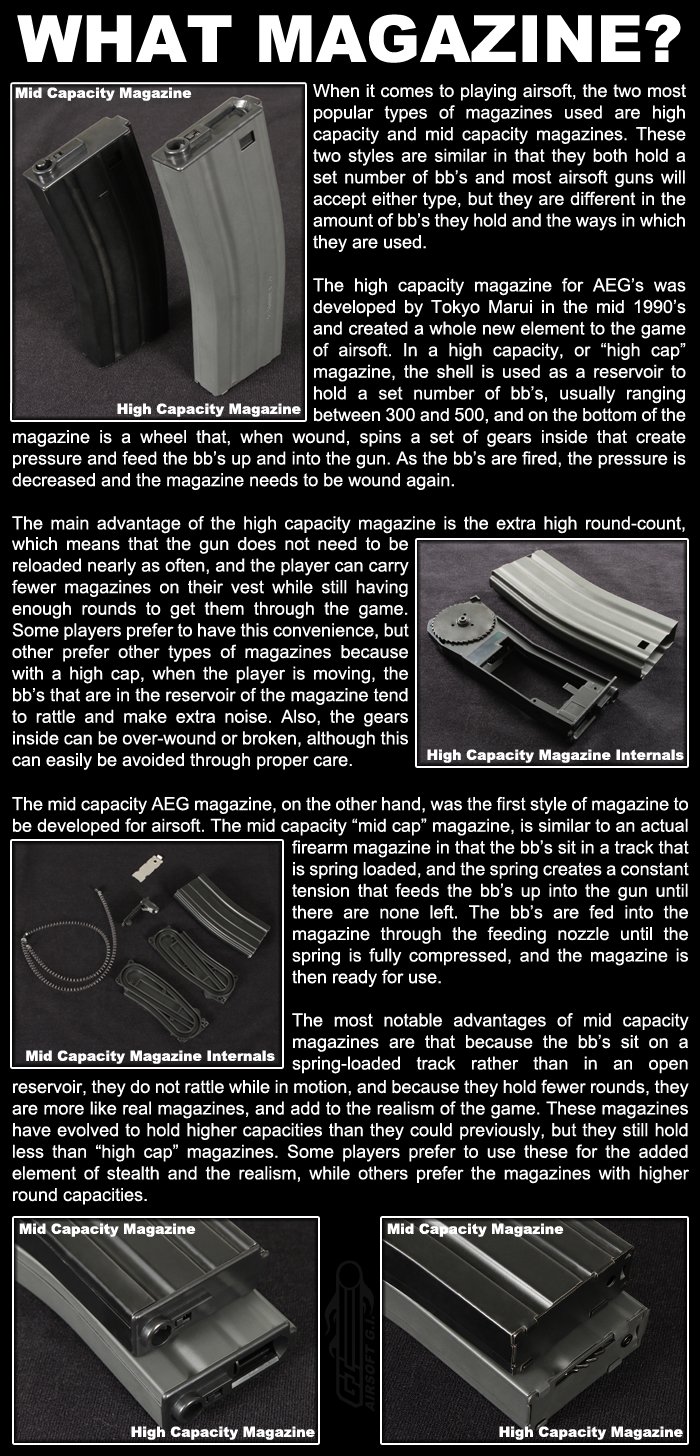 Specifications

Manufacturer: Elite Force / Umarex USA
Color: Black
Package Includes: Magazine
Will this work with a G&G combat machine?

I recently got a G&G combat machine and needed some more mags so I was wondering if this would work with it

828 days ago

Josiah F

0

0

(I have this same question)

Staff Answer:

It should

827 days ago

1 answers
1 asked
Search Tags: Hicap Highcap Winding Wheel M4 M16 AR
People who bought this item also purchased: