Condor Outdoor Stryker Padded Knuckle Tactical Gloves (Sage/XL - 11)
[D15D01][08500 / 226-007-11]
( 1 Reviews )
❤ Add to Wishlist
Free Shipping for orders over $149 No Coupon needed
Description
The Condor Outdoor Stryker Padded Knuckle Tactical Glove is another great pair of gloves from Condor Outdoor. The Stryker gloves feature a synthetic leather palm with reinforcement and padding to keep the operators palms safe from shock and abrasions. The backhand of the glove features two way stretch spandex for flexibility and breathability. The finger tips of the glove feature a silicone anti-slip treatment to maximize the operators grip. A high density padded knuckle helps keep the operator from being injured from a impact. Hook and loop cuff closures with a molded rubber tab keep the glove secure on the operator even in a harsh and fast paced environment. The Condor Outdoor Stryker gloves offer a high amount of protection while still being allowing the operator a free range of movement. If you play CQB or are often having to venture through hazardous areas such as thick brush then these gloves will fit the bill.
Specifications :
Manufacturer: Condor Outdoor
Color: Sage
Size: XL - 11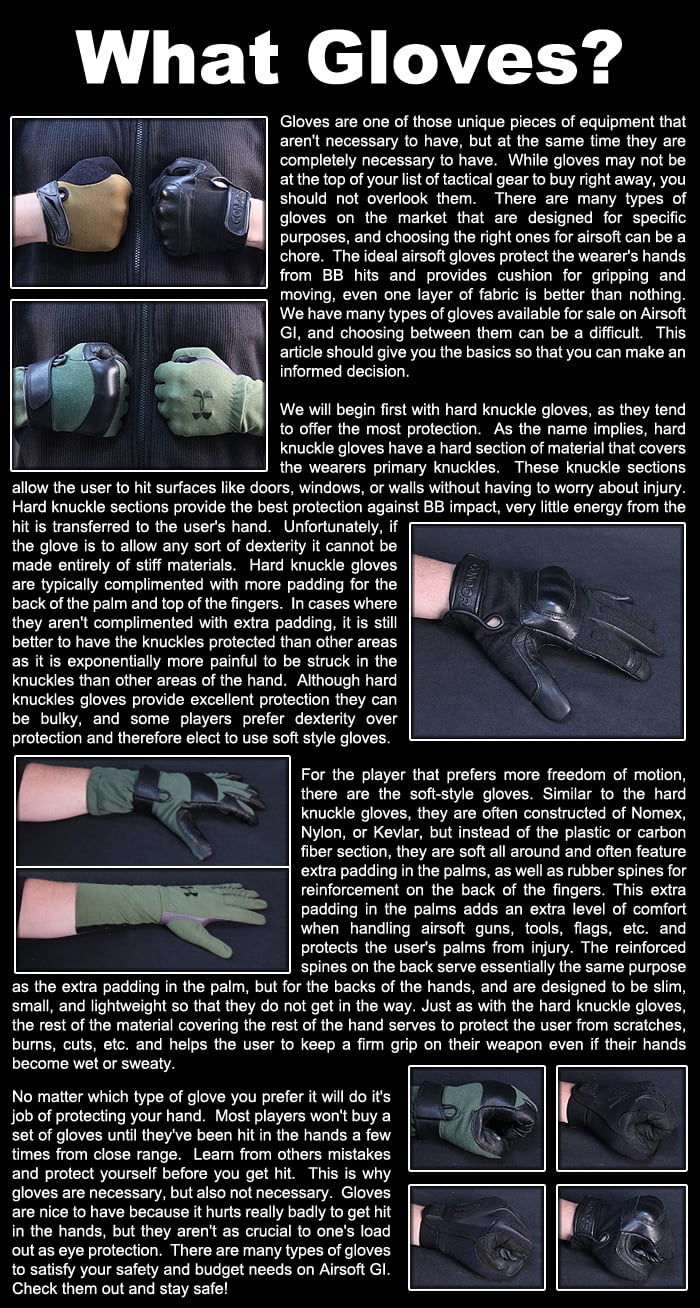 Specifications

Manufacturer: Condor Outdoor
Color: Sage
Size: Extra Large - 11
Material: Synthetic Leather / Spandex
Package Includes: One (1) Pair of Stryker Gloves
see 1 reviews
|
Write a Review
verified buyer
A. SHIFFLER | 2012-12-08
Product Information:
These gloves seem pretty nice. They are built very study, have good grip, and offer good protection. The velcro strap really locks them in nice and they have little rubber beads on the finger tips for extra friction when winding mags or holding your gun. The knuckles are really padded and these are great gloves. My only problem with them is that the fingers are a little too short. (I have really long fingers) so they fit well but not perfect. Also the velcro wrist cuff comes pretty far up your wrist so if you wear a watch or bracelet you either have to take it off or shove it up your arm far enough so it dosen't interfere with the velcro. Nice gloves overall tho. Just a few little cons. Don't let these stop you from buying them. I still like them a lot and cant wait to use them in game here soon!

Pros:
Built sturdy
Plenty of protective padding
Look awesome
Comfortable and feel nice
Velcro strap system does a good job of locking them to your hands
Rubber beads on finger tips for extra gripping/friction
They are Condor. And they make such good gear!

Cons:
Fingers where a little too short so they fit well but not perfect (I have big long fingers tho)
If you wear a watch or bracelets you have to either take them off or slide them up your arm to get them out of the way of the velcro strap

Conclusion: A few minor cons but great gloves. A must buy for anyone who needs gloves because they are Condor, made very well, and they are pretty cheap. Buy for sure!
Search Tags: Protection Grip Hand Condor Glove Outdoor Striker Traction Hands Forest Green Extra Large X-Large
People who bought this item also purchased: