CYMA RPK 800 rd. AEG High Capacity Magazine (Black)
[X05B02][14596 / SB-C81]
( 1 Reviews )
❤ Add to Wishlist
Free Shipping for orders over $99 No Coupon needed
The CYMA RPK high capacity magazine is a fantastic choice for those who are looking for a magazine with extremely high volume, perfect for LMG platforms or for those who require tons of BBs in a single package. This magazine is suited for several AK platforms, and will leave a devastating mark on the field, with the capacity of the magazine firing a near endless stream of BBs. The high capacity design means that no speedloader is required to utilize this magazine, and can easily be refilled in an instant by pouring BBs into the top of the magazine's trap door, and winding it up fully!
This magazine is recommended for use with the Dboy, Cyma, Echo 1, and JG AK47 series AEGs, it may work with other brands AEG but cannot be guaranteed by Airsoft GI.
Specifications:
Manufacturer: Cyma
Magazine Capacity: 800 rounds

Features:

Durable Construction

Wind Up Wheel Design

800rd Capacity

High Capacity Magazine Operation:
Find the trap door, usually located on the top of the magazine near the loading nozzle.
Open trap door and fill reservoir with high quality BBs.
Wind the wheel at the bottom of the magazine (notice the pitch and volume of the click).
Continue to wind wheel until pitch changes. Once the click gets louder, or begins to "double click," the magazine is fully wound.
Insert magazine into gun and fire. You may need to rewind the wheel during play.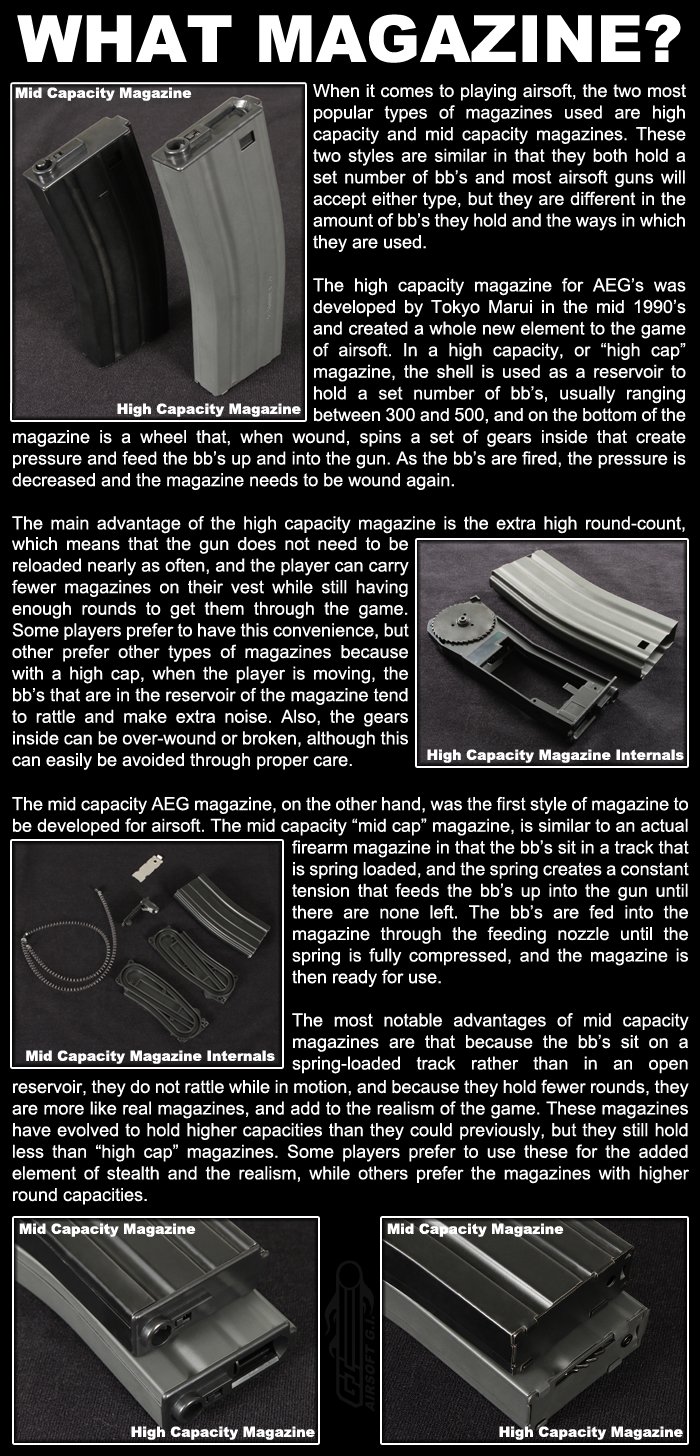 Specifications

Manufacturer: CYMA
Color: Black
see 1 reviews
|
Write a Review
verified buyer
K. DONKOR | 2015-06-07
Product Information:
I got this for my CYMA CM052 RPK yesterday and it ran like a charm. Makes the gun look so much better and helps you not stand out as much when you are playing the field with the traditional orange mag.

Pros:
NO MAG WOBBLE!!!!!!!!
Makes the gun look very real and authentic
Lots of rounds
Real metal frame so pretty darn tough.
Much better than the Mag that comes with the gun
Easier to go prone with the weapon.

Cons:
The only downside to this mag and extended banana clips are finding pouches to carry them because they are so long. I grabbed a double taco mag pouch from GI Tactical in Richmond and it works like a charm. I recommend this mag and set up to anyone who rolls with an RPK not using a drum mag
Is it constructed using metal?
0 answers
1 asked
Search Tags: Mil Sim Gun Field AK Mag Clip Mag High Capcity
People who bought this item also purchased: